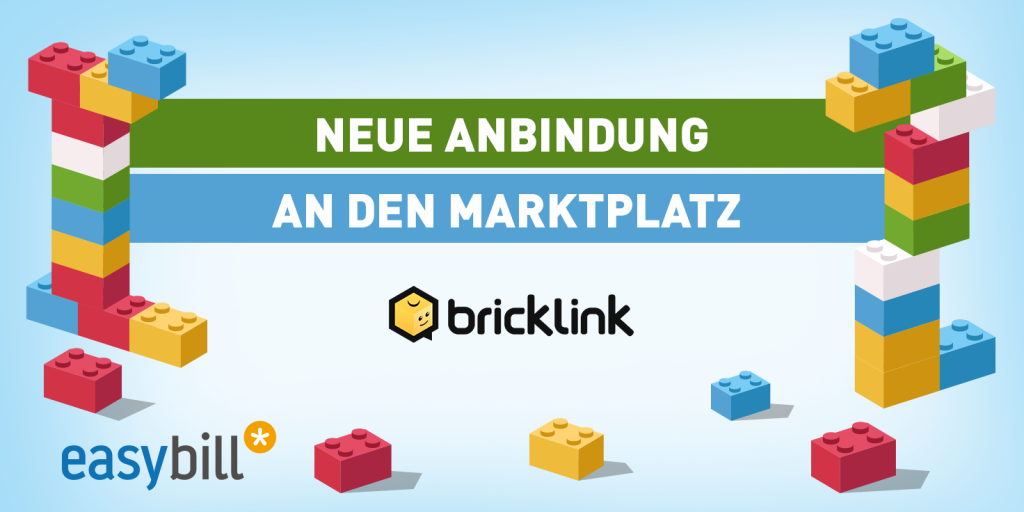 Automatische Rechnungserstellung für BrickLink – so einfach wie noch nie und international möglich.
"Welcome to the world´s largest LEGO® marketplace!"
Ab sofort können Sie Ihren easybill-Account per direkter Schnittstelle mit BrickLink verbinden. Erstellen Sie einfach, schnell und vor allem rechtssicher Rechnungen. Versenden Sie die Dokumente vollkommen automatisiert und in allen gewünschten Sprachen.
Eine besonders charmante Nische im eCommerce wird von BrickLink belegt. Auf dem wohl größten und bekanntesten Marktplatz für LEGO® dreht sich alles um den Handel mit den beliebten Steinen, Figuren und Sets.
Automatisieren Sie Ihre Rechnungserstellung für BrickLink, für all Ihre Verkäufe. Nutzen Sie Ihren eigenen Look and Feel. Hierbei spielt es keine Rolle auf welchen Plattformen Sie verkaufen. In easybill vereinen Sie all Ihre Bestellungen in lediglich einem System.

easybill erkennt automatisch um welchen steuerlichen Sachverhalt es sich handelt, egal ob innergemeinschaftlich, Ausfuhrlieferung oder einfach nur umsatzsteuerpflichtig. Sie behalten ebenfalls den Überblick über den grenzüberschreitenden Handel und wir informieren Sie automatisch über das Erreichen eines Schwellenwertes.
Das Übertragen von Daten an Versanddienstleister, diverse Auswertungen und Statistiken sowie ein Export Ihrer Ausgangsrechnungen zum Steuerberater sind weitere Funktionen, mit denen easybill Sie in der täglichen Arbeit unterstützt..
In unserem Hilfe-Center haben wir eine Anleitung für die Anbindung sowie zum Import der Bestellungen bereitgestellt. Selbstverständlich steht Ihnen unser Support-Team auch gerne bei Rückfragen zur Verfügung.