Creating a correct invoice often causes headaches. At the latest when the tax inspector is at the door, unpleasant surprises can arise if required details are missing on the invoice, and this may have been the case for some time. This can be expensive and lead to high administrative costs, because the tax office has no mercy when it comes to value added tax.
What exactly must appear on the invoice so that it is legally correct?
The tax number or the sales tax identification number
Does a tax number have to be on the invoice? And if so, which one? What exactly do these numbers mean and what's the difference?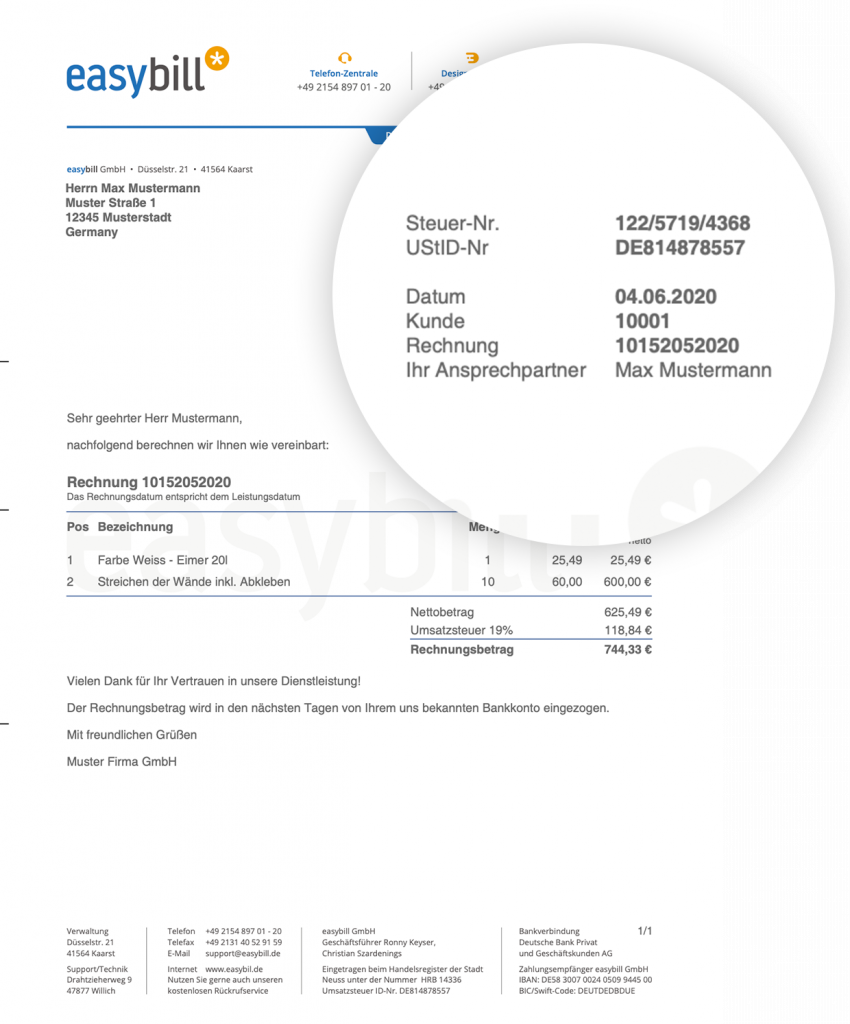 The tax number or tax ID
If you issue invoices to persons or companies that have their registered office in Germany, it is sufficient to state the tax number or tax ID on the invoice. Alternatively, instead of the tax number, you can also enter your VAT identification number (VAT ID). Many companies prefer to indicate your VAT ID, as it is more secure from a data protection point of view.
Pflicht zur Überprüfung der Umsatzsteuer-Identifikationsnummer
Das liefernde Unternehmen ist gemäß § 6a Abs. 4 UStG verpflichtet, die Angaben des Abnehmers mit der "Sorgfalt eines ordentlichen Kaufmanns" zu prüfen. Kommt der liefernde Unternehmer seiner Sorgfaltspflicht bezüglich der Überprüfung der Richtigkeit der USt-IdNr. nicht nach und stellt sich später heraus, dass die von dem liefernden Unternehmen angegebene USt-IdNr. des Empfängers der Lieferung nicht korrekt war, muss das liefernde Unternehmen mit Steuernachzahlungen rechnen. Um dieses Risiko zu vermeiden und der "Sorgfaltspflicht eines ordentlichen Kaufmanns" nachzukommen, empfahl es sich grundsätzlich, eine Überprüfung der USt-IdNr. des EmpfängersUSt-ID-Prüfung für einzelne Belege nachzuweisen. Verletzt man diese Nachweispflicht jedoch, kann dies steuerliche Auswirkungen haben. Sie müssen die USt-ID Ihres Kunden prüfen und diese Prüfung dokumentieren. Unter Umständen drohen Ihnen ansonsten Umsatzsteuer-Nachforderungen.
The VAT identification number or VAT ID
The VAT ID ( VAT ID No.) is required if you, as an entrepreneur subject to VAT, write an invoice to an entrepreneur in another EU country (B2B transactions), because these are intra-EU deliveries or services.
Wie erhält man die Umsatzsteuer-Identifikationsnummer?
Sie können jederzeit einen Antrag beim Bundeszentralamt für Steuern stellen, entweder online oder über einen schriftlichen Antrag.
Advantages of the sales tax ID:
If both parties provide a VAT ID number, the supplier or service provider does not have to charge VAT. Because of the tax-free invoices, no sales tax has to be paid to the tax office. This eliminates the cumbersome VAT refunds for intra-Community deliveries and services.
Please note: As a small business owner in the sense of § 19 UStG you are not entitled to receive VAT-exempt invoices from other entrepreneurs in the EU.
Other required details to be included on the invoice
For a correct invoice the following details must also be provided:
The term "invoice"
Name and address of the company providing the service
Name and address of the beneficiary
Time or period of delivery or service
Quantity and description of the delivered products or type and scope of the service
The charge for the delivery or service in net
The applicable VAT rate and the applicable VAT amount

In case of different tax rates, the respective net amounts must be indicated separately

Price reductions such as rebates and discounts
The date of issue (= invoice date)
A unique, consecutive number assigned to the invoice, without gaps in the number range
As described above, the tax number or VAT ID of the invoicing party
Create your correct invoices with easybill and make sure that these required details always appear on your invoices: The details are transferred automatically through the invoice templates and can no longer be forgotten.
---