Online invoices for Amazon merchants
The smart solution for online merchants
Automatically create invoices, delivery notes and credit notes for your Amazon orders. Works for Amazon FBA, FBM, PAN-EU or even the VAT Calculation Service (VCS) and Amazon Business.
Ready for immediate use on your Amazon marketplace

Always in compliance with local invoice requirements

Fulfill orders faster and save time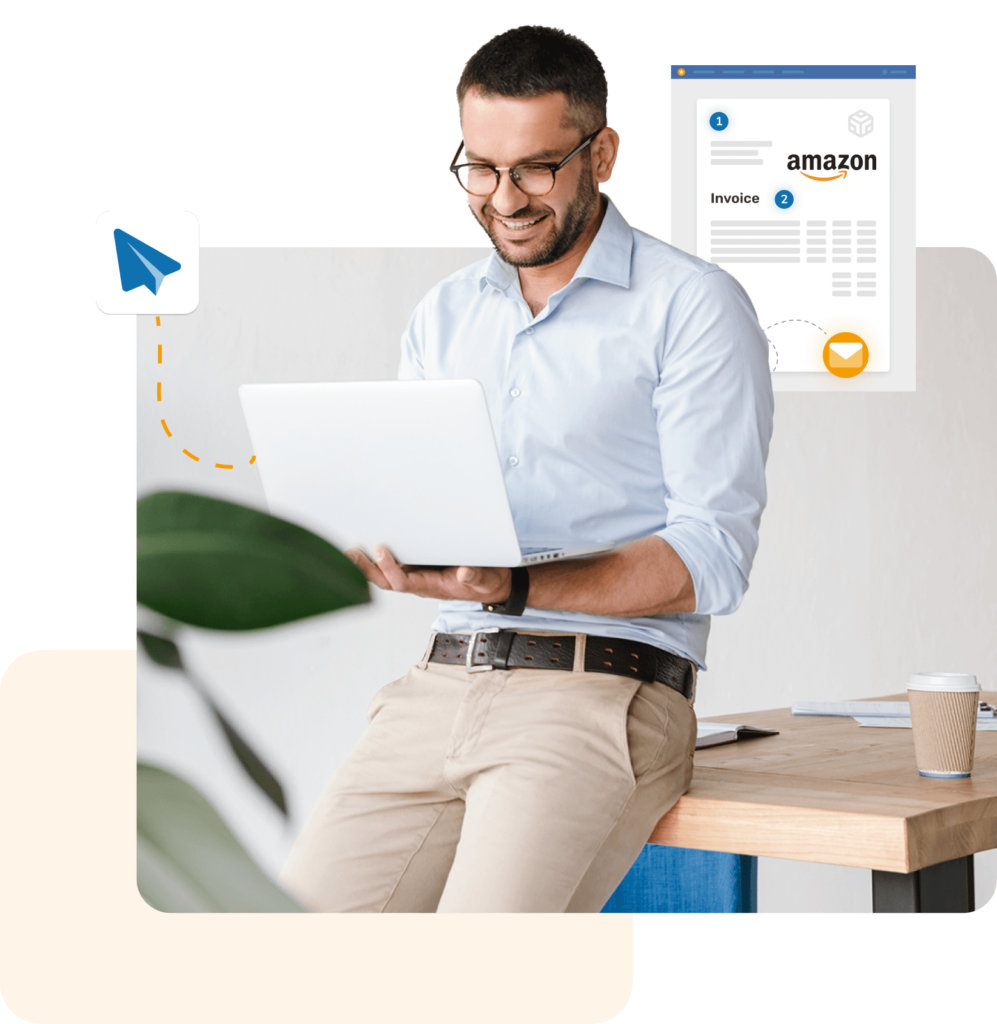 Automate your Amazon invoicing
Let us show you how to save time on invoicing for your Amazon shop
Create an account
Create a free trial account. No obligations, no setup fee and no payment information required!

Connect to Amazon
Connect easybill with your Amazon account as well as various marketplaces and shops such as eBay, Kaufland & Shopify and import your orders.

Get started!
Use the automatic import of orders and returns. Start creating invoices and upload the documents to Amazon immediately.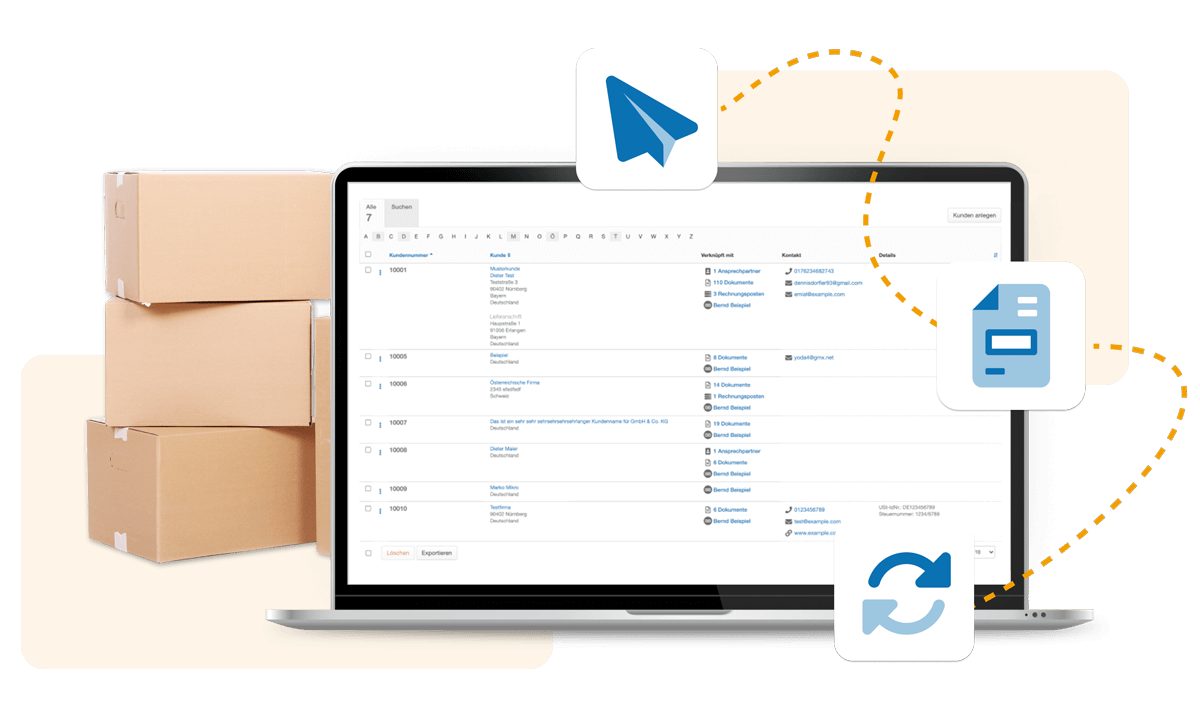 ---
Selling on Amazon
Become part of the Amazon Marketplace: At a glance
Amazon is one of the largest marketplaces in Germany today. Without any programming knowledge, you can list your products online without having to spend an enormous amount of time and effort on your own store. Amazon gives you all the tools you need to give your products a good ranking and increase sales. As an all-rounder, Amazon also takes care of the storage and shipping of your items.
"Sellercentral" handling tool for account management

Fullfilment by Amazon (FBA) – Shipping via Amazon

PAN-EU and CEE-Advantages
Blog
Interesting topics about your Amazon business

What do you need for the connection?
---
What payment methods are available in Amazon Marketplace ?

Payment viaPayments by credit card: MasterCard, American Express, Visa card, Amazon.de VISA card and prepaid versions

Payment by direct debit (in EUR)

Payments per monthly statement
Amazon gift cards / vouchers

amazon.de-action certificates
Payment via Przelewy 24 (P24)
---
Marius Krauza
mybait.de Online merchant
Easy creation of Amazon invoices & credit notes
Automate your Amazon store with easybill
---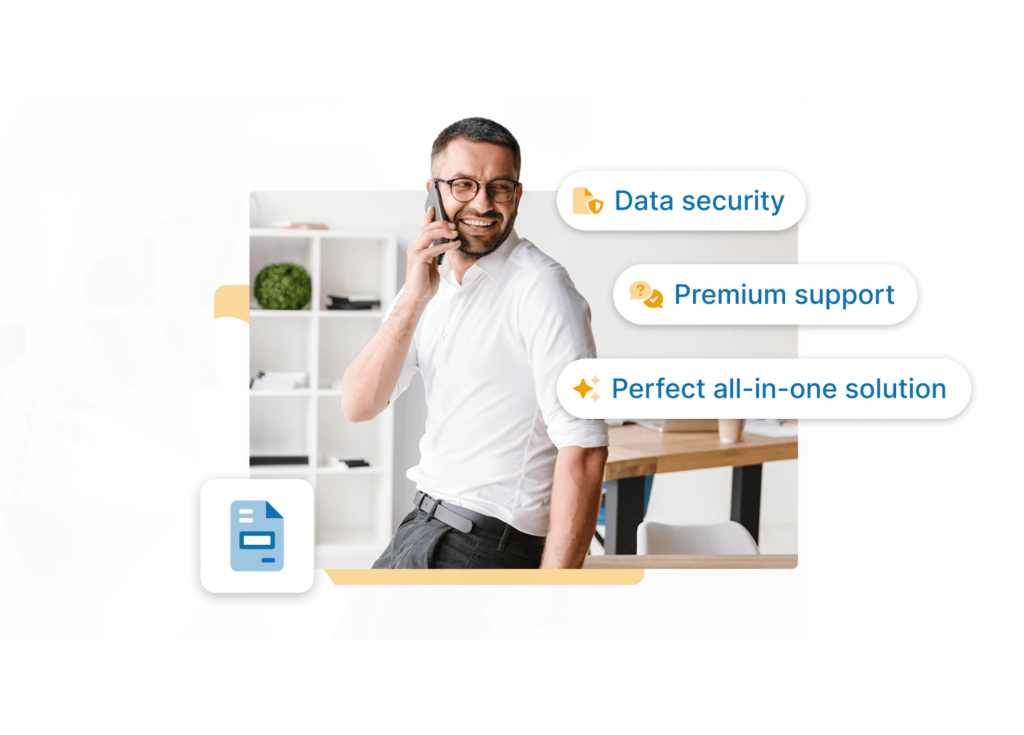 Tax calculations we take over for you. Whether CEE or PAN EU program, whether OSS or even IOSS – with easybill you are always on the safe side fiscally.
easybill takes over tax calculation
Own invoicing despite Amazon's sales tax calculation service (VCS lite)
Own invoice generation despite Amazon's sales tax calculation service (VCS lite)
Automatic upload of invoices and credit notes to your Sellercentral
FAQ
Frequently asked questions
about easybill
Why should I automate my Amazon invoices?
If you automate your Amazon invoices, it will first of all save you a lot of time and nerves. Another reason is the specifications that Amazon makes for this: If the buyer has an Amazon business account, for example, the invoice must be available for download within 24 hours after shipping.
With easybill, the entire process works automatically, regardless of whether easybill performs the tax calculations or creates the invoices based on the Amazon sales tax calculation service (VCS lite) with the values calculated by Amazon.
How secure and reliable are automated invoice and delivery note processes?
Automated invoice and delivery bill processes are very secure and, above all, reliable. By using easybill, you can be sure that your data is secure and the processes are carried out properly. In addition, the automation of invoices, delivery bills and credit notes minimizes the risk of errors and inaccuracies that can occur with manual processes or in a hurry.
How does easybill guarantee the security of my data?
With easybill, your data is in the best hands. Your data is stored exclusively on servers in Germany and protected by modern encryption standards. As an additional safeguard, two-factor authentication (2FA) is available to you. Everything about account security in easybill.
Which membership is available during the trial?
To allow you to test all features, our 7-day free trial period consists of all the features available in the BUSINESS membership.
What are the benefits of invoice automation for my online store?
Automating invoicing offers numerous benefits for online store owners. You save time, reduce the risk of errors, scale your business, and improve the customer experience. Automation allows you to prioritize other important tasks while invoicing runs efficiently and accurately in the background. Plus, you can keep up with the growth of your business and provide your customers with reliable and fast invoicing.
Can I customize my automated invoices and delivery bills?
easybill automatically generates professional invoices that include a clear presentation of the purchased items and costs. In addition, you can customize the layout and design of the invoices to ensure they match your branding. Professional invoices not only provide you with legal cover, but also convey credibility and facilitate the payment process. They are essential for accounting, save time and can strengthen customer loyalty.
Is everything already included in the membership price?
Yes, there are no hidden costs. Delivery credit – e. g. to let easybill send invoices by postal mail or fax – must be booked separately. You have full cost control at all times. Costs for additional employee accesses and finAPI transactions can be found in the price overview.
What subscription periods are available?
All paid memberships are available on a monthly, quarterly, half-yearly and yearly basis. You choose the membership duration that fits you best.

Our customers love us
easybill experience
Additional features
easybill can do even more
---
---
easybill.|Rechnungen.| online schreiben.|