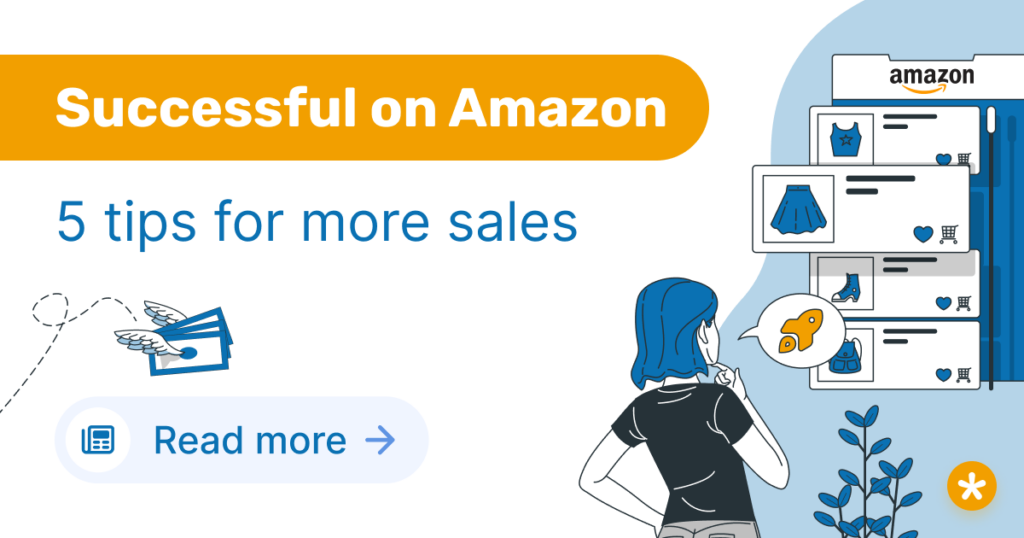 Why are we coming at you today with Amazon tips? If you want to get a foothold in the e-commerce business, you can't really get past the large, established marketplaces such as Amazon. Many start-up companies begin their first experiences in online commerce here and try their hand at the new target group. They gain a first impression of whether their products are accepted by buyers and whether sales plans are actually met as previously planned.
To help you get started successfully on Amazon, we have 5 Amazon tips for you on how to boost your sales.
Tip #1: Do extensive product research
You should carry out precise research in advance to find out which product is suitable for you and also whether there is already demand for it on the market. Does the product also have a good profit margin for you? Use tools that show you which products are currently in vogue and are being sold successfully. Also get an idea of how big the competition is for this product and weigh up whether you also want to enter this market.
Tip #2: Optimize your listings
What is the saying? The eye eats with you. Even in online shopping, the item images are often what convince the buyer. Of course, your product must first be able to be found. Use meaningful product descriptions and only relevant keywords that make your product findable. The ranking of your products plays a big role. You may know it from your own search behavior on Google. With a lot of goodwill you might click until page 2, but definitely not further. Also with the Amazon listing you should aim for the first rankings.
Our additional tip: If you use the Amazon FBA program, i.e. storage and shipping via Amazon, you already optimize your listing through this. Because products marked with FBA shipping often have better visibility due to the "Prime" notice and customers place a higher priority on your search here.
Tip #3: Ensure outstanding customer service
You probably know it from yourself: You prefer to buy where you have already had a good experience. This is exactly the good experience you should give your customers as well. Good service is not enough here. Set yourself apart from the competition by providing outstanding service. Respond quickly to questions or concerns of your customers, so that you can also pick up good customer reviews here. Amazon places a very high value on positive customer reviews. Think about how you can differentiate yourself and your products. How about personalized add-on items, for example? You could ship your products in personalized packaging materials when you ship them, with your company branding. Or you could include small add-on gifts with your shipped items to create a reminder of your brand.
Again, our tip: FBA shipping ensures high customer satisfaction through reliable and timely shipping of products. This in turn leads to better customer reviews of your products. Consider it.
Tip #4: Manage your inventory carefully
Nothing would be worse than the successful purchase of a customer, but the product is currently out of stock. The buyer would have to wait until your reorder has arrived and only then will it be shipped to him. It goes without saying that this does not have a positive connotation. The customer's displeasure is probably reflected in a rather negative rating. You should avoid this at all costs.
Tip #5: Use Amazon's own marketing tools
Amazon already provides you as a seller with some marketing tools. You are welcome to research here which tool would be suitable for your purposes. Use Sponsored Products or Sponsored Brands to present your products to a broad target group. Take a look at the help section of the seller portal. Certainly not every tool is suitable for every company, but you will surely find the right tool for you.
Conclusion of our Amazon tips
Especially the Amazon FBA program offers you the chance for a successful establishment of your brand and your products on the market. Of course, you can't ignore the fact that this service also comes with fees. Weigh the costs and benefits of the FBA program for yourself. Nevertheless, it brings many positive side effects with it, which you may achieve in your own efforts only after a few months and via FBA already promptly.
Read also:
Link Amazon with easybill (in german)
Efficient collaboration: The easybill tax consultant portal
Writing invoices without a trade – Is that possible at all?