Automated subscription invoices
With a few clicks to the template for automated recurring invoices
You regularly write invoices with the same content? You need these invoices for example for recurring services, hosting or maintenance contracts? You only change a few details such as invoice date or invoice number and the rest remains identical? And each time you realize that you are wasting valuable time and you keep making unnecessary mistakes or you even forget to write invoices on time?
Then use the recurring invoices from easybill! With this function for recurring documents with automated service periods you save time, avoid errors and never forget to generate an invoice on the correct date. With the help of an individual, standardized invoice template for recurring invoices, easybill generates automatically recurring invoices in no time at all. In just a few steps, you define the time, the cycle and the duration.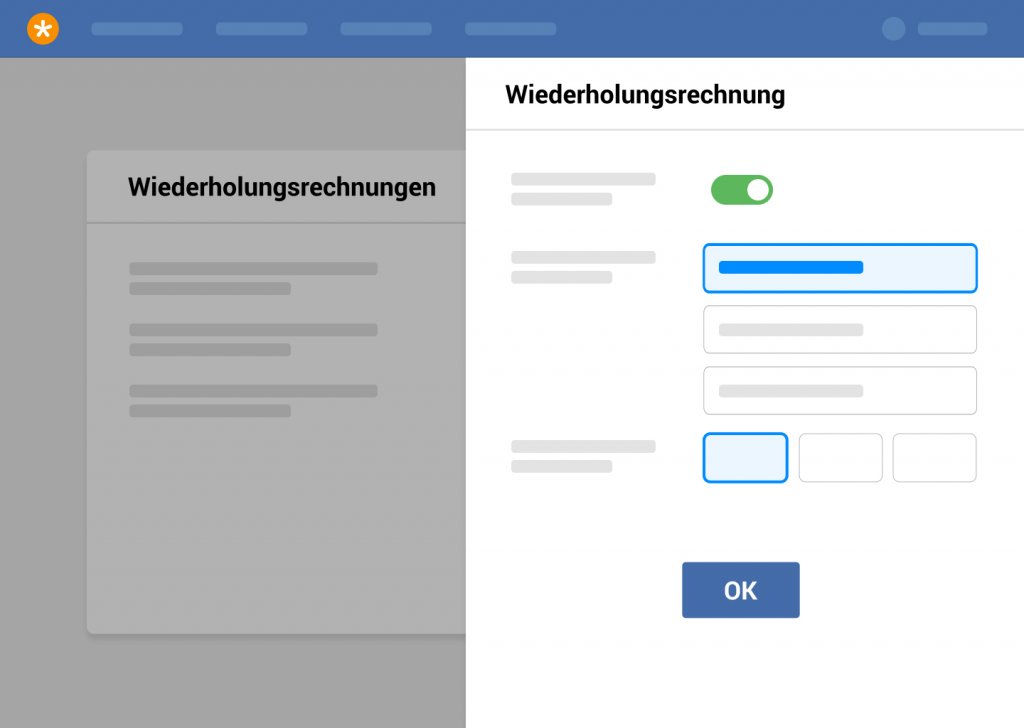 Individual, recurring invoice templates, simple, fast, error-free and on time

Flexible definition of times (date) and repetitions (daily, monthly, weekly, yearly)

Determination of duration and end date of the repetitions (e.g. when the subscription is terminated)
If required, select a draft of an invoice, to carry out a pre-screening

Free, automated e-mail dispatch also using your own mail server

Receive a message via the easybill system when creating a new invoice or a draft of an invoice
Create recurring invoices
In only a few steps
Save time and money with the easybill recurring bills. Create recurring invoices in just a few steps. With this useful function automate and standardize you can create and send your recurring bills. Otherwise, you benefit from all the practical functions of the regular invoice generation (customer selection, text modules, invoice items, etc.).
Standardized content for recurring invoices

Individually designable invoice descriptions despite standardization

Use of customer data also for recurring invoices
Always on time
Automatic dispatch of subscription invoices
Set the time, repetitions and duration for the creation and sending of these recurring invoices. You determine when, how often and how long an invoice is automatically created and sent.
Automatic creation of the recurring invoices according to your specifications

Order placement and order confirmation

Customizable Determination of time, frequency and duration

Free dispatch of your recurring invoice by e-mail

On request we also take over your mail dispatch
Invoice Drafts
Pre-screening and adaptability
You would like to check the content or date of your recurring invoice in advance? No problem! You first create a draft of an invoice. Despite standardization you remain flexible: You can revise this draft at any time and redefine the time of sending. If you wish, you will receive a message by e-mail as soon as a draft is created.
Draft invoice for the pre-screening of the invoice

Adaptable revision of the draft invoice (texts, date)

Notification when the invoice draft is prepared (optional)
Use standard texts
Standardized and yet individual
You want to save time and still address your customers personally? As with your regular invoices, you can also use the recurring documents previously created text templates for standardization. In addition, you also have the option to individualize invoice contents or e-mail texts. The content from your customer database can be used completely automatically.
Simple and precise processing
of recurring invoices with easybill
---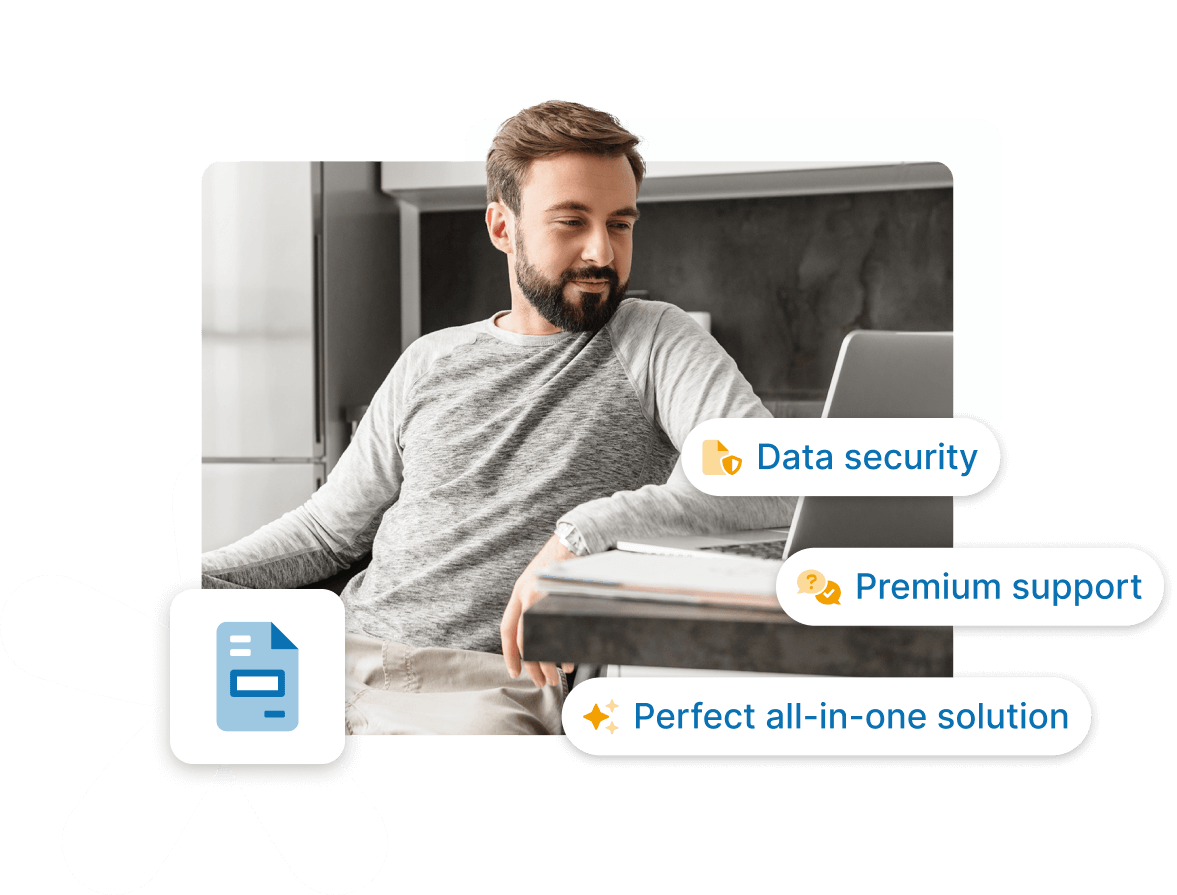 Speed up incoming payments and minimise administrative workload today!
Save a lot of time thanks to the automation of recurring invoices
Improve compliance with legal and tax requirements
Customer satisfaction: professional processing, long-term business relationships
FAQ
Frequently asked questions
about easybill and recurring invoices
What tax aspects should I keep in mind for recurring invoices?
It is extremely important to keep an eye on the tax aspects of recurring invoices. Therefore, you should make sure to indicate the VAT correctly and to comply with the applicable tax regulations. It is recommended to consult a tax advisor to ensure that all relevant tax aspects are taken into account.
Can I set up automatic payment plans for recurring invoices with easybill?
You can set up automatic payment plans for recurring invoices at any time in easybill. Set payment terms and intervals to automate recurring payments. For example, you can set up monthly or quarterly payments and easybill will take care of creating and sending the corresponding invoices at the specified time. This not only saves you time, but also minimises the manual effort involved in managing recurring payments.
Which membership do I test?
To be able to test all features, our 7-day free trial period always includes the BUSINESS package.
How do I manage open invoices for recurring payments?
To manage open invoices for recurring payments, easybill allows you to automatically create invoices, monitor payment status and set up reminders for outstanding payments. In addition, invoice software like easybill allows you to track incoming payments, create reports and automatically reconcile payments. This way you can keep track of your finances at all times.
How does easybill guarantee the security of my data?
With easybill, your data is in the best hands. Your data is stored exclusively on servers in Germany and protected by modern encryption standards. As an additional safeguard, two-factor authentication (2FA) is available to you. Everything about account security in easybill.

Is everything included in the membership price?
Yes, there are no hidden costs. Shipping credit must be booked separately, actively. You have full cost control at all times. Please note, however, that you must book the shipping credit separately and actively. Costs for additional employee accesses and finAPI transactions can be found in the price overview.
Our customers love us
easybill experience
Additional features
easybill can do even more
---
---
easybill.|Rechnungen.| online schreiben.|