The perfect solution for craftsmen
Create invoices in a few clicks

Looking for more time to focus on what truly matters – your customers? Our billing software for craftsmen frees you from time-consuming invoice creation. Discover the ease of generating professional invoices. Capture customer data once and use it for future quotes and invoices, no matter where you are.
The significant advantage: You can do this on the go as well. Even when you're with a customer on-site. If they wish to request an additional service, you can instantly create a professional quote and send it through the integrated mailing interface.
It's time to concentrate on your craft!
Need a free template for craftsman invoices? Make use of our complimentary craftsman invoice template!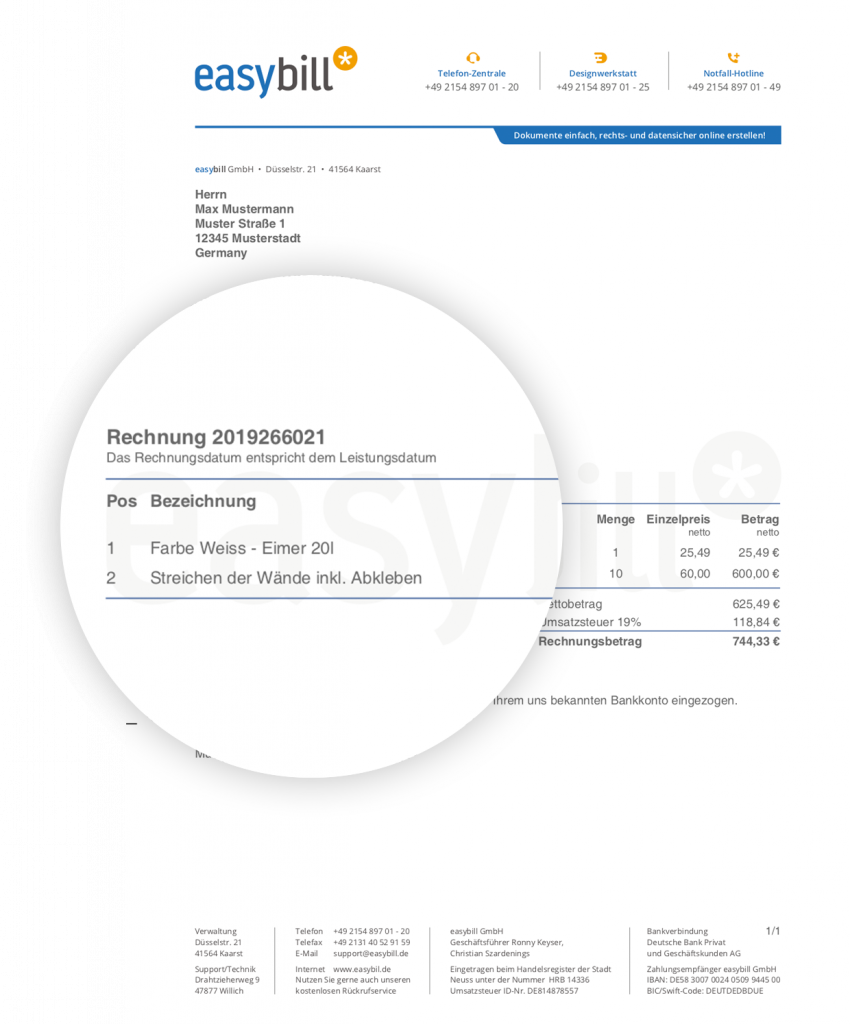 The key features for craftsmen:
---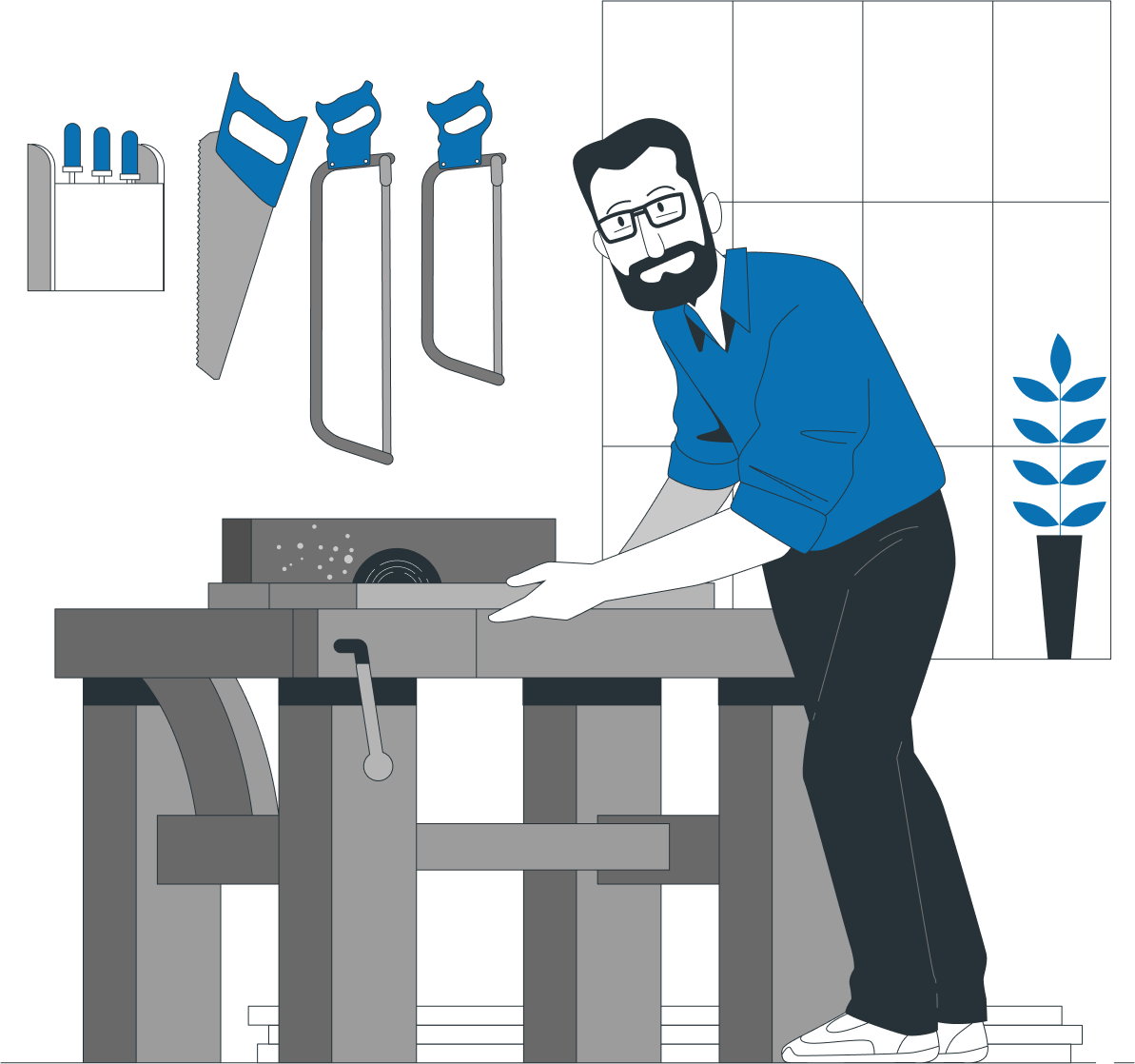 Show "craftsman bonus" on invoices
Specify wage costs and material costs separately
Household-related services and craftsmen's services can be deducted from the tax. However, in order for you as a tradesman to be able to advertise with this advantage, the invoices must be issued accordingly. This is exactly what easybill's billing software makes possible. By listing the wage and material costs as individual items on the invoice, your customers can deduct your services from their taxes.
Time recording system – time sheet for craftsmen
Transfer time entries to the invoice with one click
Did you know that in project management you can not only manage items and services, but much more? If not, you should definitely read on, because with easybill you can also handle the time tracking at the same time. To do this, simply create a new project using the easybill icon and the subtopic "Create project".
In addition to the option to set a project budget, you can manage the hourly rate and the time budget here, so that you can easily and directly take care of the time tracking with just a few clicks – a piece of cake!
Project management in the craft sector
Easily add budget, hourly rate and additional information
No matter how extensive your project is, you can rely on easybill! Our software enables you to achieve the best results with minimal effort. For example, determine in advance what budget and hourly rate you are planning for the respective customer or the entire project.
In the next step, you can clearly view the time actually required and the items and select them as required. In the project overview you will find all time entries and items that have not yet been invoiced.
Whether you bill all entries at the same time by clicking on "Select all" or select individually and issue a small invoice is up to you.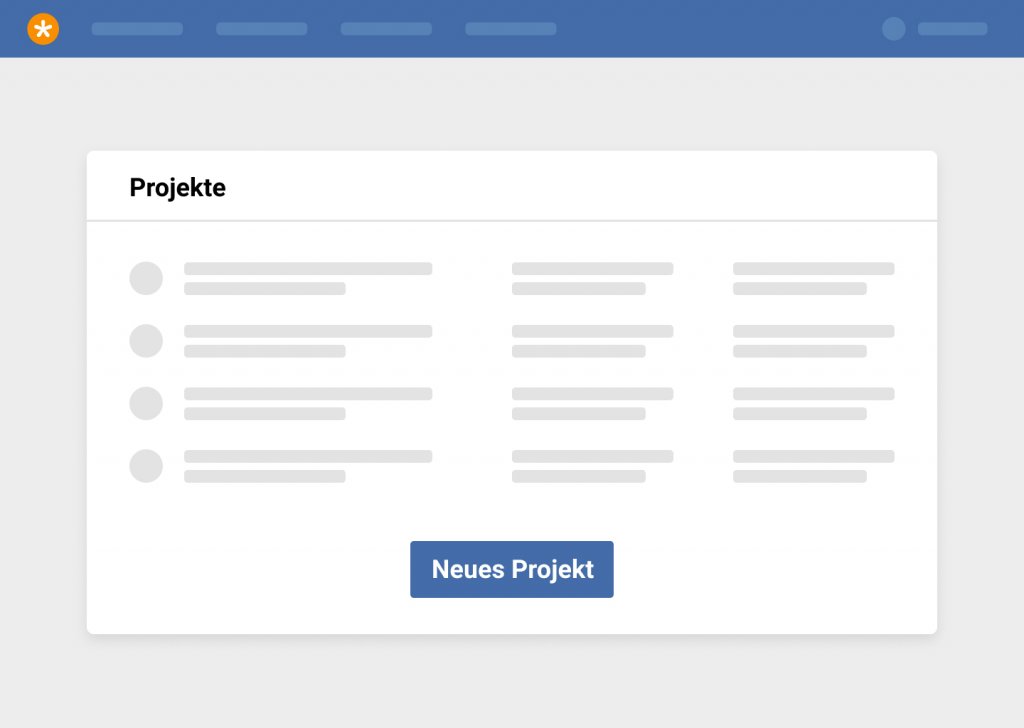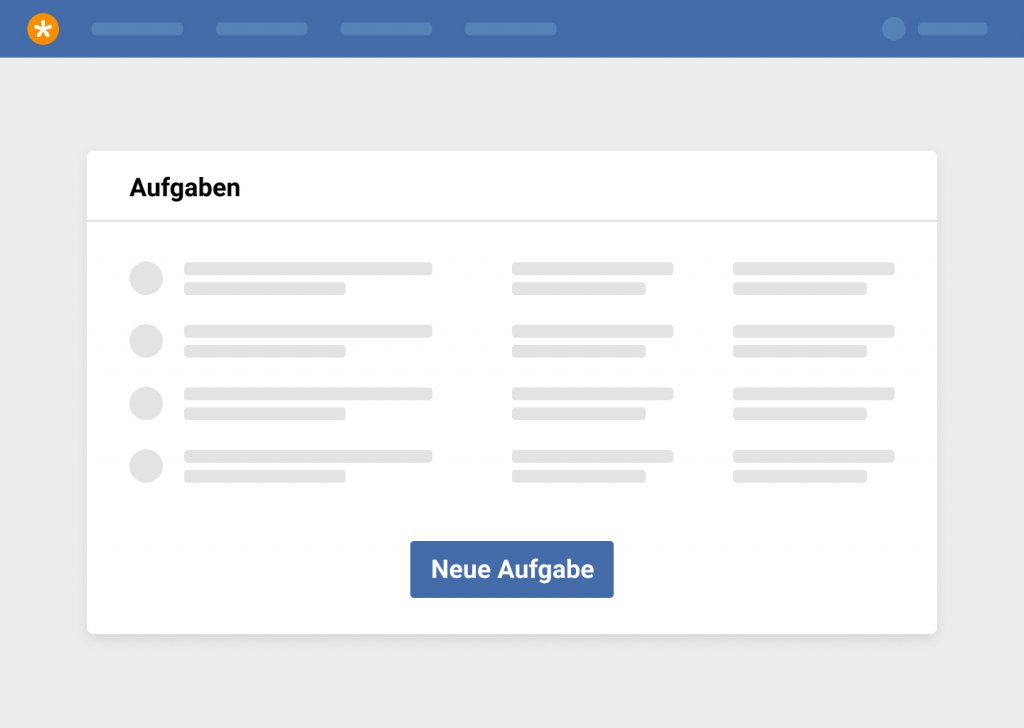 Task management for craft companies
Say goodbye to inefficient paperwork
An email here, a note there – all that takes time and is very inefficient. How can you do it better? With easybill of course.
Urgent tasks that still need to be completed can be easily set up in no time at all on the home page. You'll be reminded immediately when you open it.
But that's not all: e-mail to employees is also a thing of the past. Instead of reminding the colleague about due tasks via this detour, you can link the employee directly to the task – and even send the data of the customer in question or documents that he needs.
This saves time and money and also ensures that all participants always, without much searching and coordination, know what to do.
Connect easybill with other tools
Keep your usual workflow
Did you know that you can link our billing software to many different tools? So you can keep your favourite processes and don't have to change your workflow.
Work schedule, time tracking, call management and many other functions can be easily connected to easybill thanks to our cooperation with numerous integration partners. Give it a try!
Invoicing software

for craftsmen
Increase your productivity
Turn your accounting tasks into a seamless experience and dedicate yourself fully to your craft masterpiece.
Free trial period. No payment data required. No installation necessary.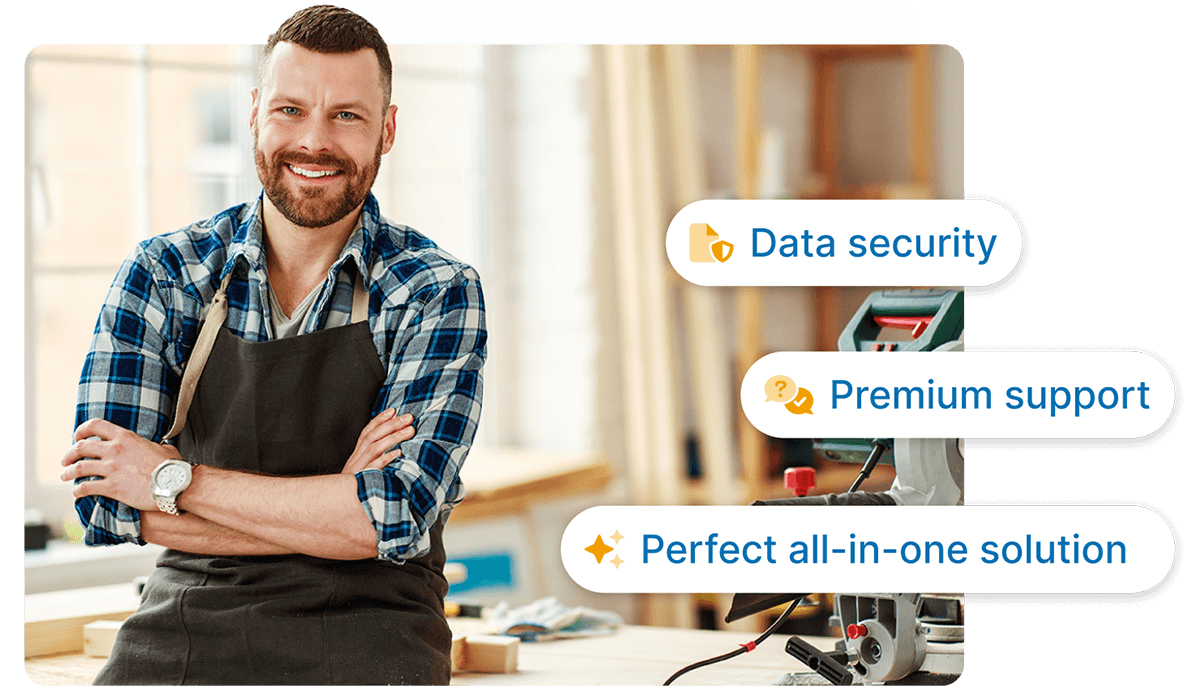 Invoice template & Sample invoice for craftsmen
Free invoice template for craftsmen without VAT
Even as a craftsman, you have to invoice your services or material costs in order to be able to provide proof to the tax office. easybill supports you here with a free invoice template to download. Do you need a template that takes into account §13b UStG? No problem.
And if you are more inclined to use software, register and see for yourself how easy it really is to create your invoices in easybill.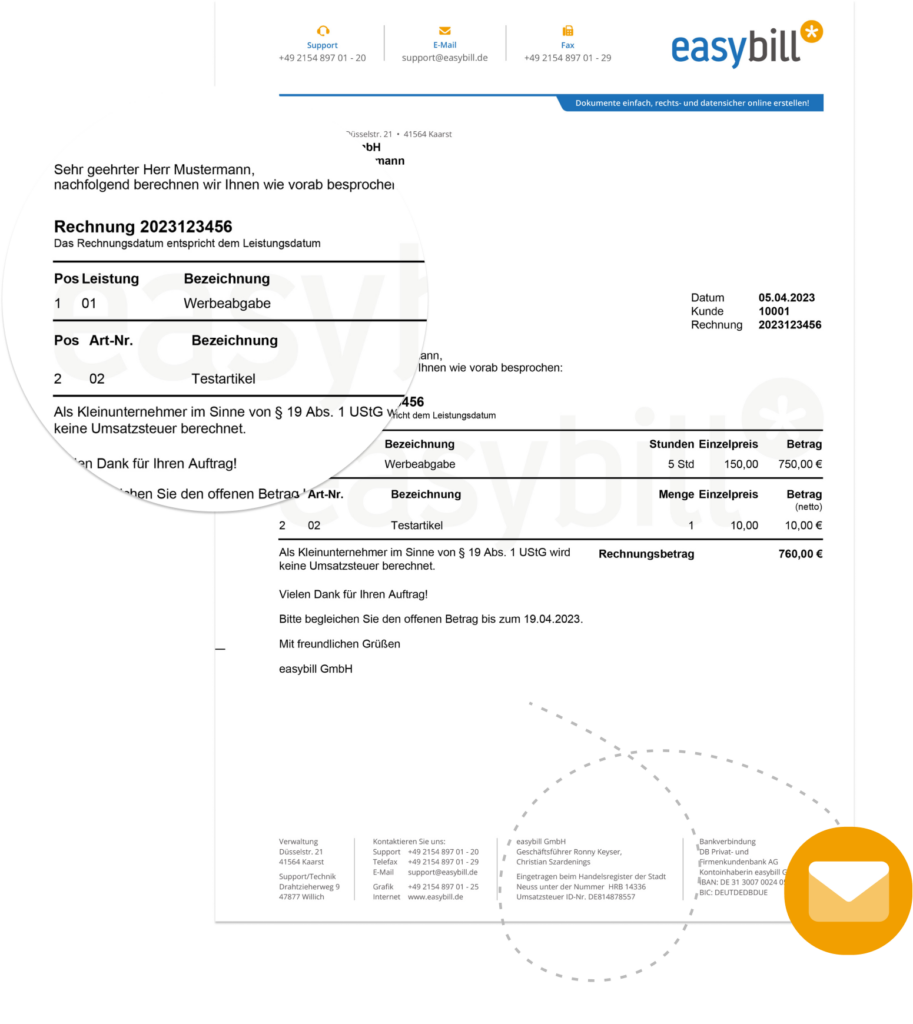 ---
FAQ
Frequently asked questions


about easybill
What are the advantages of a craftsman invoice programme for my business?
A tradesman invoice programme brings numerous advantages for your company. It saves valuable time through automated processes and minimises errors when creating invoices. The professionalism of your invoices increases, which can strengthen customer confidence. In addition, the software provides a comprehensive overview of your financial situation, helps manage payments and facilitates tax compliance. Overall, the software helps streamline operations and increase customer satisfaction.
How do I put a logo on my invoice?
You can easily customise your invoices with our layout and template editor. Alternatively, you can use our free invoice template to create and send invoices with your company logo.
You can also find a free invoice template without VAT for small businesses here.
Personalised invoices help you strengthen your brand and make a better impression on your customers.
Personalised invoices help you strengthen your brand and leave a better impression on your customers.
Which package do I test?
In order to be able to test all features, our 7-day free test phase always includes the BUSINESS package.
What functions are included in an effective tradesman invoicing software?
Invoice software such as easybill offers a wide range of functions that minimise administrative work and optimise financial management. These include the creation of professional invoices and documents, the possibility to create offers and cost estimates, the management of a customer database, the monitoring of payments and reminders.
How does easybill guarantee the security of my data?
With easybill, your data is in the best hands. Your data is stored exclusively on servers in Germany and protected by modern encryption standards. As an additional safeguard, two-factor authentication (2FA) is available to you. Everything about account security in easybill.

Is everything included in the membership price?
Yes, there are no hidden costs. Shipping credit must be booked separately, actively. You have full cost control at all times. Please note, however, that you must book the shipping credit separately and actively. Costs for additional employee accesses and finAPI transactions can be found in the price overview.

What are the membership subscription times
All paid memberships are available on a monthly, quarterly, half-yearly and yearly basis. You decide on the membership duration
Our customers love us
Our customers love us
easybill experience
Additional features
easybill can do even more
---
---
easybill.|Rechnungen.| online schreiben.|