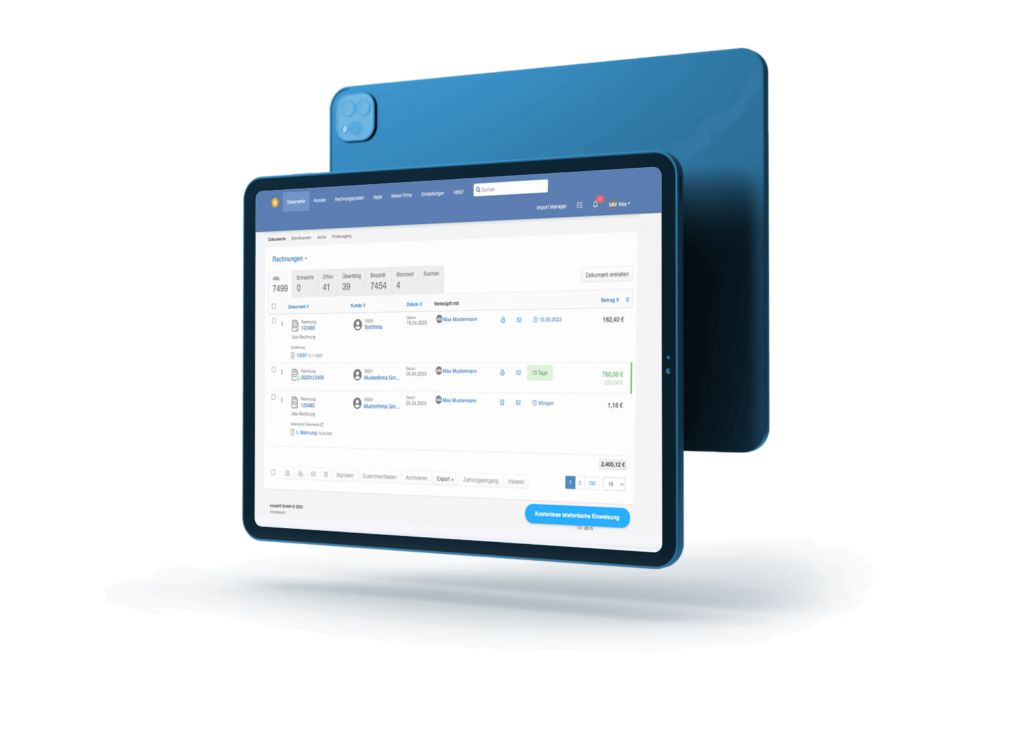 Discover the main functions of easybill
---
Customise invoices
Perfect invoices: Customise invoices individually
When writing invoices, it is particularly important that they are issued in accordance with tax law – and not only for your customers in Germany. With our software, you can be sure that your invoice is also legally compliant for customers in the EU or third countries.
Legal compliance is one aspect of writing invoices. The second is corporate identity or the desire for an individual design. You can also solve this with our invoice software.
Our invoices at a glance:
Layout and template editor for individual invoices and other documents

Use your own Logo or Letterhead

Adjustable column labeling

Customize the invoice number format according to your needs

Include useful tools like QR codes and PayPal button directly onto the invoice

Additionally, automatically back up your documents to your cloud storage (Dropbox, OneDrive, Google Drive)
Order Processing
Seamless customer communication: professional offers and confirmations
easybill supports you from the first step in working with your customers. Therefore, order processing is naturally also part of our service. Use our software to create professional offers, which you can customize and send according to your own wishes.
If you do business with your customer, you can also easily send the order confirmation via easybill. This is also possible with just a few clicks. Because customer data, position descriptions and invoice items are already stored and can be transferred.
Our order fulfillment at a glance:
Create professional offers and order confirmations with a few clicks

Simply copy required information from the master data

Dispatch by e-mail, post or fax possible
Writing Dunning notices
Professional dunning notices and reminders
Reminders are a sensitive issue with regard to a well functioning customer relationship. Therefore it is all the more important to act professionally and appreciatively. How does that work? With our offer, of course. Because it gives you the choice between various document templates that you can adapt to your own ideas.
This does not only apply to the templates. The dunning process itself can also be tailored exactly to your needs and those of your customers. For example, you can use the reminder function to Send notification to customers before an invoice is due.
Another advantage: With our software you have the option of carrying out a reconciliation of bank accounts at certain intervals. In this way, the dunning process can also be taken over by other employees without any problems.
Our professional dunning process benefits at a glance:
Automatic dunning process for faster and more efficient processing

Ability to send payment reminders before an invoice is due

Legally compliant reminders with correct invoice number

Individual adjustments to customer groups possible

Easy payment reconciliation through integrated bank connection

Interface to collection service provider to transfer claims directly
Send subscription invoices
Recurring Invoices
Do you often invoice regular items, e.g. subscriptions, maintenance contracts or service packages? Then rely on efficiency and use our " recurring invoice" function. With little effort, you can define a template from which the recurring invoice is created and sent automatically – similar to a standing order in online banking.
Our recurring invoice benefits at a glance:
With a few clicks on a template for automated recurring invoices

Entry of items, texts and customer data identical to the regular invoice

Free choice of invoice date and interval

We take over the invoice dispatch for you, whether by mail, fax or post

Automatically generate a SEPA XML for direct debits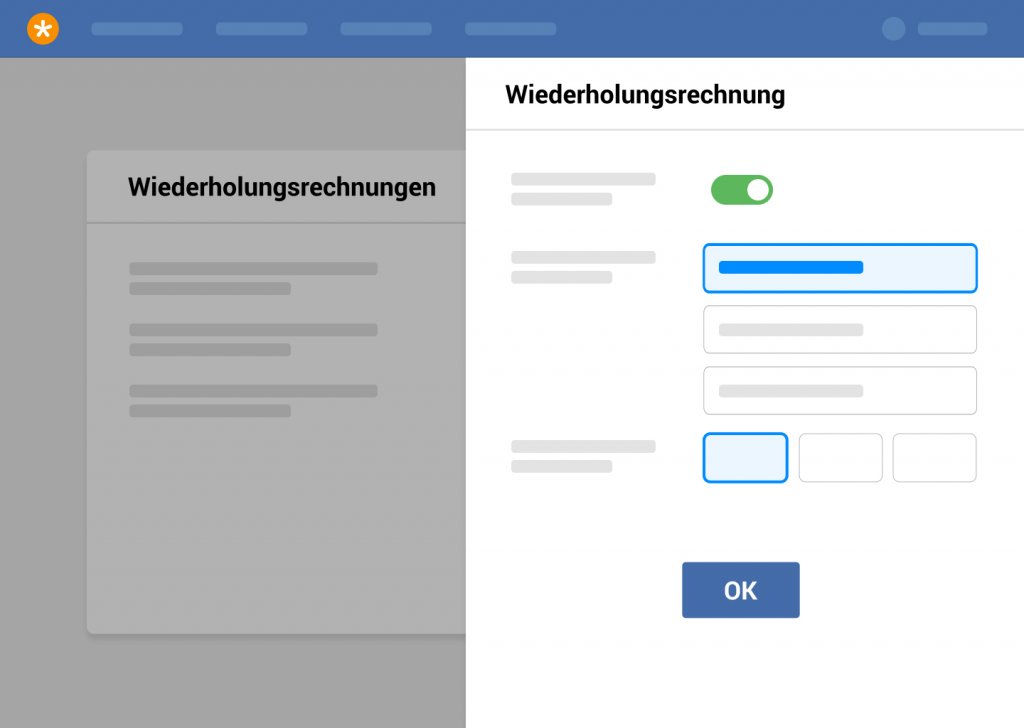 Credit notes
Credit notes and cancellation invoices
You have discovered an error after sending the invoice? This is also no problem with our software, because correcting the invoice can also be done with just a few clicks.
And so that the accounting is still correct even with a cancelled invoice, easybill offers the option "Create credit" This means that even with an invoice correction, payment transactions remain legally secure and comprehensible.
Our credit notes and cancellation invoices at a glance:
Cancel invoices with just one click

Cancellation invoice including all legally required information

Crediting of the amount and thus correct accounting

Automatic reconciliation of payment transactions using a bank interface
Items and Services
Complete control: articles, services and texts for precise settlements
Select different invoice items when creating an invoice and thus ensure that your invoice is comprehensible and clear.
Advantage for you: You decide between items, services and texts and define the name and price for each item only once. For each subsequent invoice you can fall back on the stored data and thus save a great deal of time. But that's not all: you also have the option of entering purchase prices and stock levels and tracking them via the integrated evaluation.
Especially for online dealers this is a great relief. Because you can manage the inventory levels, number of sales and orders directly through our software – service from one source.
Our items and services at a glance:
Create invoice items only once and use them for each invoice.

Selection between different templates

Individual customization to meet your needs is possible

Manage merchandise system directly using the accounting software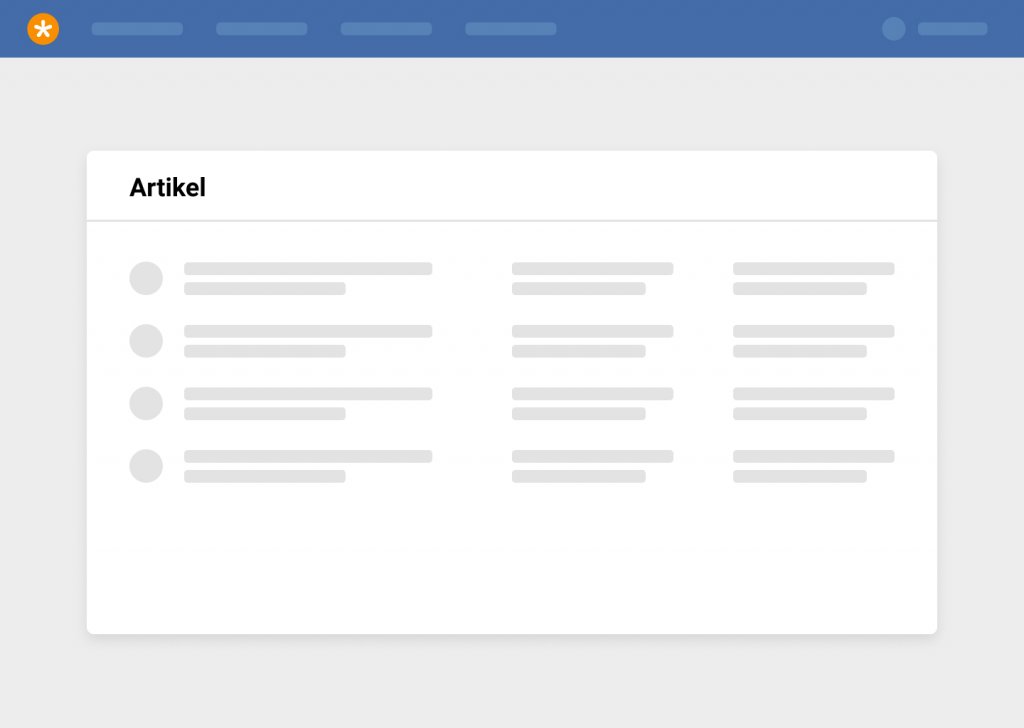 Time recording
Time recording made simple
Would you like to be able to record time records so that you can invoice them to customers? But avoid using additional software? Use time records and their convenient incorporation into an easybill invoice. Keep track of which time records have already been billed and which are still pending. Include performance records in the invoice as proof for your customer.
Project management
Every project at a glance at all times
A project management software is too extensive and means additional work for you? Create your projects in easybill with just a few clicks. Define budgets, hourly rates and additional information. Always keep track of recorded time entries, recorded items for this project and billed items. Transfer a complete project into an invoice with just a few clicks.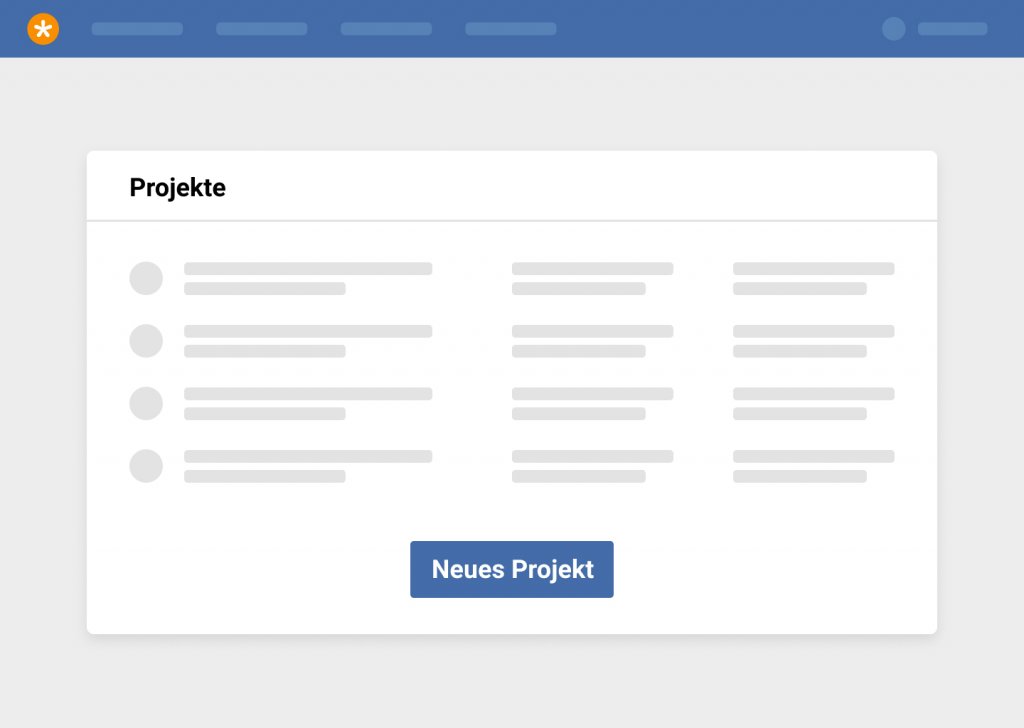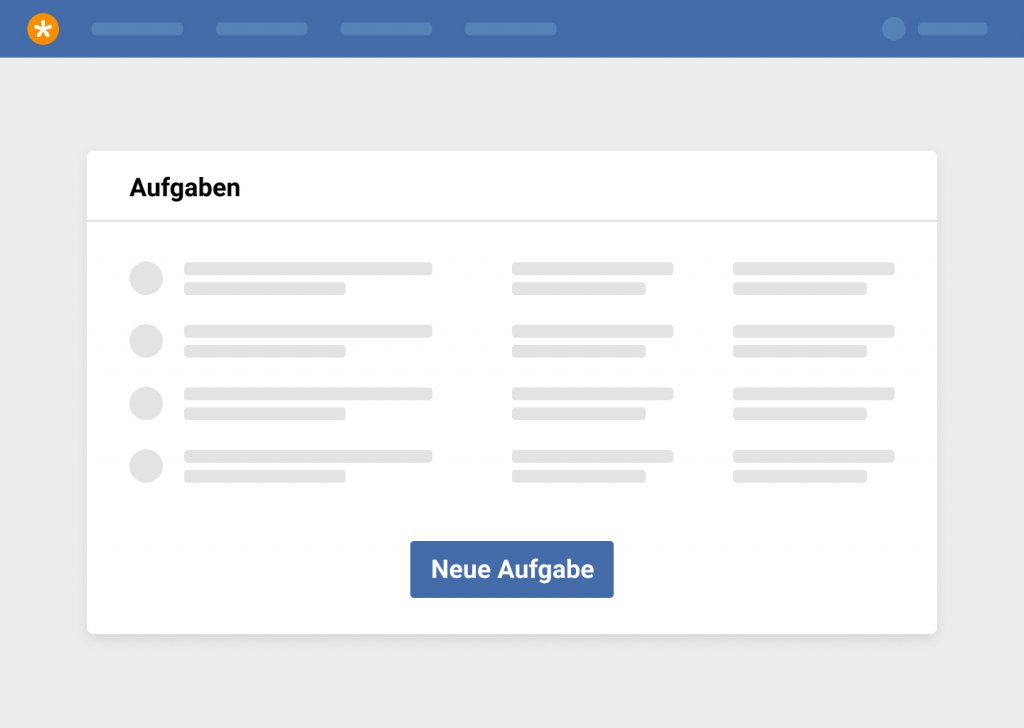 Tasks
Efficient task management: Better organisation
Notes and paperwork all over the place? That's yesterday's news. Save important tasks directly in easybill. Be reminded of due tasks directly on your easybill start page, assign important To Do's to your employees and link reminders directly to the desired customer data or documents.
Individual Stationery
Your brand in focus: Designing customised stationery for
Would you like the convenient service of an invoice software and want to keep your individual stationery? We have thought of that as well: In just a few steps you can customize the layout so that all correspondence fits seamlessly into your Corporate Identity.
With just a few clicks you can store your company logo, information and contact details and use the specially created template for each new document. Time-consuming manual input and customization are now a thing of the past.
Our individual stationery options at a glance:
Option to upload your own layout and customize templates

Uniform company presentation to the outside world

Store company details and information and reuse them for each transaction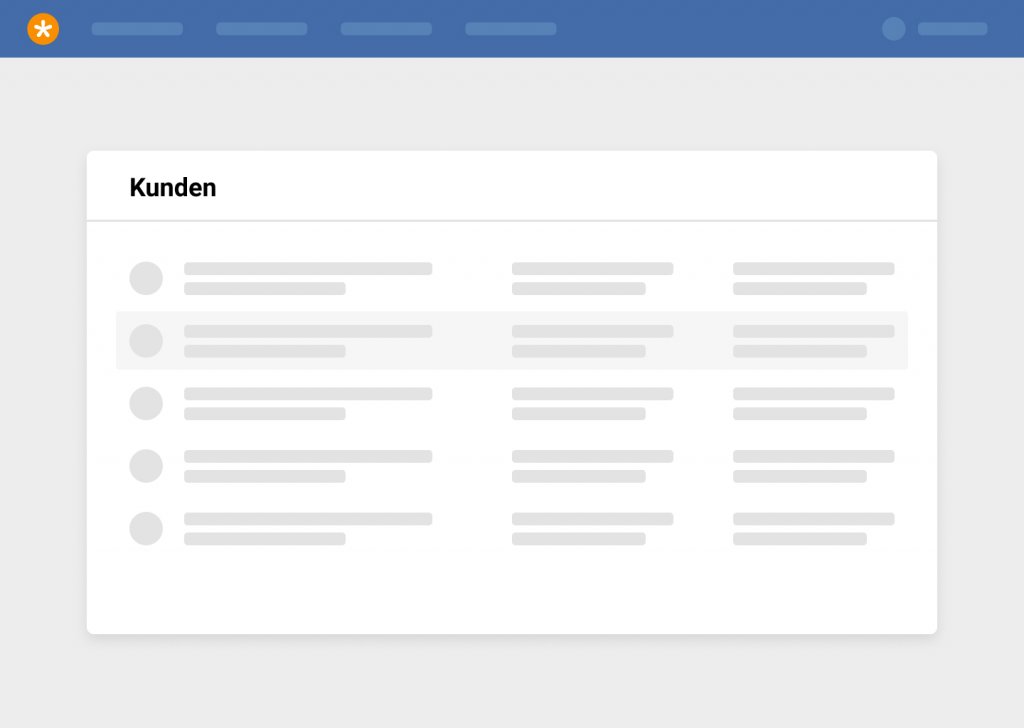 Manage customers
All contacts available from everywhere
No more installing software. Use the convenient customer administration in easybill. Create your customers and contacts an manage them online at any time. Store individual information directly according to the customer, whether it be discounts, special prices, contacts and much more. Your employees also have access at any time.
Our customer management at a glance:
Automatic value added tax identification number (USt-ID) check at invoice creation

Evaluation of customers with the highest turnover

Flexible export of customer data as CSV or Excel
Employees and Roles
easybill for teams with roles and rights
easybill is multi-user capable. What may sound a bit complicated at first, is in reality just the opposite. With our invoicing program, several employees can have access to the booking processes at once.
To do this, you can easily create several employee profiles that are assigned specific rights – unless you want to give up the entire process. To do this, you define roles for your employees, each with individual access rights, while remaining an administrator and keeping an overview. This way you can track which employee has processed which invoice.
Our employees and roles options:
Define teams that manage the accounting together

Define individual access rights for different employees

Individual key for each employee using an API Key
Separate access for the tax advisor
Give your tax advisor access to your invoices
Not only employees can get their own access rights and accounts. If you wish, your tax advisor with his own account can also access our booking software. This saves you the effort of having to collect invoices and receipts – because he can now export the necessary documents himself via the DATEV interface.
Tax advisor access benefits:
Separate account for tax consultants with access to invoices and receipts

DATEV export with all necessary booking data

Avoid misunderstandings thanks to comprehensible processing for both sides
Safety of your data
Two-Factor Authentication (2FA)
The security of your data has the highest priority for us. Activate a second factor for the login to your account. This means that you will not only need your password for the login, but also a code generated by smartphone apps such as Authy or Google Authenticator. Of course you can also activate this for the accesses of your employees.
You do not have time to bring bills to the post office?
Integrated mail interface facilitates delivery
easybill offers you an all-round carefree package for all areas of accounting. Of course, this also includes the dispatch of invoices, because we are also happy to take care of that for you.
This means: Instead of printing out invoices, folding them, addressing and stamping the envelope and finally sending them out, from now on you only have to do the following: sit back relaxed, because from now on we will take care of the invoice dispatch for you.
Of course, you still have the option of sending your invoices as PDF – documents by e-mail directly to your customers and, if you really want to, you can still manage the entire invoice process from printing to sending.
Our Invoicing options:
Invoices can be sent very conveniently using the integrated postal interface or by e-mail

Download invoices and send them by e-mail as PDF documents

Print out invoices and send them yourself (by post or fax) and mark them as "sent
A direct line to your tax advisor
DATEV data service
Thanks to DATEV data service, data can be transmitted directly to your tax advisor. A function you definitely won't want to miss once you have seen how easy it is to file your tax returns from now on.
Because with DATEV data service, not only does the tax advisor receive the booking data he needs, the service also transmits the document images directly to DATEV.
DATEV data service benefits:
Receipts and records are efficiently transmitted to the tax advisor

Data is available in real time

Secure data transmission through the DATEV computer centre
Cloud Backup
Securing Documents
Would you like to store your documents externally in addition to archiving them in easybill? With cloud providers such as Dropbox, Google Drive or OneDrive you can store all documents that you have created in easybill completely automatically in your cloud. Simply establish the connection between easybill and your cloud provider and double the security of your documents.
Dropbox
Link your Dropbox with easybill.
Learn how to do it here.
Google Drive
Link your Google Drive with easybill.
OneDrive
Link your OneDrive with easybill.
WebDAV
For Skydrive, Strato or GMX Mediacenter
Bank reconciliation
Automatic payment reconciliation
Do you track which customers have already paid and which are still being reminded on specific dates? This is now also a thing of the past, because easybill will now take care of it for you.
Our automatic bank account reconciliation tells you which transactions have already been completed and which processes require your attention.
You can also configure this service entirely individually and define your own rules for how you are informed. This also saves you the long training of employees, should you ever want to outsource this task. Thanks to the program, you have an overview of the current status with just one click.
Our bank account reconciliation at a glance:
Automatic reconciliation of incoming and outgoing payments thanks to bank interface

Different accounts can be clearly displayed with one click

Possibility to define individual rules

Company liquidity is monitored in real time
XRechnung
Immediate access to e-invoicing
ZUGFeRD (Zentraler User Guide des Forums für elektronische Rechnung Deutschland = "Central User Guide of the Forum for Electronic Invoicing Germany") and thus XRechnung are new standards for invoicing. For some companies and especially public authorities, they are now mandatory.
Since the XRechnung is produced in a very specific, so-called XML invoice format, it can be read by machine. Companies that work with the federal government or a federal agency submit the invoice directly via a specially created invoice receipt platform.
With easybill, you can already issue XRechnungen and send them to your customers. With just a few clicks, you can convert the invoices that you have created with our software into the new format and immediately participate in e-invoicing. Even when things have to be done quickly, the new data format won't make you sweat. Very easy – thanks to easybill!
Our XRechnung function at a glance:
Option to upload own layout and customize templates individually

Uniform company presentation to the outside

Store company details and information and reuse for each transaction
Everything around e-commerce

As an online merchant, automate your daily work with easybill. Connect your account with different marketplaces or online shops and automate the invoicing and sending of invoices by email.

Professional individual invoices

Keep an eye on incoming payments:
No more time-consuming manual invoice management

Send reminders automatically
Our customers love us
easybill experience
easybill.|Rechnungen.| online schreiben.|