Perfect for every company and self-employed
Writing Invoices Online
With easybill's cloud-based invoicing software, you can quickly and legally create invoices online and send them directly to your customers. Suitable for numerous industries!
Create your invoice within seconds

Cloud-based: Access to invoice status at any time

No worries about missing mandatory data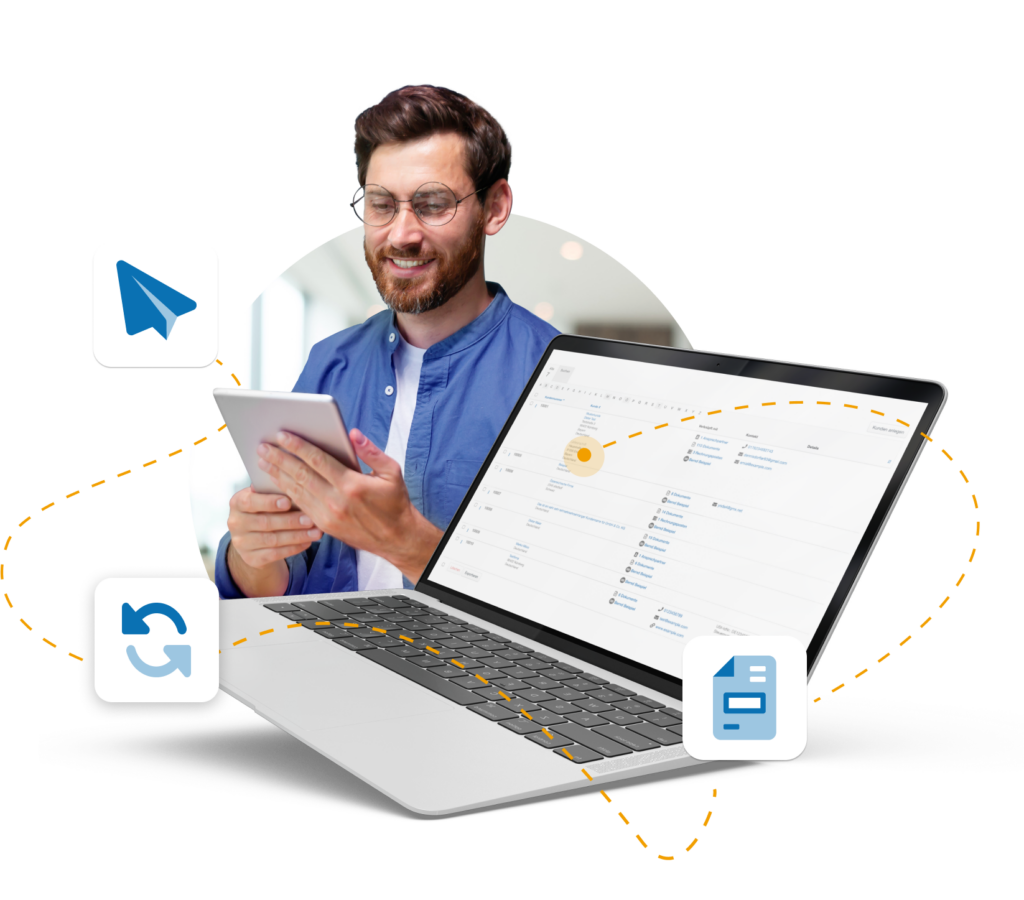 Write professional invoices online
Optimize your invoice management and save valuable time
---
Professional invoice design
Customize invoice
Create the foundation for all your invoice templates in minutes with the Layout Editor. Add your custom logo or stationery, upload your own fonts and customize the look of your invoice template to your liking. Create as many templates as you like online at any time.
Strengthen your brand and impress your customers with a custom invoice that not only reflects your branding, but also reinforces your business identity.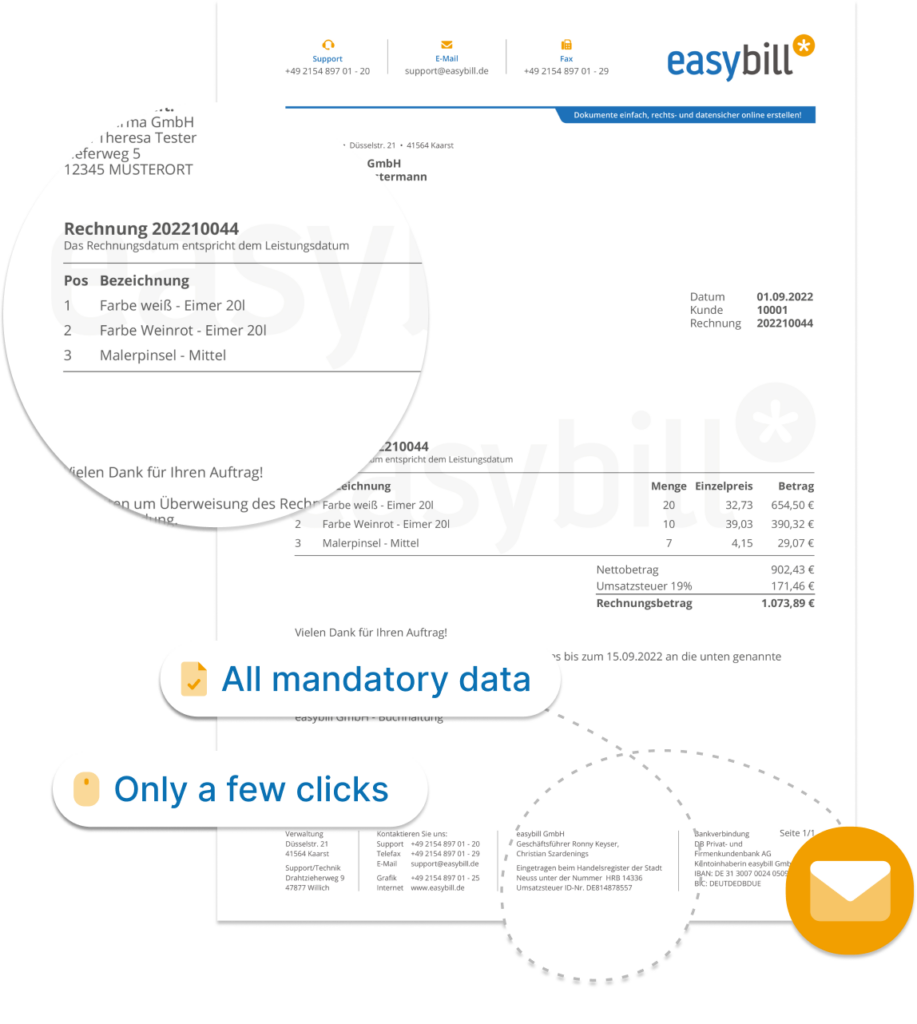 Layout and template editor for individual invoices and other documents

Use your own logo or stationery
Add useful tools like QR codes and PayPal button

Customize the invoice number format according to your needs
Increase your productivity & make the most of your time!
Write your invoice online in just a few clicks: anytime, anywhere.
---
User-friendly and intelligent invoice program
Create a complete invoice within seconds. Automate your texts and invoice items.

Tax free
Use ready-made templates for fiscally and formally correct invoices.

Excellent customer support
We are always there for you at no extra cost. We support you in any matter concerning easybill. Your satisfaction is our most important task.
Write & send invoice
Create and send invoices
In just four steps you can create new invoices or use the automatism of our recurring invoices. Use placeholders to standardize and customize invoice content and email texts. Refer to the contents of your customer master data completely automatically. We will send your invoices by e-mail free of charge, but we will also be happy to send them by post if you wish.
Individual invoice content despite standardized invoice texts

Invoices in many different currencies and languages

No duplicate invoice numbers
Add your products and services directly in easybill

Recurring invoices with automated service intervals

Free e-mail dispatch also using your own mail server

XRechnung for invoice exchange with public clients in Germany
Create subscription invoices easily and error-free
Recurring Invoices
You regularly write invoices with the same content? You need these invoices for example for recurring services, hosting or maintenance contracts? You only change a few details such as invoice date or invoice number and the rest remains identical? And each time you realize that you are wasting valuable time and you keep making unnecessary mistakes or you even forget to write invoices on time?
Then use the recurring invoices from easybill! With this function for recurring invoices with automated service periods you save time, avoid errors and never forget to generate an invoice on the correct date. With the help of an individual, standardized invoice template for recurring invoices, easybill generates automatically recurring invoices in no time at all. In just a few steps, you define the time, the cycle and the duration.
Individual, recurring invoices – simple, fast, error-free and on time

Flexible Definition of times (date) and repetitions (daily, monthly, weekly, yearly)

Determination of duration and end date of the repetitions (e.g. when the subscription is terminated)
If required, select a Draft of an invoice to carry out a pre-screening

Free, automated e-mail dispatch also using your own mail server

Receive a message via the easybill system when creating a new invoice or a draft of an invoice
Keeping an eye on liquidity
Bank reconciliation
Comparison with online banking or even with transaction receipts? That was yesterday. Monitored via bank account reconciliation easybill displays your transactions and shows you open and already paid invoices. Never lose track. Define your own rules for bank account reconciliation and thus making it possible for employees to use.
Simple handling of payment reconciliations via bank connection

Bank account reconciliation controlled through individually defined rules

Clear display of all accounts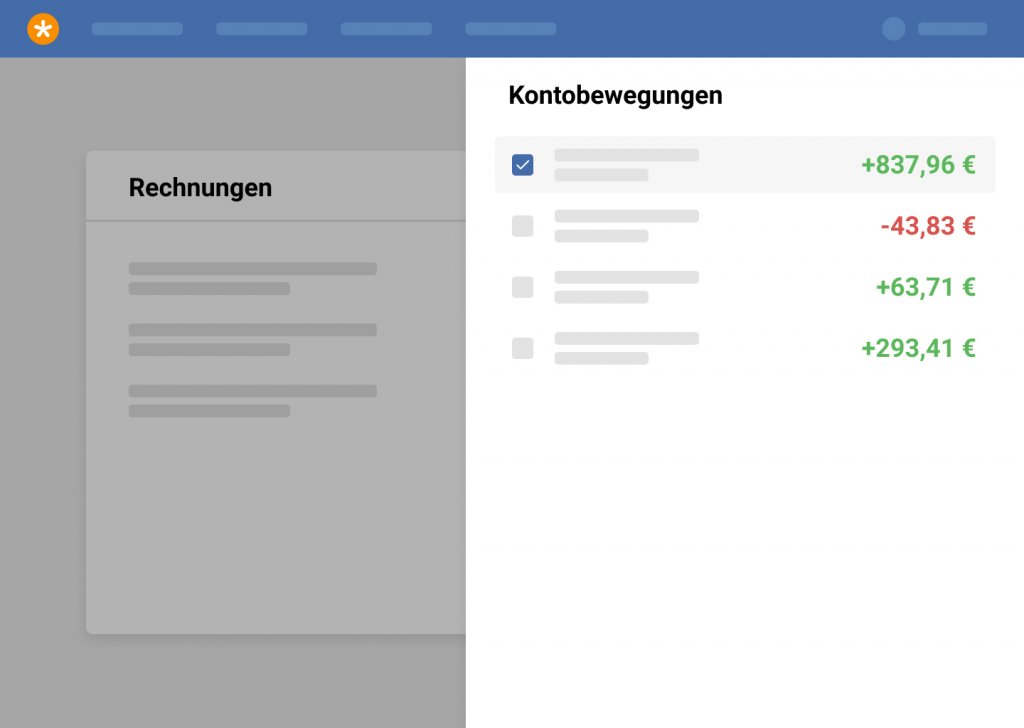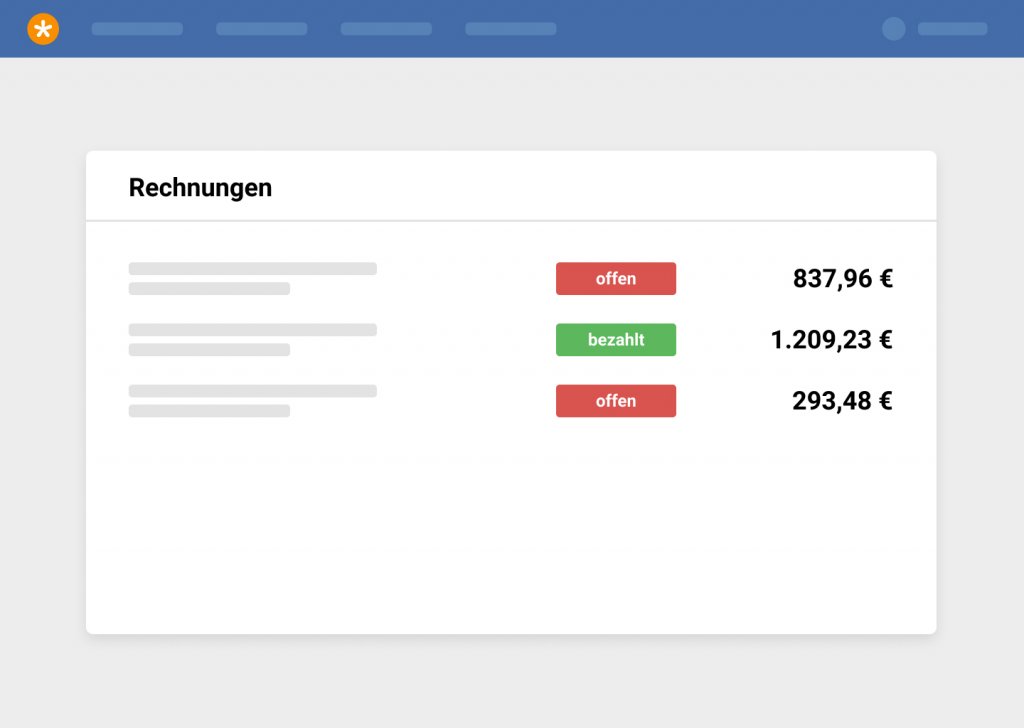 Simple overview of open items
Keep track of open invoices
With easybill you can always keep an eye on which invoices you are still expecting payment from. easybill shows you invoices which have already been paid or invoices that are still open. Use exportable evaluations and overviews directly in easybill for further processing.
Automatic classification of documents according to status

Color coding for unpaid and paid invoices

Export results as PDF, Excel or CSV files

Individual payment terms for each customer
Integrated automatic dunning process
Automatic dispatch of dunning notices and reminders
You do not have time to check which invoices are still open and which transactions you have to create a reminder for? Let easybill take over the reminder process completely automatically defined by your own rules and with your own templates for dunning notices and reminders. Save yourself the effort of entering dunning costs. Include or exclude individual customers or entire customer groups. Send dunning notices and reminders by e-mail, post or fax – however you wish.
Control dunning process using pre-defined rules

Three-step dunning process stored in an instant

Inclusion or exclusion of customers and customer groups

Send payment reminder before it is overdue

No manual entry of dunning charges
---
"A wonderful, easy to act program that has made my day-to-day work much easier."
Customize invoices individually
Create individual tax rates
Different services and goods may have different tax rates. But also in other countries different tax regulations apply. So that you do not lose the overview and especially so that you do not make any mistakes, you can store different tax rates in our invoicing software and customize them to your needs.
Exportation for tax advisors
Accounting with seconds
Do you still give your tax advisor receipts in paper form? Well, that's over now. With easybill you can not only archive your outgoing invoices digitally, but also transfer them directly to your tax advisor via the software. Use the different DATEV formats or the Lexware format. With just a few clicks, your tax advisor can transfer the finished invoices to the accounting department.
Connection to DATEV data service (Rechnungsdatenservice 1.0)

DATEV/Lexware export in CSV or XML format

Digital storage and automated pre-assigned billing in easybill

G/L account default per target country (One-Stop-Shop)

No more piles of paperwork for your company
Sit back while creating & sending

invoices



Write invoice online: Done in seconds!
---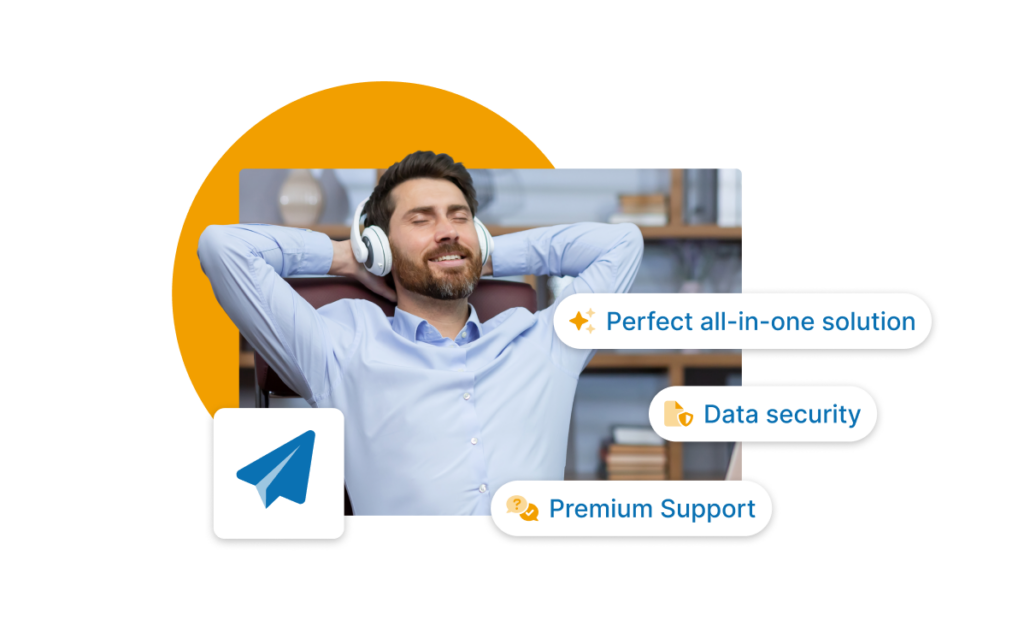 Simple & Simple intuitive use:
Convenient processing through automated processes.
Free trial period. No payment details needed. No installation necessary.
Mandatory information on an invoice

---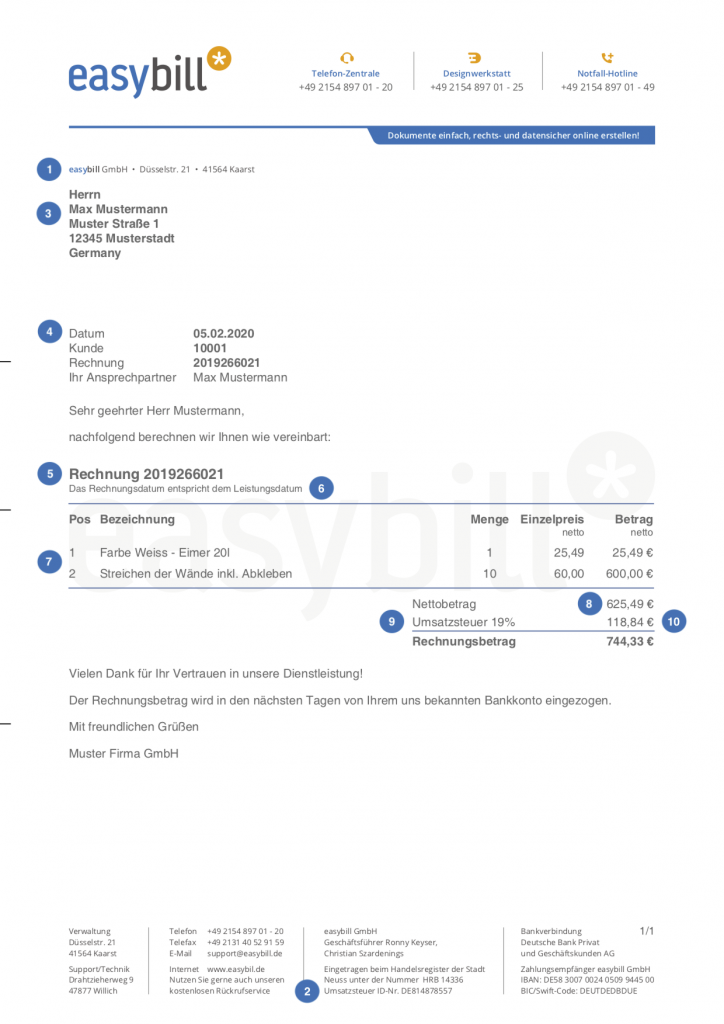 How do you write an invoice? What mandatory information must an invoice contain? It is recommended to include the following 10 components in the invoices as a matter of principle.
Full name and address of the company

Full name and address of the customer

Date of issue / date of invoice

Time of delivery / service

the quantity and the type of delivery or the scope and the type of the service

Fee for the delivery / service in net

Sales tax rate on the omitted net remuneration

Sales tax amount on the omitted net renumeration
FAQ
Frequently asked questions
about easybill and invoices
How do I put a logo on my invoice?
With our layout and template editor, you can easily customize your invoices. Alternatively, you can also use our free invoice template and create and send invoices with your company logo. Personalized invoices help you strengthen your brand and leave a better impression on your customers
How does easybill guarantee the security of my data?
With easybill, your data is in the best hands. Your data is stored exclusively on servers in Germany and protected by modern encryption standards. As an additional safeguard, two-factor authentication (2FA) is available to you. Everything about account security in easybill.
Which membership do I test?
To be able to test all features, our 7-day free trial period always includes the BUSINESS membership.
How do I activate the FREE membership?
The free FREE membership does not need to be booked. It activates automatically at the end of your trial period. Start your free trial at any time.
"Please note that we reserve the right to delete the free account after 90 days in case of inactivity."
How do I deal with unpaid bills?
Unpaid invoices can be a major problem for your company's liquidity. Set clear payment terms and processes and approach your customers proactively. Ideally, you should always have an overview of the status of your invoices. Send a payment reminder or a reminder to your customer as soon as they are in arrears. By the way, you can also automate reminders and payment reminders without much on effort.
How do I send an invoice by e-mail?
Even when sending invoices by e-mail, you must comply with the legal requirements regarding the mandatory information. Even easier: Use our invoice template for free!
Save your invoice in PDF format and send it to your customer as an attachment with a clear subject line. Don't forget to archive the invoice. Instead of sending your invoices manually, you can also send them automatically with easybill.
Is everything included in the membership price?
Yes, there are no hidden costs. Shipping credit must be booked separately, actively. You have full cost control at all times.

What are the membership subscription times?
Ja, es gibt keine versteckten Kosten. Versandguthaben muss separat, aktiv gebucht werden. Sie haben jederzeit die volle Kostenkontrolle.
Additional features
easybill can do even more
---
---
easybill.|Rechnungen.| online schreiben.|