Easy integration of DATEV into easybill
Transmit invoices and receipts directly from easybill to DATEV Unternehmen online
The collaboration between easybill and tax consultants has always been essential to us. We are delighted to have expanded our cooperation with DATEV. Not only are we represented as an interface partner on the DATEV marketplace, but we can also provide a direct connection between easybill and DATEV through the DATEV data service interface.
DATEV Invoice Data Service 1.0
The direct line to your tax consultant
Thanks to DATEV invoice data service, data can be transmitted directly to your tax advisor. This is a function that you will definitely not want to do without once you have seen how easy tax returns are from now on.
Because with DATEV Invoice Data Service, not only does the tax consultant get the accounting data he needs, the service also transmits the document images directly to DATEV.
DATEV Invoice Data Service 1.0 at a glance:
Vouchers and voucher records are efficiently transmitted to the tax advisor

Data is available in real time

Secure data transmission via DATEV computer center
easybill & DATEV
Secure data
No fear of data theft or data loss! With easybill, your data is safer than on the server in your own office or at home. All inventories are continuously stored on German servers and in compliance with current security standards. If you also use the DATEV invoice data service interface, easybill transfers your data encrypted to the DATEV data center.
Slimming down your accounting
No Paperwork
This makes your accounting lean: With digital document storage and transfer, you can do without paper filing folders and printouts. The document images are also automatically assigned to the postings. This saves time and money. You avoid transmission errors and misunderstandings with the tax office.
Always up to date
Seamless integration for current data
easybill can connect directly to the DATEV computer center via the interface and transfer your data automatically. A time-consuming download or dispatch is thus a thing of the past. Your tax consultant accesses your data directly in DATEV – without exporting or converting data, as often as desired and always up-to-date.
Export Configurator
Limitless flexibility with the export configurator
Our easybill export configurator is truly unrivaled. With it, you can define precise posting rules for every conceivable business transaction and represent almost all accounting issues. Customize cost centers, order numbers, posting codes, etc. very specifically to the specifications and wishes of the tax office. There are almost no limits to the function!
Always there for you!
Customer support
As an easybill customer, you will receive our first-class support at any time. After registration, we will instruct you free of charge by telephone, if desired, to make it easier for you to use easybill and the DATEV invoice data service and to familiarize you with all the benefits. And even after that, we are there for you at any time – at no additional cost.
Correct and reliable
Working error-free, anytime and anywhere!
With easybill, you can work regardless of location and always have access to your current data. Whether you are on-site with clients, on vacation, or in the home office. Even if your responsible employees are sick or the server is down – you remain operational and avoid time-consuming errors or unnecessary inquiries.
Strong together: DATEV & easybill
No more paperwork
---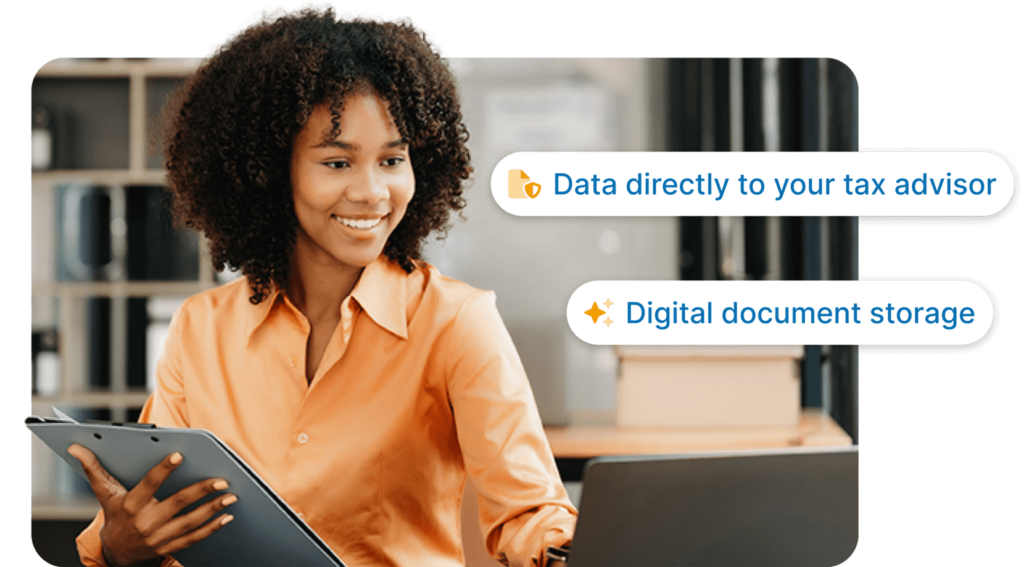 Your data is up-to-date, and your tax consultant can access it directly. With the tax advisor portal, cooperation works even more efficiently.
Trust the secure data transmission from Easybill to the DATEV data center. Protect your data from unauthorized access.
Looking for the perfect tax consultant? Use our tax consultant portal and find the suitable tax consultant!