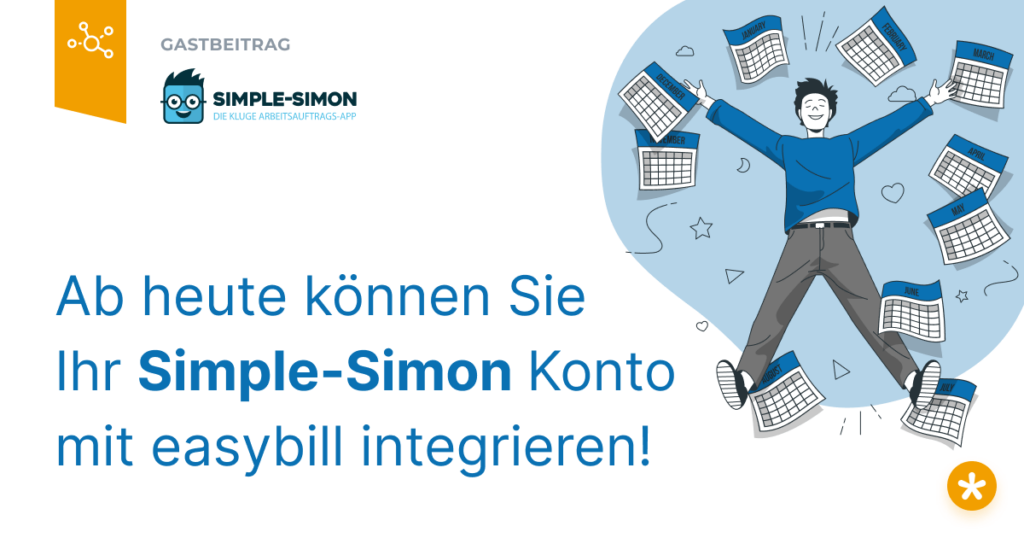 *Guest contribution from Simple-Simon
From now on there is an easybill integration for your Simple-Simon account. The integration is very easy to realize in Simple-Simon's office module. You do not use Simple-Simon yet? Then you should look for a trial version or a free demo appointment in time. Start planning all your work orders digitally now. This will be a considerable relief for your office organization. Convince yourself!
What can you expect from the connection between easybill & your Simple Simon account?
Automatically synchronize all customers and invoice items from easybill to Simple-Simon. Use a graphical planning board in Simple-Simon to organize work orders. Use the Simon app and add hours, items and pictures to your work orders. When your work order is completed in Simple-Simon, the archived work order is sent to easybill as a draft invoice or purchase order. Use easybill to review, modify and send the invoice to your customer. You can send your invoice faster this way and you will make fewer mistakes. This makes processing the work order effortless and directly saves time and money!
Manage work orders online

Annoying paperwork and planning boards on the walls of your office? That's no longer necessary these days. Turn to tools like Simple-Simon to make yourself location-independent and give your employees more options, too. Your field staff can take a look at orders on the go via tablet or smartphone. Communications with your employees can be made even easier and clearer. And despite all this, you still save a lot of work on additional tasks that would otherwise come your way. All this is a thing of the past when you set up a Simple Simon account.
You can easily integrate easybill into Simple-Simon

To do this, go to the menu in your dashboard and to Integrations and select easybill. Would you like to know more about the integration between Simple-Simon and easybill or how you can activate the integration yourself? Then read more on our website or on the easybill partner page. Want to experience the benefits of Simple-Simon's work order app with easybill?
Sign up for a free trial account! Test 14 days for free.