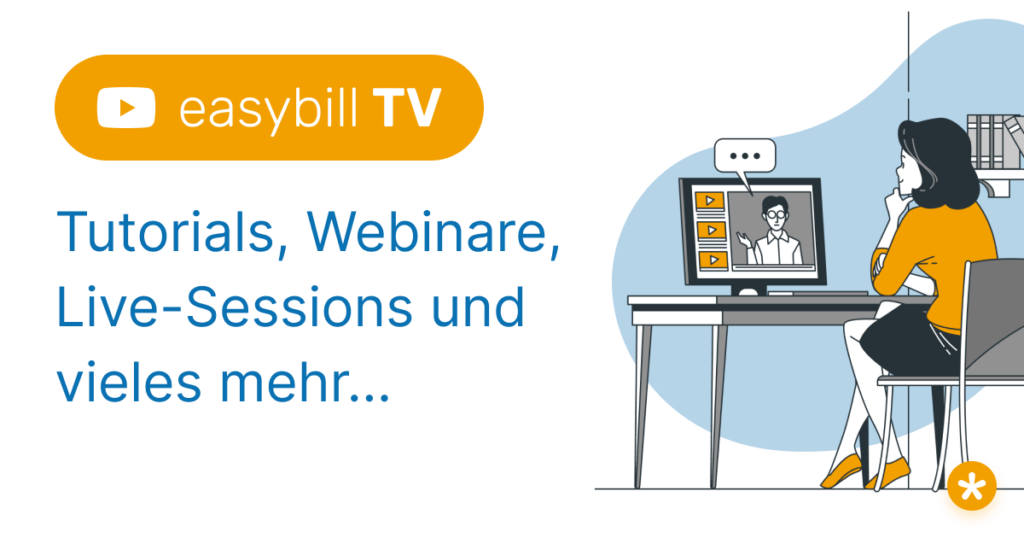 Time and again, we have heard from our customers that they would like to see videos about easybill. We are happy to comply and have given our YouTube channel easybill TV a "makeover". Since a few days it shines now in new splendor.
A visit to YouTube is now especially worthwhile. You don't want to miss anything? Then subscribe directly to our easybill TV channel and watch the first videos right away:
On easybill TV, we have planned a lot for you.
So what all can you expect on easybill TV in the future?
We will explain how easybill works in tutorials. You always wanted to know how to write budget billing invoices or what possibilities the customer management offers you? Then you will find what you are looking for on easybill TV.
New features will be presented to you in video form in addition to our blog on YouTube.
More complex topics will be covered in depth in webinars, also together with cooperation partners.
In success stories of our customers we will show you how other entrepreneurs use easybill and which aspects of the software they particularly appreciate.
In live sessions we will be available for questions and suggestions.
And perhaps we will also take a look behind the scenes of easybill with you or take you on tour when we exhibit at trade fairs or visit events.
Contribute to content
As you can see, we have many ideas and plans for easybill TV. But as always with easybill, you, our users, are at the center of easybill TV. We would therefore like to know from you: What kind of videos would you like to see? Is there perhaps a particular feature you've always wanted to know more about? Do you have an interesting topic that you would like us to cover in detail in a webinar? Feel free to write us about it in the comments on YouTube or send an email to support@easybill.de. We are very curious about your ideas.
Also read:
easybill in a new design
DATEV, Amazon and easybill – teamwork wins
Settings Upload invoices to Amazon (when using the VAT calculation service/VCS)