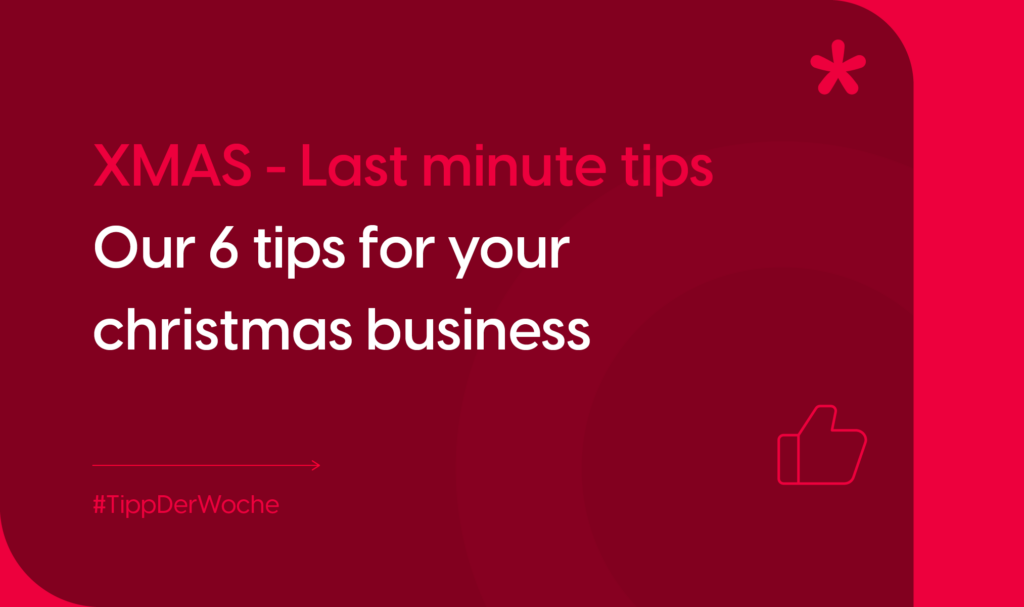 At the start of the high season of e-commerce with the special sales days of Cyber Monday, Black Friday, Singles Day, St. Nicholas and Christmas, you should arm yourself and prepare perfectly. To avoid chaos for your e-commerce business, we have put together some helpful tips for Christmas and year-end business.
Tip 1: Optimize your website
An online store is the foundation for your e-commerce business. However, also make sure that the website in which you integrate your online store is optimized. Not only the speed and loading time of images and subpages should work perfectly. Optimization to mobile views of the website should also definitely be paid attention to. In this day and age, it is very important that customers experience a special buyer experience in the store, so that you stand out from the competition with your business.
Tip 2: Make sure you choose the right product
Seasonal items, mainly related to the Christmas season, must be planned almost ready in the summer. Here, make sure to start promptly so as not to be the last to go to market with the sale. In December and also already at the end of November, the rush for these products is usually already over. Only individual bargain hunters may strike again at discounted items.
Differently however if we speak about gift articles, which are bought naturally also up to the last day before Christmas still. Be sure to look out for current trends of the season.
Tip 3: Inventory, shipping and logistics in the Christmas business
So that an upcoming rush on your online store will also have an impact on your logistics, you should think about this in advance. The stock should always be sufficient so that there are no delivery bottlenecks and the customer has to wait too long for his goods. The coordination with logistics and shipping also needs attention. During the Christmas season, capacities are heavily overloaded.
Bad reviews or requests for complaints because the goods were delivered too late should be avoided right from the start.
Tip 4: Offer vouchers
The previously mentioned issues would not come into play here for now, because you can send your vouchers digitally and online. So you have secured your sales, but the redemption can be done at any later time. When the Christmas business is over, you can start more relaxed with the logistics for the voucher purchases. A win-win situation for everyone involved.
Tip 5: Take marketing measures for the Christmas business
The right marketing measures are important for your sales. Keep an eye on important keywords in the area of SEO and, if necessary, also take a bit of budget in hand to launch a Google Ads or social media ad campaign. Your customers should be able to find you quickly and your products must stand out from those of your competitors. The ranking of your website, online store or products in an online marketplace plays a crucial role here.
But not only new customers are relevant. You should also convince your existing customers of your products through targeted advertising measures during the Christmas season. Use a CRM system to attract the attention of your target group with a newsletter. Perhaps think again about a discount offer and also the already mentioned coupons should of course be offered to your existing customers.
Tip 6: Choose the right software for your invoicing
Once you have implemented all the helpful tips and your Christmas business is really taking off, the right invoicing software is a non-negligible item on your to-do list. Your core competence should lie in selling the products and logistics, but not on a tedious job of creating all the invoices for the buyers.
easybill supports you in the Christmas business, because the invoice creation is completely automated here for your e-commerce. By connecting your store or the marketplace on which you are active, order dates become fiscally correct invoices in no time at all. These are sent to your customers by upload or e-mail even before the goods arrive. Add a few personal greeting lines to your invoice and give your documents a personal touch.
Your customer will thank you and remember his Christmas shopping with the positive shopping experience through your store. You may even have a few more existing customers for the 2024 Christmas season.yx
Lesen Sie außerdem:
Increasing efficiency with e-invoices: Why your company should no longer rely on paper
How customer experience can increase the sales of your online store
Instructions around e-commerce in the help center (german)