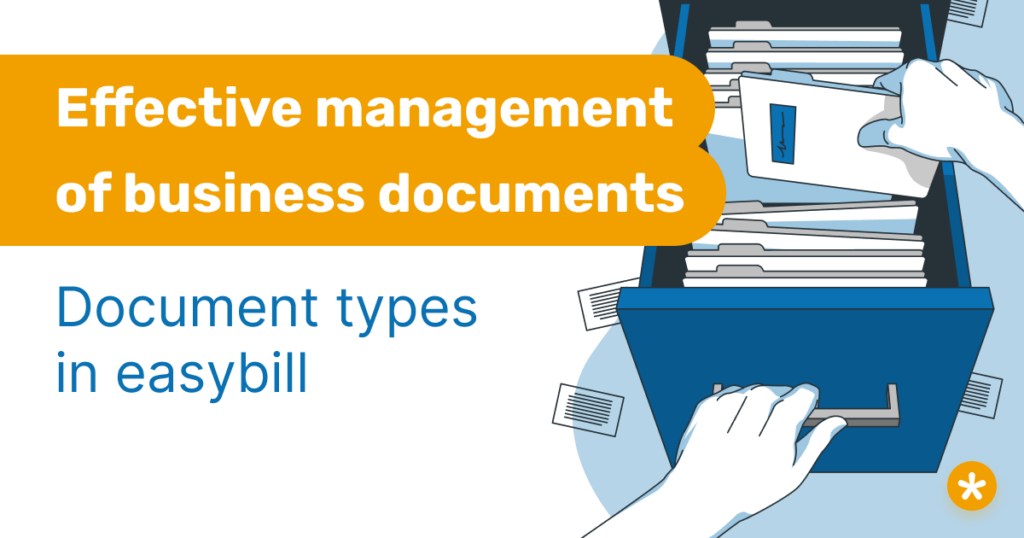 As an invoicing software, easybill naturally focuses on invoices. However, other document types also play a major role in your everyday work. Thanks to our years of experience at easybill, we know the wishes of our customers very well and optimize the software to include more and more features in our core offering. Today, we would like to introduce the most important document types that make your everyday business easier.
Use document templates for personalization
Before we get into the different document types, we will briefly address an important topic that is of great concern to many new customers. Can the existing, own layout of documents also be transferred into the software? Can I upload my logo or even my stationery and use it for easybill documents or do I have to get involved with a completely new design?

easybill offers all these options. Of course, there is a certain design to which the software is oriented, since mandatory fields must also be defined for the continuation of, for example, evaluations, statistics or other functions. Nevertheless, the layout editor and especially the document templates offer a lot of leeway to design your own templates per document type. Use your own fonts or colors for your design to express your individuality.
Document types in easybill
If you have so far only come into contact with the invoices in easybill and have only seen all other document types via the main menu, we would like to introduce these once. Perhaps one or the other still discovers advantages that they have not had present on the screen so far, but which will change the direction of view from now on.
Invoices
Of course, nothing works in an invoice software without the invoices. The linchpin in easybill is your invoice. Whether manually created invoices directly via the easybill main menu or e-commerce invoices via the Import Manager – easybill supports you on all channels. The keyword here is "automation". Nothing simplifies your workflows as much as created automations and saved hand movements.
Create recurring invoices, for example for customer subscriptions or standing invoices, and have the appropriate direct debit file generated at the same time as the creation date.
A small digression on the side: just recently we introduced you to the latest easybill feature. Transfer your direct debits directly to your bank via finAPI and save valuable time. Read all the important information here.
Pro forma invoices
Do you also ship goods to third countries? Customs often requires corresponding evidence from you regarding the delivery of goods. However, an invoice has not yet been issued, but you still need to include a receipt. Use the pro forma invoice as proof. What is the difference to the regular invoice? The pro forma invoice is not included in accounting and does not trigger a request for payment from the customer.
If you are looking for more detailed information on pro forma invoicing, please take a look at our guide: Pro forma invoice
Payment reminders and dunnings
If you issue invoices, you often have to send reminders for open or overdue invoices. For these cases, the dunning process in easybill covers all options. The manual dunning process, i.e. the manual creation of reminders and dunning letters from an invoice, is of course available in every easybill membership. The collection interface to our partner mediaFinanz can also be used by every customer.
You want even more comfort? In the BUSINESS membership, you can enjoy the benefits of automatic dunning and define reminders and reminders per your own rules.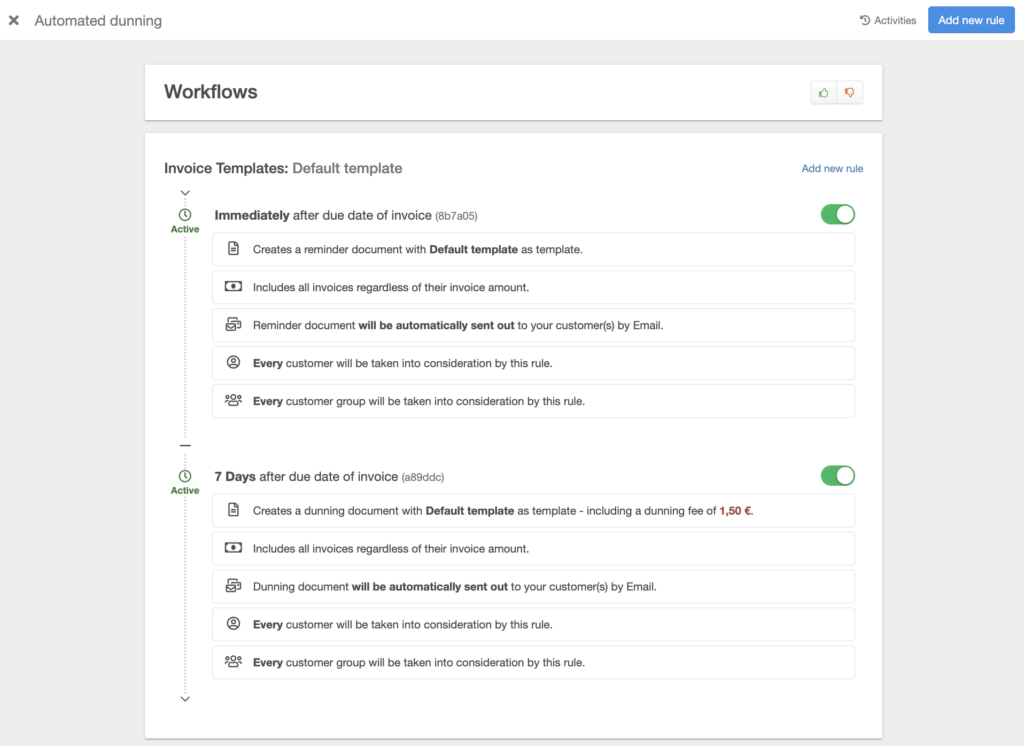 Credit notes and cancellations
You made a mistake after all and there is a typo in the invoice? Or your customer returns an ordered item and wants a refund? No problem. With just 2 clicks you can generate a cancellation document or a credit note from your invoice created in easybill.
We transfer invoices as well as credit notes and cancellations to your tax advisor in a pre-accounted form via the DATEV interface. Do you use accounting software yourself? Then export the receipts from easybill with ready-made posting proposals and import them into your software.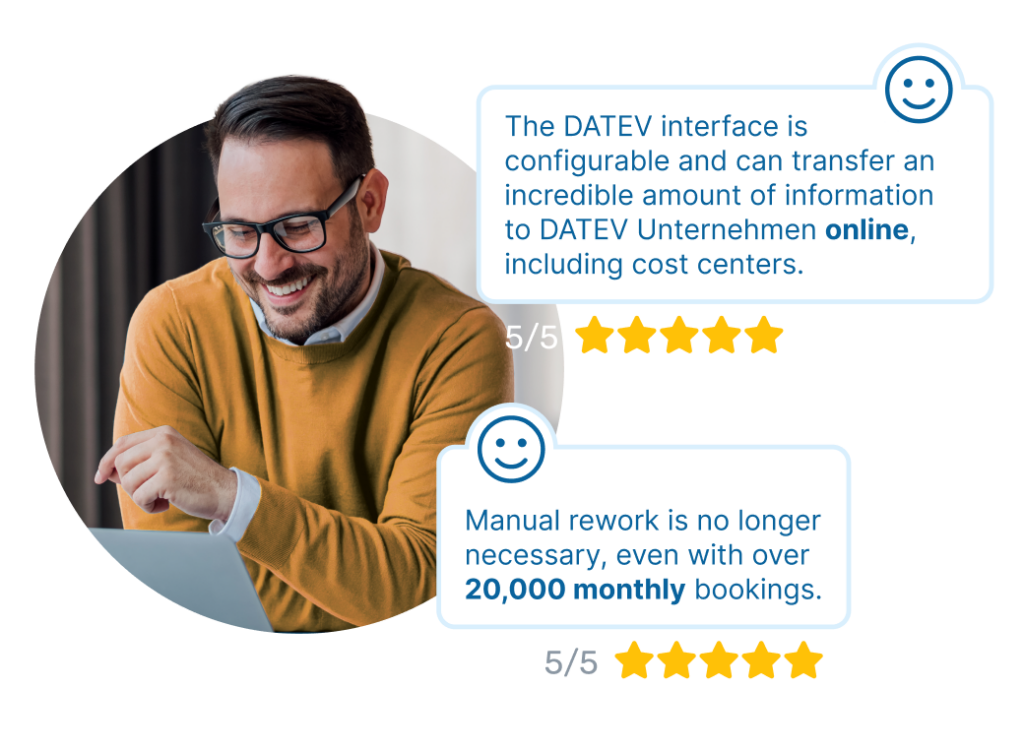 Our tip:
Speaking of tax consultants – your tax consultant will certainly be pleased if you invite him to the tax consultant portal via your easybill account. Via direct access to your account, with access rights of your choice, he can also generate the DATEV export himself and view your outgoing invoices more quickly.
Read more here: The easybill tax advisor portal
Offers
For many companies, even nowadays, a process or a conclusion of a contract begins with the basis of a quotation. In easybill, there is no predefined path that you have to follow regarding documents, but you are welcome to start with the offer as a basis here as well.
As with all documents, once the customer accepts the quote, you can continue it into any document without having to manually create the content again.
Charges and Charge confirmations
Especially among our users in the craft industry, charges and charge confirmations are very popular. In order to confirm all conditions to the customer once again or also to set internal production processes in motion by means of an charge confirmation, it makes sense to create both documents in esybill.
Since recently, you can also create charge confirmations without having to create an order first. Decide for yourself how your document sequence should look like.
Delivery notes
You have already sent the invoice to the buyer by e-mail, but completely you do not want to do without an insert in the package? Or your employees in the warehouse can thus more easily assign the goods to the package. Then the delivery bill is a good choice. The delivery bill can also be generated automatically for each invoice in e-commerce. You will find the corresponding function in the Import Manager.

Also enjoy reading: What is a delivery bill and what contents are important?
Orders
Your customer has accepted your offer, but you have to order the goods externally? Then the document type Purchase order is perfect for you to manage also the external correspondence to suppliers. Under Customers in the main menu, create not only your customer data, but ideally also the data of your suppliers. A separate customer group also facilitates selection.
easybill can do even more: document type letter
Since you have created your layout and templates in easybill anyway, it is obvious that you also create and manage general business letters or correspondence in easybill. Use ready-made templates for written documents and also formatting aids such as tables or listings.
Manage all your documents in the same place or even in connection with projects in one central place. Access your account from anywhere in the world and organize your business letters. If you like, you can also use easybill to send your mail directly.
Read also:
6 excellent tips for shipping management: E-commerce made easy in easybill
The B2B billing address: challenges and solutions
Components of an offer