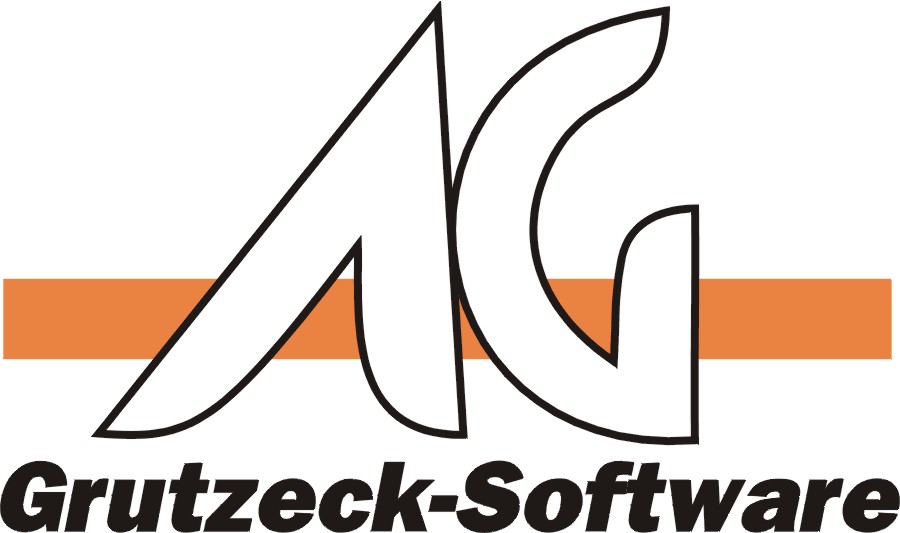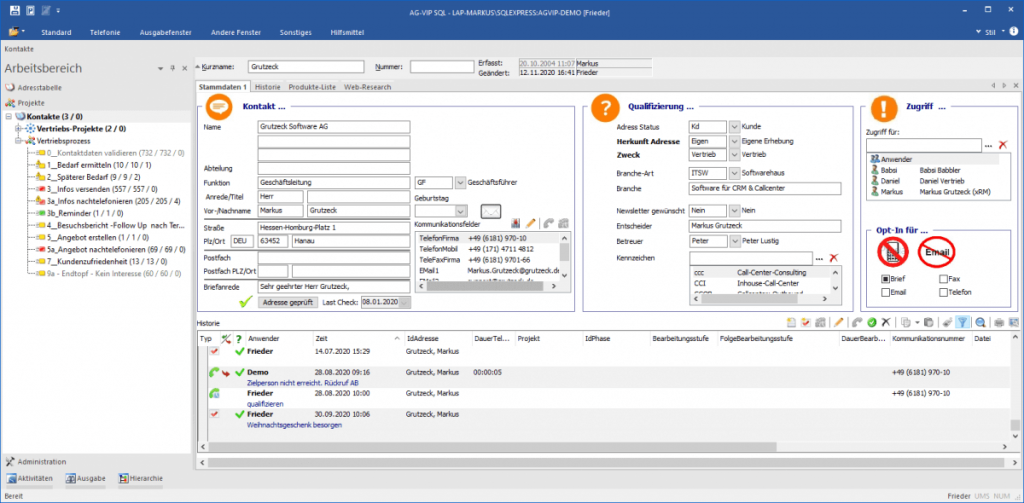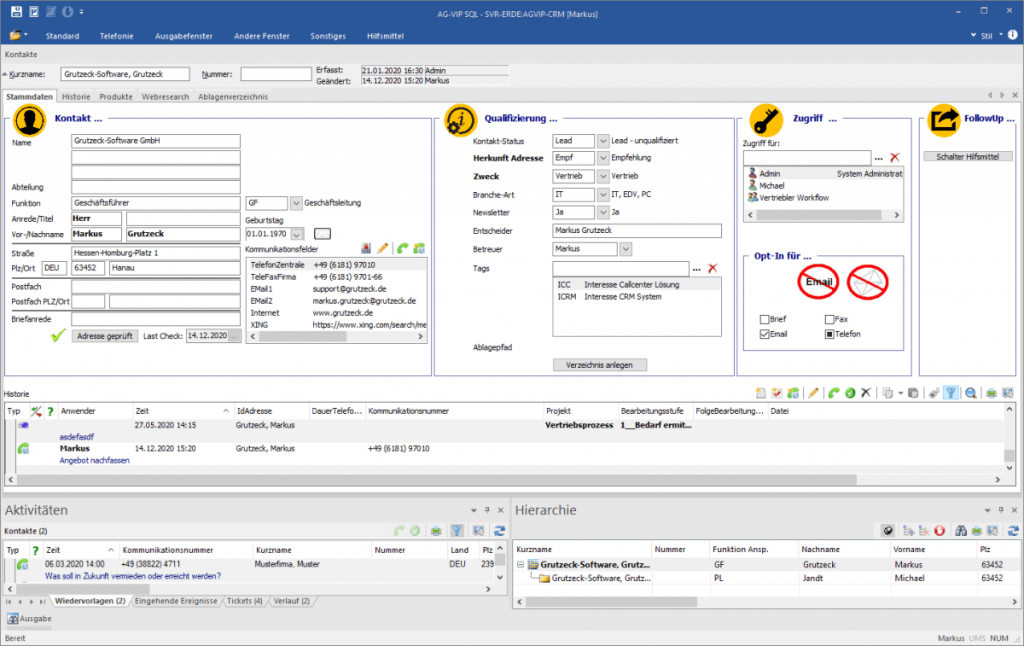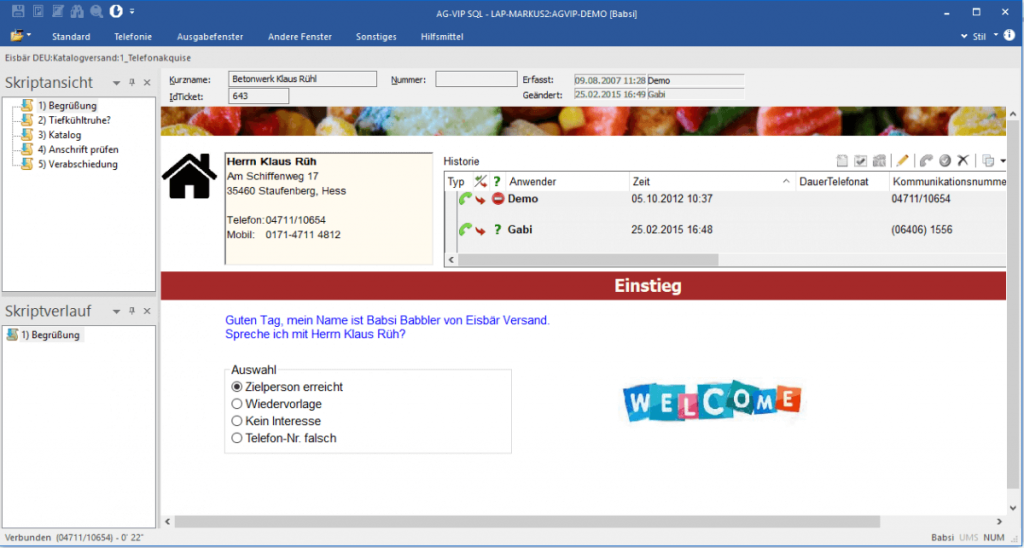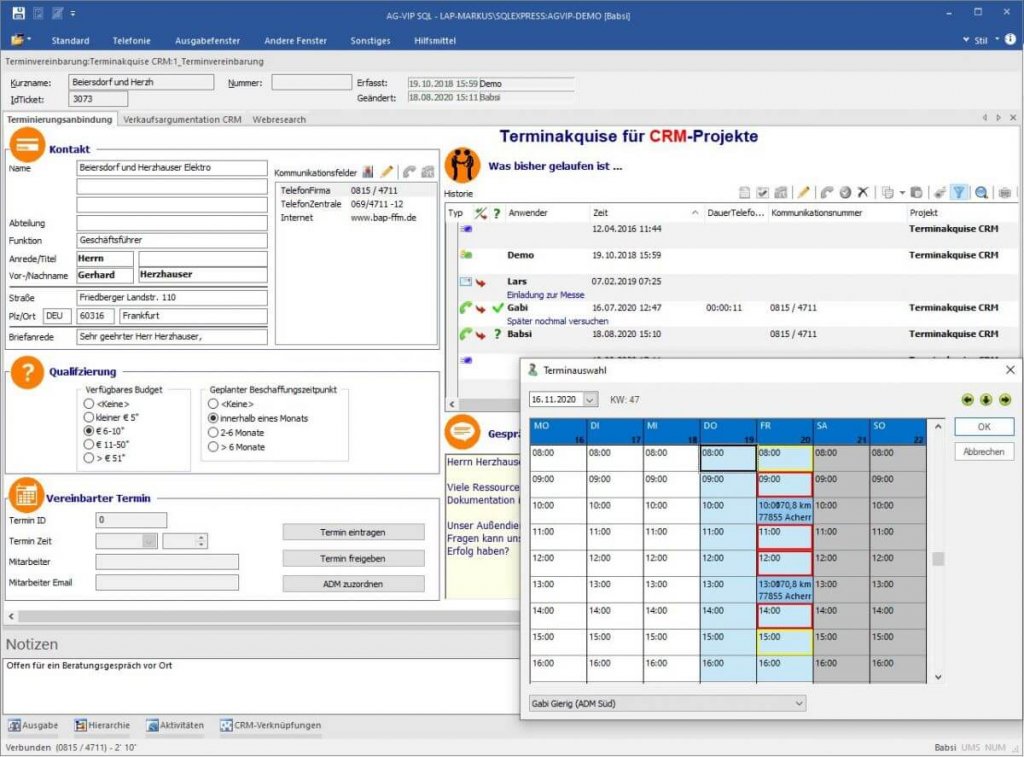 Grutzeck-Software
Über Grutzeck-Software
Software für Kontaktmanagement
High-quality contact data is the basis for every functioning business model. Without correct email addresses, telephone numbers or addresses, the company's operations come to a standstill. An address manager helps to work optimally with contact data.
Don't search, but findData is scattered "like cabbage and turnips" in Excel lists, email inboxes, offer folders or on the right side of the desk. This is no way to run a company successfully.

– Happier customers
– Thanks to caller identification, your address manager immediately displays the contact data plus the associated contact history. So even before you pick up the phone, you know what has happened with this contact so far.
– Correspondence at the push of a button
– Directly from the contact, the address manager writes documents or emails via the connection to MS-Office and documents this automatically in the contact history. So you never have to search for letters or emails again. For larger envelopes, use the label function.
– Target groups and distributors
– Build relevant distribution lists based on any characteristics, e.g. for sending Christmas cards.
– Contact details that are correct
– With the postal autocorrect the addresses are always deliverable
– The plausibility check shows incorrect email addresses. The spelling checker points out errors and offers alternative suggestions.
– The phonetic duplicate check shows duplicate records.
– The log function shows who changed which data and when.
CRM Software
– Systematically acquire new customers
– No system: success is not left to chance
– In order to systematically acquire new customers and expand existing customers, you need an individual customer acquisition system that is reflected in your CRM software.
66% would rather clean their bathroom than enter data into the CRM system! You need a CRM system that automatically documents for you.

– Entlastung von Routine
– Bei Anruf alle Kundendaten sichtbar
– FollowUp Email oder Dokument auf Knopfdruck erledigt
– In Ihrer gewohnten MS Office Umgebung

Your company is unique – why not your CRM system? The CRM software should map your business processes, not you adapting your processes to the CRM system.
Adaptations without external consultantsProcesses in marketing, sales and service change. Adapt the CRM software yourself. Without expensive external service providers.
Callcenter Software
Outbound software with dialer function, integrated VoIP softphone, campaign management, interactive call support and reporting with time recording.
Time savings through automated dialingPersons who are busy or not reached are automatically forwarded to the resubmission. Incorrect telephone numbers are sorted out.

– No more mistyping
– Quality of conversations increases thanks to guided conversation with interactive guide
– Automated FollowUp
– Depending on the result of the conversation, FollowUp personalized emails or documents are automatically generated
– No more tally sheets
– Intelligent campaign management automatically records working time, transaction duration, telephony times, call results, and much more. This creates transparency and objective comparability.
– Reduce training effort for agents
– Set up campaign and assign employees. Agents quickly find their way around thanks to the simple operation and self-explanatory interface.
– Always the goal in sight
– Automated logging of times and results lets you see targets and actual results for teams and employees at a glance.