Why an order confirmation?

After you have written an offer, you can write a order confirmation after a few weeks – with a bit of luck. Of course, your customer can also accept the offer verbally. Nevertheless, it is worth thinking about writing an order confirmation.

Here are the reasons why:
1. The most important order data summarized
2. you present yourself to your customer professionally
The document with probative value
---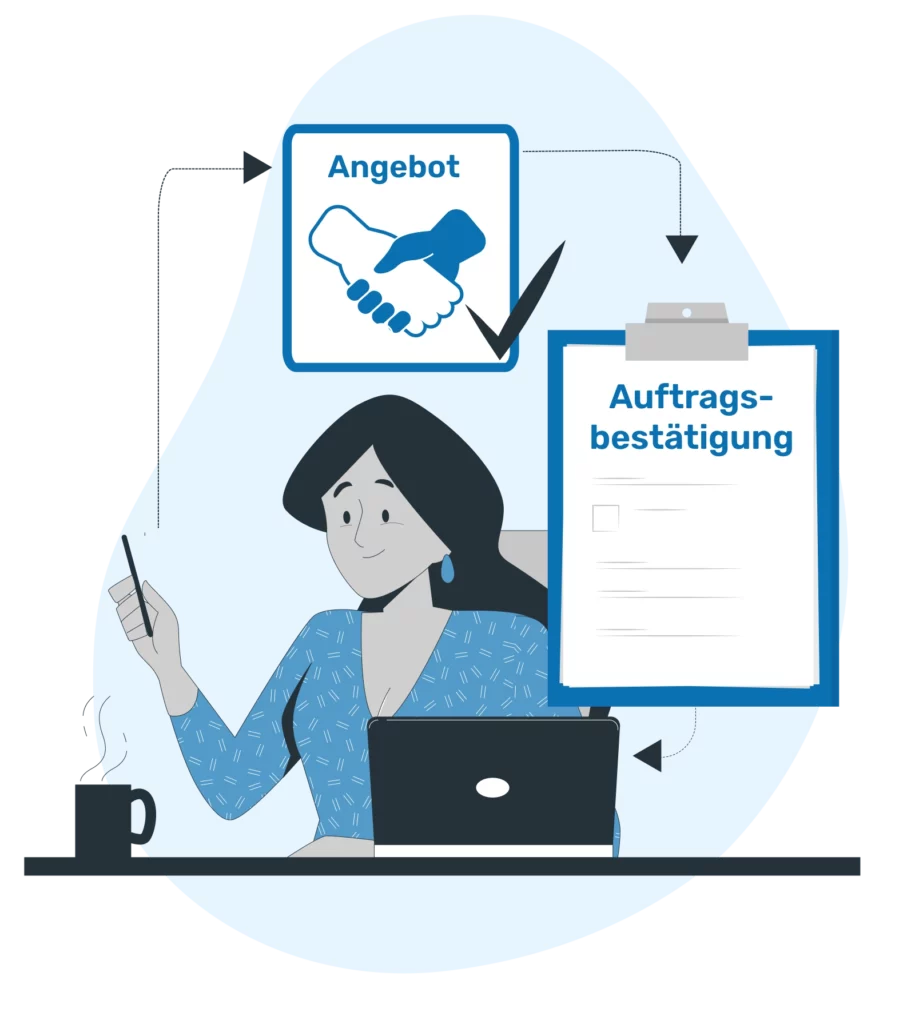 An order confirmation is more worthwhile for some self-employed people, freelancers and entrepreneurs than others – that much is clear. If your offer consists of only one or two items, you can keep the order confirmation quite short.
For very large orders, and especially those involving larger quantities of goods, you should always send a detailed order confirmation.
This is because the document gives you security – including legal security. It is especially useful for retailers who rely on suppliers. If your customer accepts the order confirmation, you can immediately contact your suppliers and process the order.
An order confirmation is legally considered a contract.

This comes about when there are two concurring declarations of intent, i.e. you (with your offer) and your customer (with the acceptance of the offer) have agreed on certain things. This confirmation summarizes these conditions once again.
Order confirmation in the case of an offer without obligation
---
But in one more case you need an order confirmation. Namely, if you have sent your offer to your customer as "subject to change". This is because you have limited the legal binding nature of the offer with this addition. However, this provides you and your customer with clarity about the details of the order.
If the customer accepts your offer only in part, an order confirmation summarizes the terms of the order once again in all clarity. Especially with offers that are accepted only in part, misunderstandings can be avoided in this way.
Order confirmation promises professionalism
---
In short, an order confirmation means that there are no two opinions regarding the order. Thus, you avoid misunderstandings and contribute to a successful business relationship.
If your customer does not comment on this, you can assume that he agrees to have the order carried out in exactly the same way.
And even if he still has requests for changes to some items, this can also still be done quickly and without problems – after all, you send the document before you start processing the order.
So you should send an order confirmation to your customer as many reasons. Because don't forget: companies that adhere to all the formalities of operational business procedures convey a professional and trustworthy image – and these are good prerequisites for a functioning business relationship.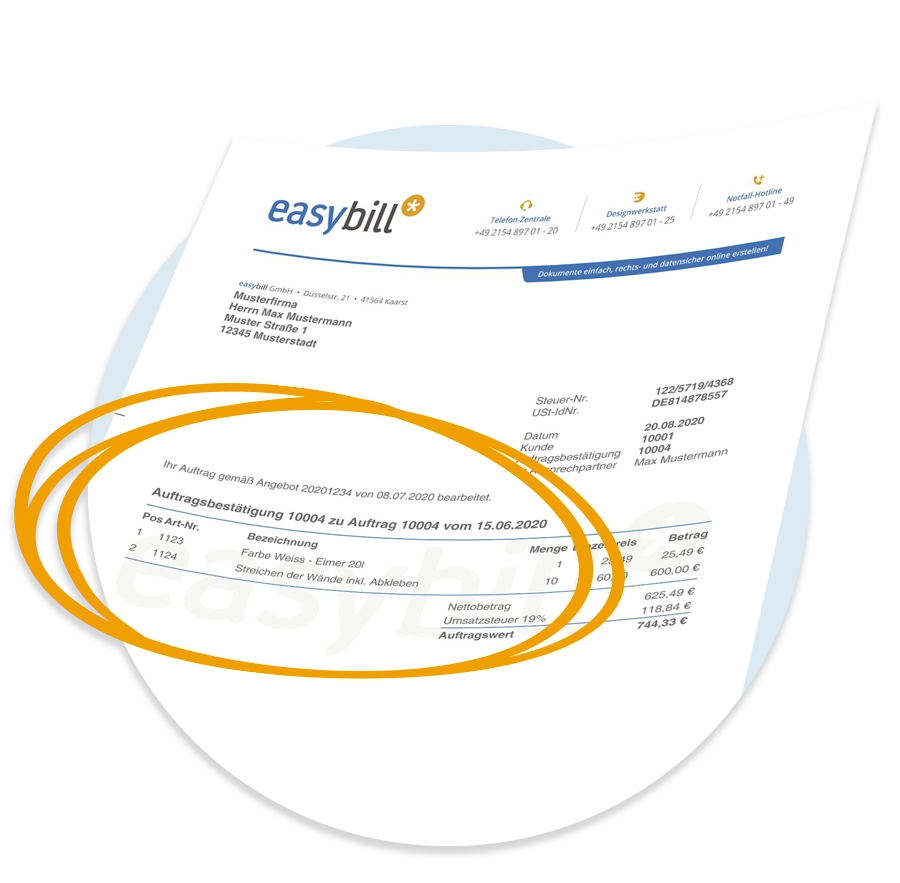 What must be included in an order confirmation?
---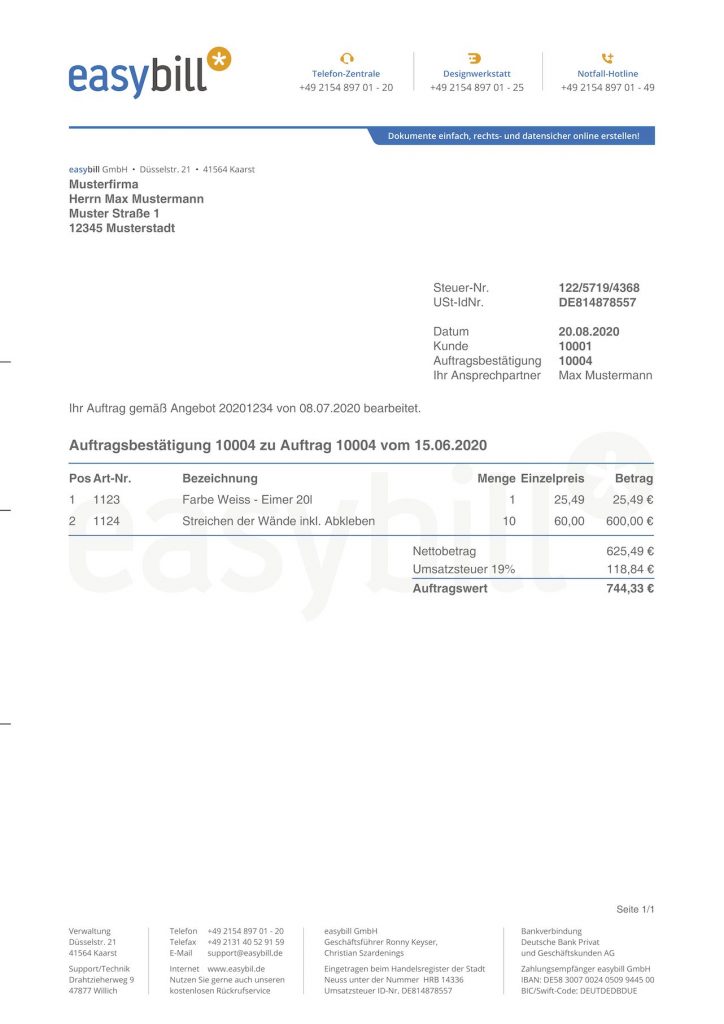 While we are on the subject of formalities: Of course, you have to make sure that the order confirmation contains all the information it should. Otherwise, you will immediately ruin the professional impression.
The following information should be found in any case:
Your address and contact details including a personal contact person

Address and data of the client

Order number or customer number

Quantity and scope of the goods or service, including price (per unit of quantity or per hour)

Total price and amount of sales tax

Planned date of delivery or date of service

If necessary: additional costs such as allowances or delivery costs

Terms and conditions of payment

If required: rebates and discounts

Place of jurisdiction and retention of title
In addition, there are other details that may become important depending on the industry or business field, in which case you should add them individually to your order confirmation.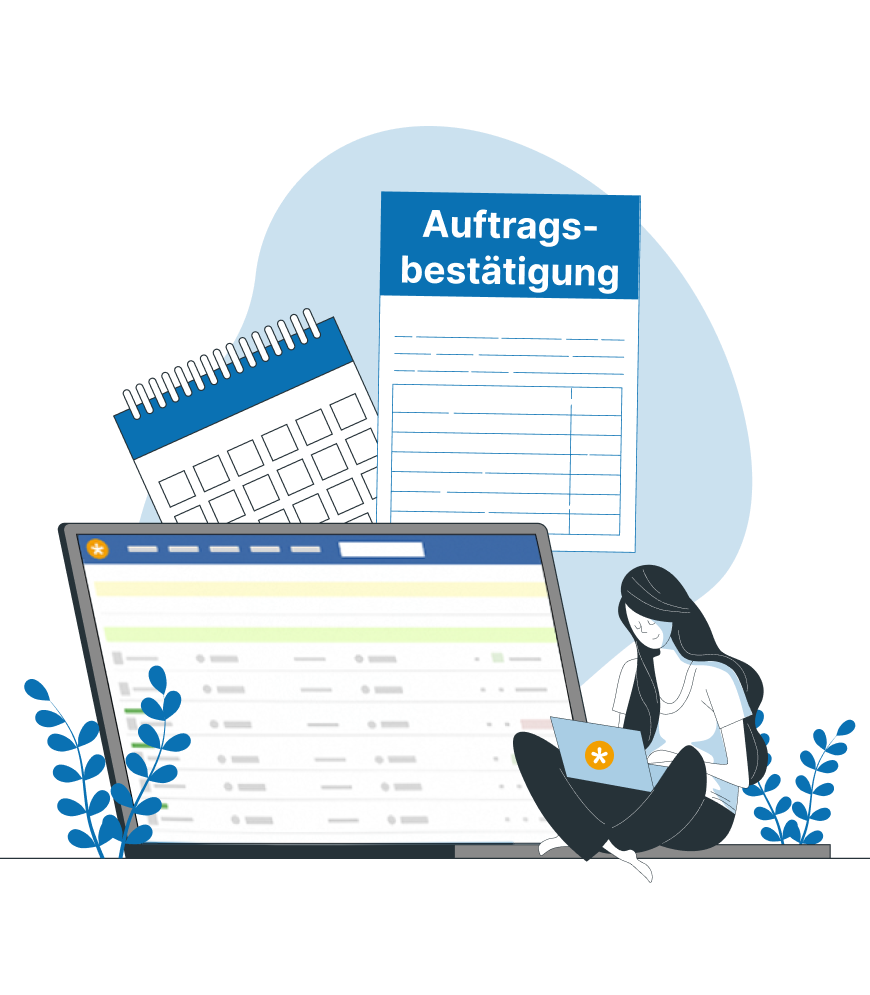 Just a few steps to your order confirmation with easybill
Sounds like a lot of details and regulations you have to follow? Save yourself time and use easybill. After you have created an order in the invoice program and clicked on "Finish", you will create your finished order confirmation in no time at all
Make individual changes and adjustments and thus modify the template according to your wishes and ideas.

Save even more time with our legally compliant templates and enjoy a professional order confirmation!

Still sounds too complicated? Our support will go through a free briefing and is available to answer any questions you may have!
---