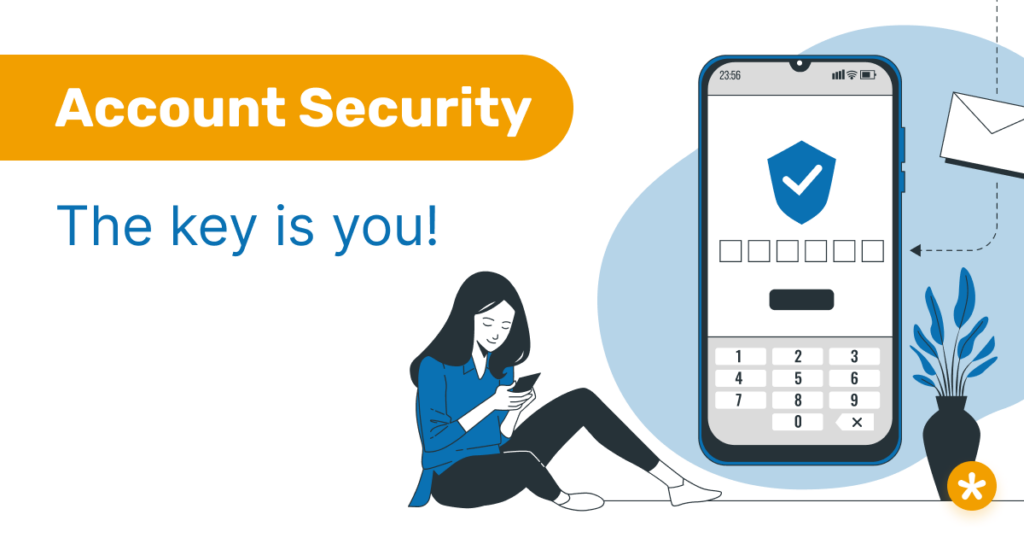 Account security, data protection and securing your documents – all of these play an important role for us at easybill around the clock. easybill itself is constantly being optimized with new processes and functions that ultimately offer your account more security. But the most important key to account security is still you as the account holder. By assigning passwords and e-mail addresses for login, you play an important part in securing data.
The basic security through easybill
Certain security precautions are out of your hands. You don't even need to worry about this, because you know that your data is in the best hands with easybill. Through always up-to-date encryption techniques, data backups on our servers and much more, your documents and account data are secured at all times. But of course, an invoice program also manages highly sensitive data of your customers. Therefore, a basic backup is usually not enough.
Your contribution to more safety
In principle, your company's employees should always have their own access to the account. This is no problem in the easybill Business package. Access is ensured via the user name (e-mail address) and an individual password. As the administrator of the account, you also specify how many characters the password should contain, for example. The more characters, the more secure the password. Be sure to train your employees on the factors that make up a secure password. It is in your own interest.
Is this enough of a security measure? Certainly not! Therefore, in your easybill account you will find a few more options under "Security" to protect your account from unauthorized access.
Increase account security through a second factor
Every admin and also every employee or user of the account can find the Security item in their own user menu. Here you activate the 2FA, i.e. the two-factor authentication. What does 2FA mean? Nowadays, it is hard to imagine the 2FA without it, because it is a secure protection against foreign access. In addition to username and password, a second factor must be used. This is usually your own smartphone and an authenticator app installed on it. easybill recommends the app Authy, but Google Authenticator or other programs also offer an equivalent range of functions. So you install an additional app. Each time you log in to your account, you must also enter a code generated by the app via your smartphone. This is the only way to ensure that you have authorized access to the account.
Are you already worried about what will happen if you don't have your phone handy? Or you get a new phone and haven't transferred the app yet? No problem! When you activate 2FA in easybill, you also activate alternative recovery options at the same time. You can access recovery codes to download or also receive an SMS to a phone number of your choice. You should only have already set this up in advance, or have stored the codes in a safe place.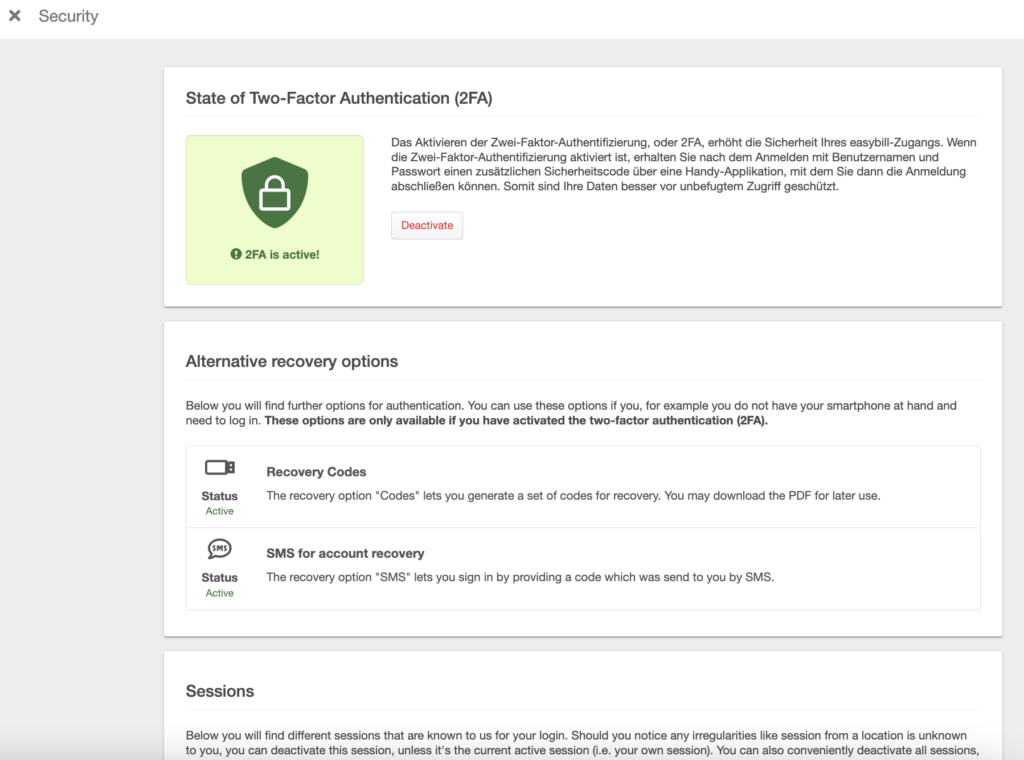 Logout – a "must do" of account security
"Logging out hasn't been necessary for a long time."
"I never log out because it happens automatically. Nothing happens!"
These are just two of many statements that you hear again and again on the subject of "logging out". Certainly, this happens automatically in most cases. But a non-executed logout certainly does not contribute to security. The sessions in your account will show you exactly. Here you can see a list of all sessions in your easybill account. Only a performed logout actually terminates a session and would not be listed here. You can also view external accesses and terminate them with a click. Third party accesses? That's right, we've already discussed enabling 2FA, so extraneous accesses should be a thing of the past if at all.
An additional email notification about a login from a foreign device is also recommended. It may be annoying to receive an email or have to re-enter a code every time, but please keep in mind: this is purely about the security of your data! Therefore, do not turn off the notification. It only takes 20 seconds of your time. It should be worth it!
Please feel free to read it again here as well: Your safety is our focus
In addition, our easybill TV YouTube channel also once again shows the settings options for account security.