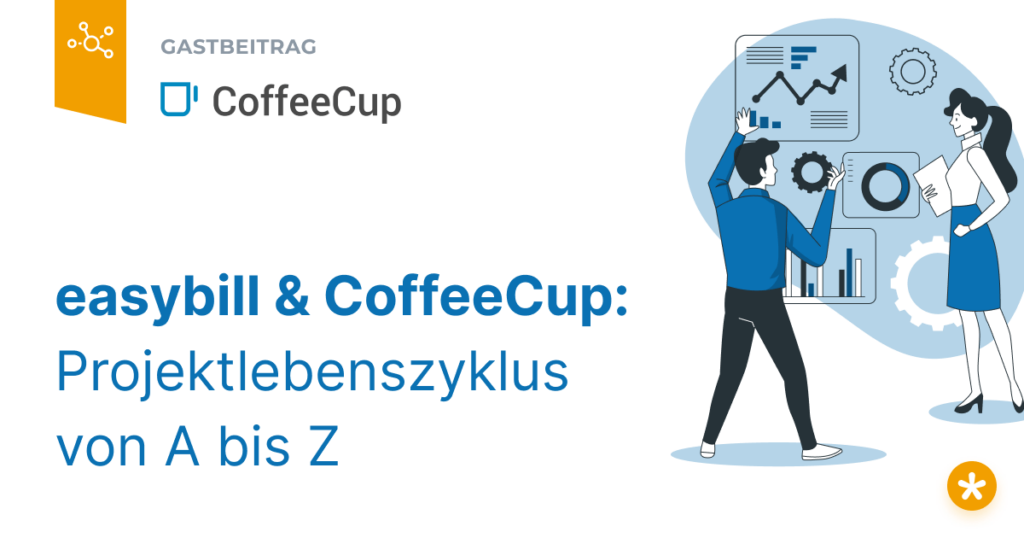 *Guest post by CoffeeCup
CoffeeCup is a one-stop solution for the project lifecycle of small to medium sized professional services firms such as consultancies, agencies and service providers. easybill and CoffeeCup have been integrated for some time now and thus represent the end of the project chain: Billing and invoicing.
Where does CoffeeCup tie in with easybill?
Automatically synchronize all customers and invoice items between easybill and CoffeeCup. Data such as invoice recipients, labor hours and additional services are automatically imported into easybill. CoffeeCup provides the complete process of project business:
Project planning
Capacity planning
Recording of hours worked and work packages
Controlling of hours worked vs. billable hours
Via easybill: transfer to an invoice and invoice dispatch
Particularly useful for measuring profitability
Across your team, questions often arise like: How many hours did I actually work on this project? Do I have enough resources available for specialty labor in two months at the start of the project? When is my capacity "overbooked"? Should I raise prices?
CoffeeCup creates these advanced reports and insights in no time and can thus be a perfect complement to your accounting with easybill. easybill and CoffeeCup thus work hand in hand.
Try it today and test 14 days for free. Click here to sign up for CoffeeCup for free.