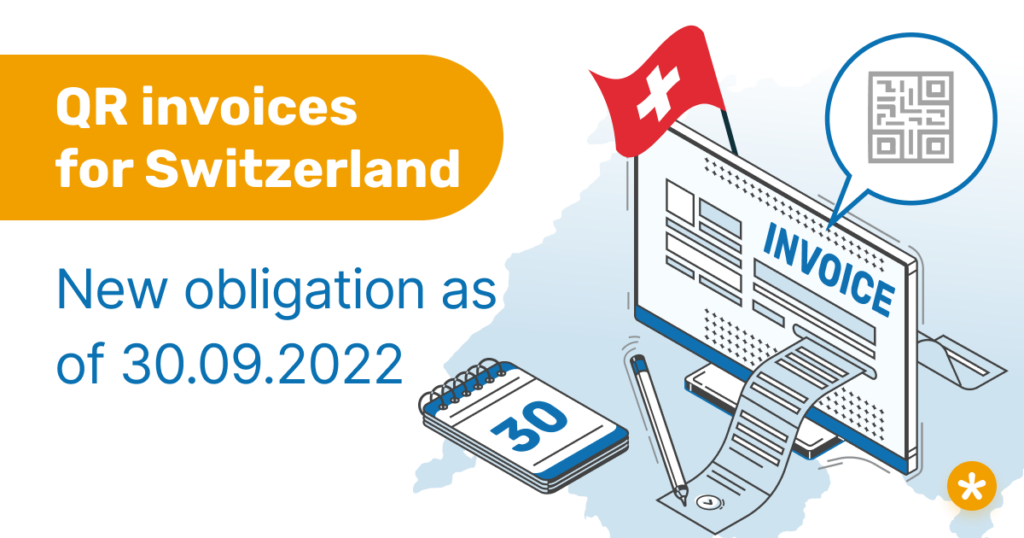 A greeting goes out to our Swiss neighbors. The QR-bill itself is of course not completely new, but it will now be mandatory from September 30 and the payment slips will be largely replaced. A reason to worry that there will now be an immense amount of work? Not for easybill customers.
easybill has supported QR billing for quite some time. So for customers from Switzerland, with a Swiss IBAN, it can continue as before. Since there are two variants of the QR-bill, we point out that easybill uses the variant QR-bill with reference number.
A quick overview in advance
QR invoice instead of payment slip
So far you have not used a QR invoice or only the combination of the orange payment slip with QR code? Or have you ever wondered whether you need a separate reader for the QR code? Basically, most smartphones or even tablets should have a QR code scanner nowadays. Therefore, your customers no longer need a payment slip with which they may have had to go to the bank or used it to help them fill out a bank transfer. The QR code makes life even easier and reconciliation with your open invoices in easybill even more efficient.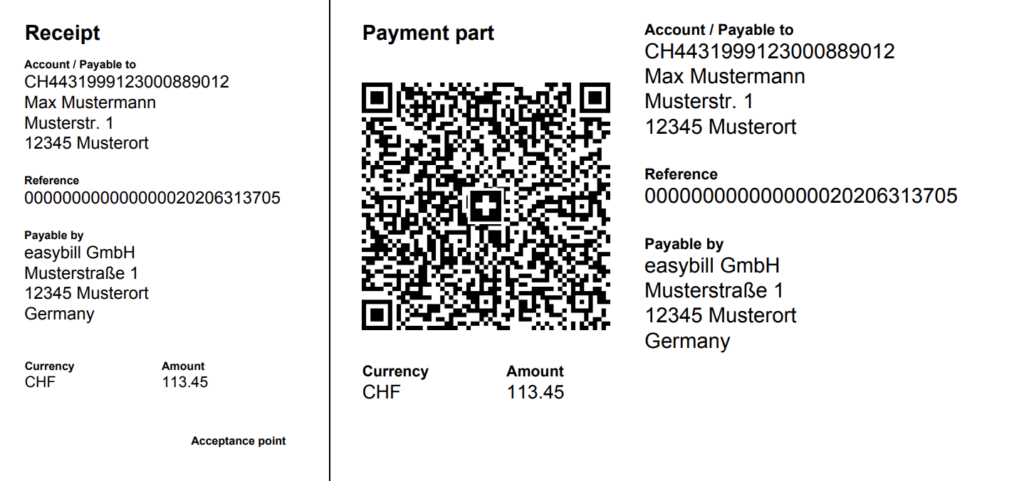 How to read the QR code?
As already mentioned, no special reader is required in the purchase. Your customers will continue to receive their easybill invoice as usual with a separate attachment for the QR code. As always, you can find exact instructions on how to set up the necessary information in our Help Center. However, the most important prerequisite – the title of this blog post basically anticipates it – is that you are a company based in Switzerland. That means a QR invoice also requires per Swiss standard that you must have an IBAN starting with CH or LI (for Liechtenstein). For all other customers, the necessary settings are not visible unless "Switzerland" is stored as the company headquarters in the easybill account.
The top 3 questions about QR Invoice
What is necessary for QR Invoice?
The so-called Swiss QR code is the recognition value for the QR invoice. This must be visible in the attachment and be scannable for the customer in order to be able to make the payment.
Is the QR invoice mandatory as of now?
Yes, for companies headquartered in Switzerland, QR invoicing will be a mandatory requirement from 30.09.2022.
How does the payment via QR code work?
The QR code can be read by all common banking apps on the smartphone or tablet
On our YouTube channel easybill TV we have once again prepared the whole topic of QR billing for you.
Tip: Swiss companies may also find this app interesting: https://magicheidi.ch. The app creates the simplest invoices with QR code according to your specifications. Certainly not a bad option for the beginning.