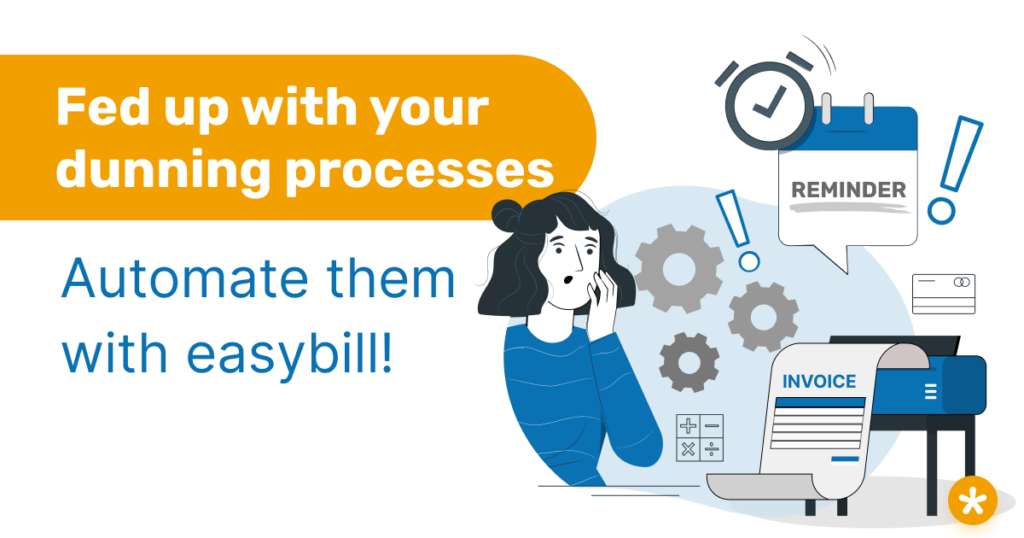 Why is it hard to imagine today without a dunning procedure? Liquidity is the be-all and end-all for an entrepreneur. So why do without it for an unnecessarily long time? Of course, it is also important to take into account long-standing, good business relationships, in which people are more willing to compromise. But still, every written invoice should be paid promptly. After all, as a company you may have already provided the corresponding service or planned capacities for this in the future. Maybe you even had to hire additional staff to guarantee the contents of the contract or you had to procure goods for the implementation. There is certainly a multitude of reasons why it is your right to receive your money promptly. So why waste time when it's so easy with easybill?
A brief overview in advance
Automatic dunning procedure in easybill
You hear about this option for the first time? That would be a shame, because you may have spent a lot of time manually creating your reminders and dunning letters, even though easybill could have saved you this effort. All the better if we present the function once again today.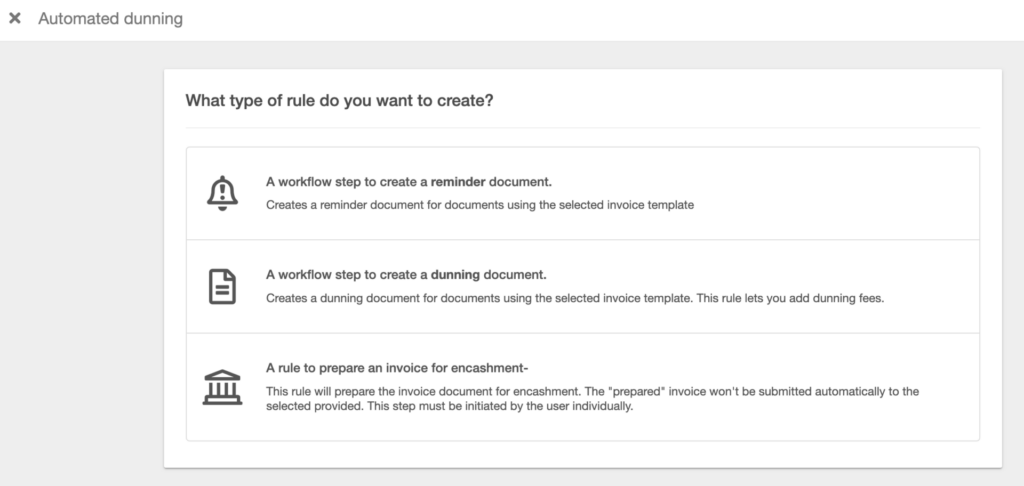 easybill offers the option of creating a separate rule for each situation or document template. For example, do you use different templates because long-standing existing customers receive different invoice texts than new customers? Do you offer different payment methods? We'll leave direct debit out of the equation here, since you should generally assume that payment can be successfully collected if you have a SEPA mandate from your customer. Let's therefore only look at the payment methods that could actually result in outstanding payments.
You can create a separate rule for each of your document templates or, since recently, use one rule for multiple templates. From now on you can save even more time by creating workflows for multiple templates in one.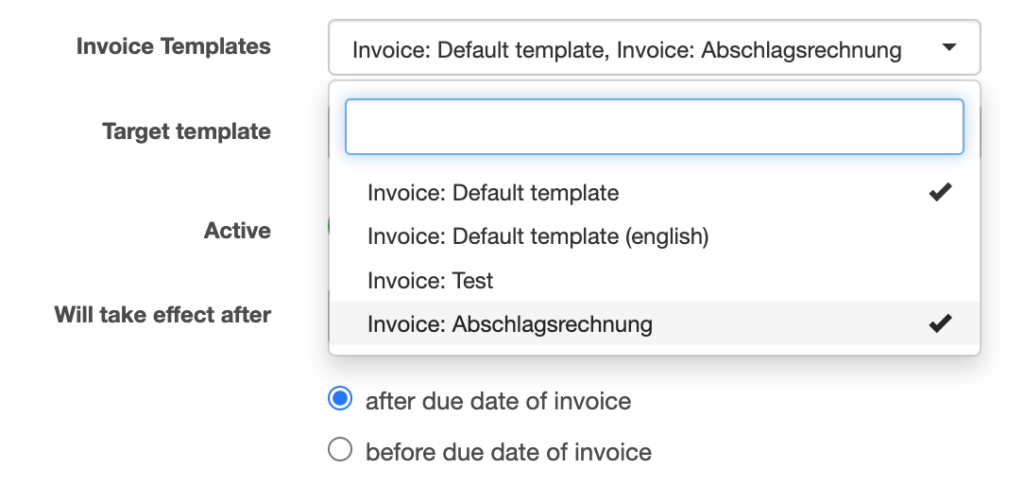 Please note, however, that the target template for these defaults is the same for all of them. For example, if you want to use different texts in the reminders or dunning letters, you need a separate rule. Almost all content is identical, but you still need separate rules, but want to keep the scope for creating the rules small? Also as a new update of the function you can now copy created rules. The content will be copied 1 to 1 into a new rule, but you can edit it afterwards.
Dunning fees – Should I actually take the step?
It pleases no one, of course. Nevertheless, it is unfortunately often the case that without additional charges the payment deadline is further exceeded and you are literally running after your money. Isn't this again a workload at your expense? Of course it is! And that is why reminder fees are perfectly legitimate. However, the amount should be weighed up. Inform yourself here if necessary with responsible mechanisms or also your tax office which is recommended to you. Certainly, the workload that you incur due to the exceeded deadline and necessary reminders should be compensated in an adequate proportion. However, the reminder fees should also not annoy your customers so much that a continuation of the business relationship is no longer conceivable. An invoice and also a reminder can of course be overlooked.
Misuse the dunning procedure? Why not!
Of course, here you are not absolutely free to decide what else you would like to use the function for. But our automatic reminder system can also be used for this, for example, if you want to send a reminder in response to your written offers, even before the due date of the offer is reached. This also ensures liquidity for you, if you kindly remind your customer about the offer, the order is placed and you can issue an invoice afterwards.
One function for multiple workflows! Try it out right away and see for yourself. Use your time for more important things in your company.
Read also:
Automated dunning (in german)
Differential taxation – the special taxation
Or watch our latest video on easybill TV (in german):
XInvoice – what do I need it for?