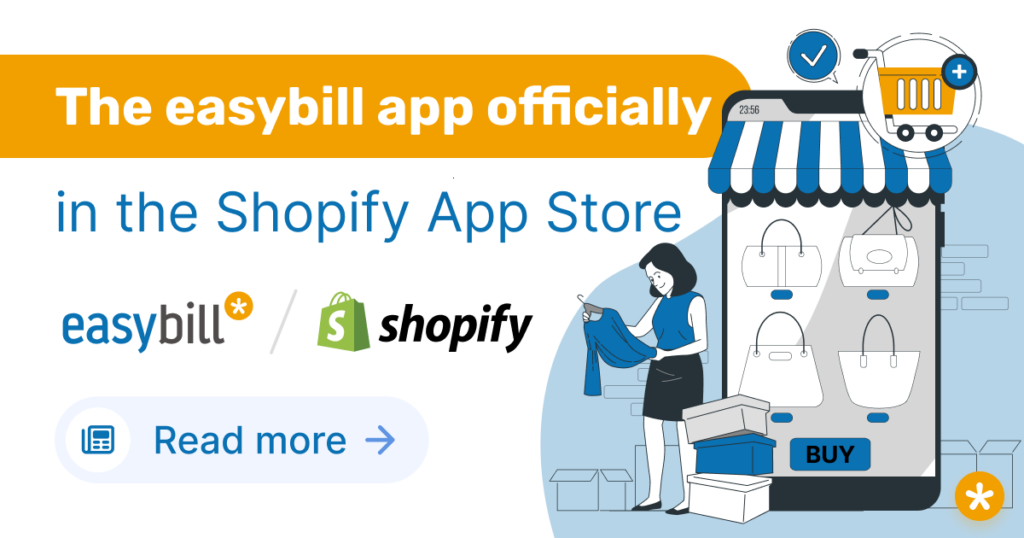 Finally, we can officially announce it: our easybill app is now listed under its own name in the Shopify app store. For customers, the connection from the store to easybill will be even easier than it already is. Of course, a direct interface between easybill and Shopify could also be established so far. However, thanks to the app listing, you can now find easybill right away. With one click, the app can be installed and immediately connected to your easybill account.
Shopify as preferred shop system
For many of our easybill customers, Shopify is one of the preferred store systems. More than 1,500 active customers use the Shopify connection in easybill.
Thanks to a so-called "modular system", Shopify can be used flexibly and is not restricted to any particular industry. You therefore only use the components for building a store that make sense in your personal case. In terms of monthly costs, Shopify is also one of the store systems that is attractive for newcomers to e-commerce.
easybill and Shopify – hand in hand
The connection of Shopify to easybill is very simple. Are you already an easybill customer? Via your Import Manager, you can switch to the app store of your store with a click and install the easybill app. Set additional filters to specify exactly which orders you want to retrieve via our automatism. You also need delivery bills to match your invoices? No problem. The Import Manager also supports this creation via automatism.
Since you manage your returns directly via your store, Shopify also sends us information here that a credit note has been made for an order. This invoice correction is automatically taken over by easybill, provided of course that you wish to retrieve complaints/returns at all.
The advantages of having your own online shop
In one of our last articles, we already focused on the advantages of having your own online shop. Selling via marketplaces is very convenient nowadays and certainly also associated with many advantages, which mainly cover the organizational aspects around product listing, shipping and returns management, but all this must also be paid for via the fees of the marketplace.
Your own online shop is completely in your hands. However, this applies to the sales, as well as the workload. You should weigh up for yourself which points of advantages outweigh for you and whether the choice of an online store is the best way for you.


Read also:
7 Black Friday Tips for Online Retailers
EPC QR code/GiroCode for faster liquidity
10 frequently asked questions about small business