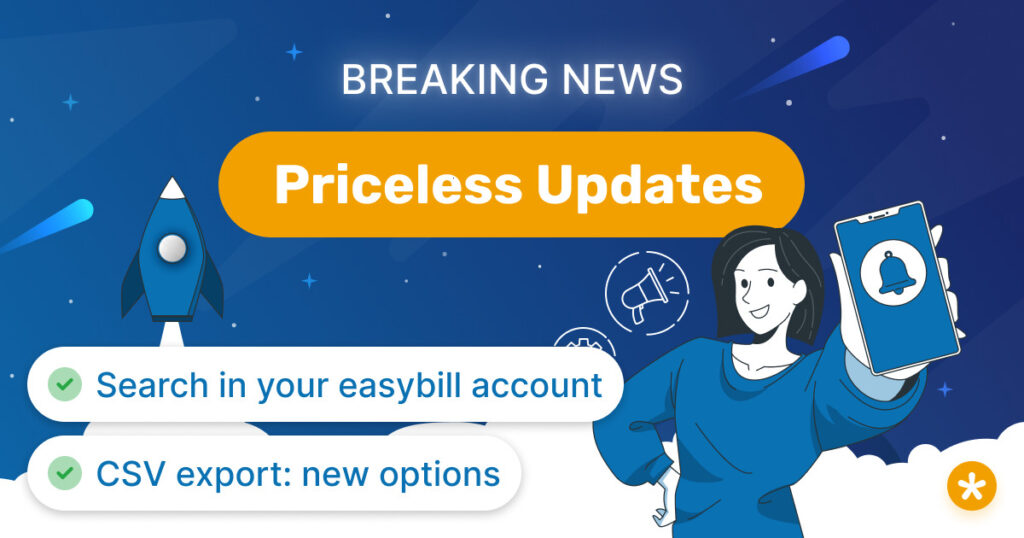 Many unaffordable updates have taken a back seat lately? Of course, this should not happen. We would like to present you once again the most important innovations of the last time, so that you can get an overview. Are you just starting out with easybill? Then you can enjoy the new possibilities right away. Are you already a long-time, enthusiastic user? Then you already know that our updates in the background never interfere with your everyday work with easybill and are absolutely valuable further developments.
Search optimizations in the account
Our search already underwent a complete overhaul at the beginning of the year. Nevertheless, there are continuous enhancements here that keep improving the search. easybill customers know that we are happy to take on board and review our customers' wishes.
The most important thing again in a nutshell: the new search has become much more comprehensive. There used to be only one exact match and now there seem to be lots of results, but the top hit of the list is still your 100% match. However, the search is now also based on partial terms. As long as at least 3 characters are entered, we search your complete account and a little bit more: since a few weeks we now also show you articles from the help center, our blog or even our YouTube channel easybill TV via the general search. For example, you are searching for "VCS"? Then you will now find all relevant results at a glance. Try it out right now!
As a tip: if you put your search term in quotation marks, the search will focus on the exact term and no more partial terms will be added.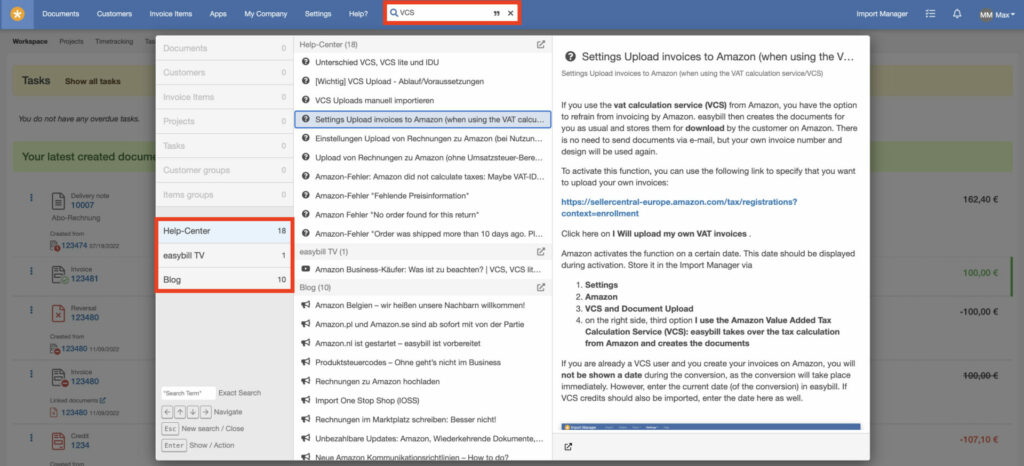 Extensions of the finAPI interface
To make bank account reconciliation even more convenient for you, there are also innovations in this area. It is now possible to connect more than 3 bank accounts at the same time. Here we have completely removed the limitation. In addition, you can now also insert decimal numbers, i.e. amounts with a comma, within the filters for amounts.
Since the expiration date for each connection was previously not entirely clear, because there are different procedures from bank to bank, easybill now shows you the expiration date of your bank connection 10 days before it expires. You therefore have enough time to prepare for the necessary new connection with verification via TAN procedure. Missing transactions should therefore be a thing of the past.
Archive customers
You want to remove customers from the active list, but not delete them completely from your account? Since this week you will find a new archive for customer data in your account. Decide for yourself which customer will be moved here. The archived customers can be found at any time via the global search. Via the direct customer search or from a document editor, you are welcome to specify that archived customers should be included at any time. By default, however, you will no longer find the customers here.

Updates about the Import Manager
We also keep our online retailers up to date when it comes to updates to store connections or marketplaces. Without explaining the changes in detail, you can still get an overview here:
General settings to prevent a constantly repeated incorrect import attempt, there is now an automatic pause of automatic imports. This means: if, for example, your Amazon connection has to be renewed after 365 days, up to now many incorrect imports occurred because they simply "continued to run". From now on, we will stop the automatic import and start it again after the reconnection. If you want a break, you can deactivate the checkbox Automatic import is active.
ETSY Since the previous version was no longer supported by ETSY, we have made a changeover of the ETSY connection to version 3. All affected customers have been informed about this by our support.
Gambio API The Gambio interface now also supports the import of the payment type RatePay, if you offer it in your store.
Shopify easybill now also imports the item weight of your products. Also, in the Shop settings in the Import Manager, you can enable the option Shipping info to customers through Shopify. Of course, this is only if you want shipping notification to your buyers directly through the store. Accordingly, a notification to your buyers will be triggered after the shipment data is fed back to Shopify.
Amazon MFN (FBM) The new report for retrieving order data now also allows retrieving time estimates for shipping. The placeholders for this are latest_ship_date and estimated_arrival_date.
BOL changeover to version 7 was performed automatically, since the previous versions are no longer supported by BOL.
More priceless updates?
Package purchases in your easybill account
Some of you may have already noticed. Package purchases, as we used to offer them in an ongoing rotation, are no longer supported. To avoid any overlap in time periods, costs etc., new purchases can only be preselected for future package renewals. This means that you remain flexible, of course, but you can already plan the next rotation in advance and thus do not miss any timely changeover in the account. Necessary or desired upgrades are of course not affected by this.

CSV export from easybill
The export of data via self-designed CSV file has been offered by easybill for several months now. This allows you to export documents, customer data or invoice items very conveniently. To make it even more handy, we have now extended the export to include reference documents and source documents. What is a reference document? For example, you create a reminder from an invoice. The invoice is therefore the reference document for the reminder. The process could also be the same: Quotation > Invoice > Delivery bill. If you now export the delivery bill via the CSV export, the reference document would be the invoice (because the delivery bill was created from it), but the original document would be the quotation. This way you can export the complete family tree of the document.
Read also:
easybill app now officially in the Shopify app store
7 Black Friday Tips for Online Retailers
Overview of the most important functions