Automated invoices via easybill
---
Definition: What exactly is the easybill Import Manager?

Are you an online merchant and, in the best case scenario, have to process lots of orders every day via your online store or a marketplace? You would like to automate the invoice creation?

The easybill Import Manager is easybill's own tool for connecting all your online stores and marketplaces. It creates the basis for exchanging order data or shipping data between the systems via an interface. No developer knowledge is necessary and most connections are done in a few clicks.
Invoice requirements in E-commerce
---
easybill as an invoice software supports you in your daily work and already relieves you of many individual manual steps. This saves you time and money. Invoices that are created in Word or Excel basically fulfill their purpose, but no longer comply with the principles of proper accounting.
Especially in e-commerce, however, completely different requirements apply here once again, because your orders are received daily, hourly or even minute-by-minute. Buyers expect a prompt invoice for the goods ordered.
Even marketplaces such as Amazon, for example, specify deadlines for the amount of time it takes for an invoice to be generated.
Does this cause you stress in your daily work routine? It doesn't have to be.
The Import Manager as a work relief
---
E-Commerce Rechnungen via Import Manager
Import Manager supports you with automated invoice creation and more.
By connecting your online store or marketplace via interface, easybill imports your order or returns data several times a day. Invoices, delivery bills or even credit bills are automatically generated from the data received.
You can also control the shipping process via download function of the most important shipping formats (DHL business customer portal, DPD, Hermes and Co,). After successfully creating the shipping label, you import the tracking information again and the Import Manager plays this back to your online store or to the marketplace.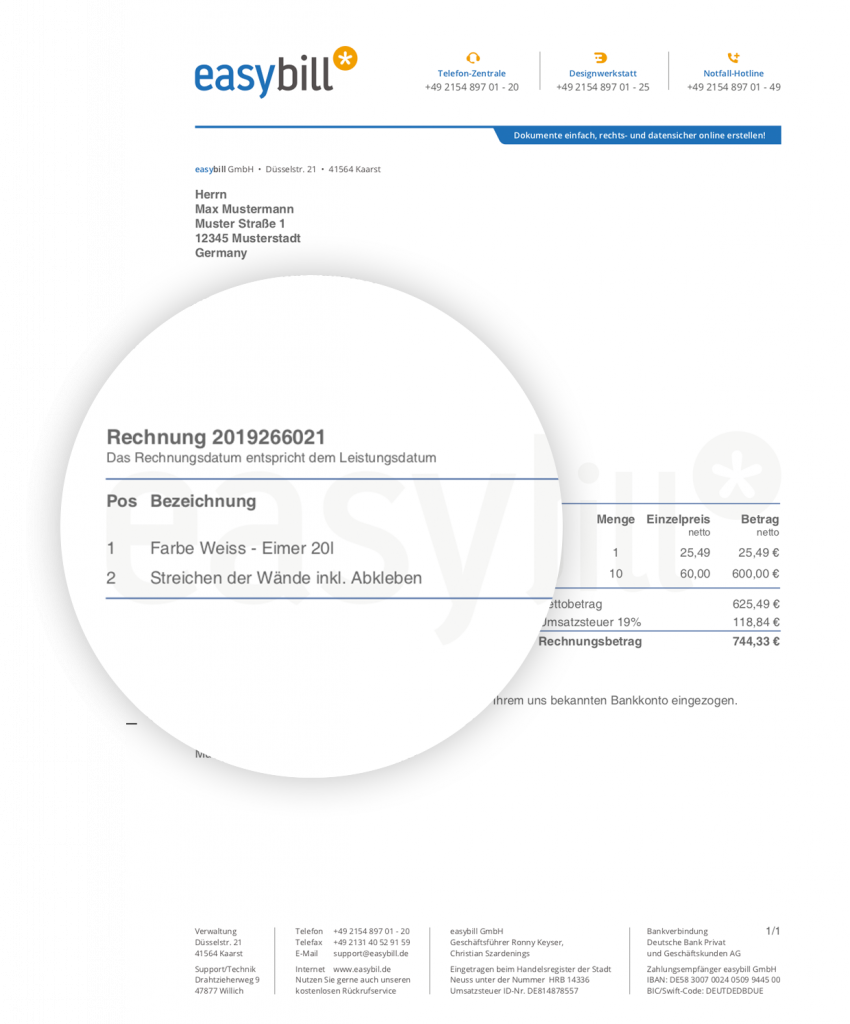 Questions related to the Import Manager
---
You are active in online trade and would like more support in order processing?
Perhaps we can anticipate here and answer the most important questions directly. For everything else, our outstanding customer support will of course be happy to assist you.
Is the invoicing software suitable for any operating system?
Yes, the operating system does not play a role here. Whether you use a MAC or a Windows computer is irrelevant for easybill. Only an Internet access must be available to you.
How often does the Import Manager import my order data?
In most cases, the data is retrieved twice a day. You as the seller determine the times for this within the settings. Special cases are subject to their own programming, for example, Amazon Business (VCS use).
Does the Import Manager also support automated emailing?
Yes, you can specify whether you want the invoice to be sent by e-mail. You also define the subject and the content of the e-mail via the settings. You are listed as the e-mail sender and not easybill.
Will the tax rates be taken from my online store?
Yes. If your online store recognizes and transmits tax information, it will be included in the easybill invoices. In some cases, the store works with pure gross prices and does not output any tax information. In this case, the Import Manager takes over the tax recognition. You can also find an overview in our Help Center (german).
Which online stores and which marketplaces are currently supported by easybill Import Manager?
You can find a list of all online stores here: Online shops in easybill
An overview of all marketplaces in turn can be found via here: Marketplaces in easybill
---