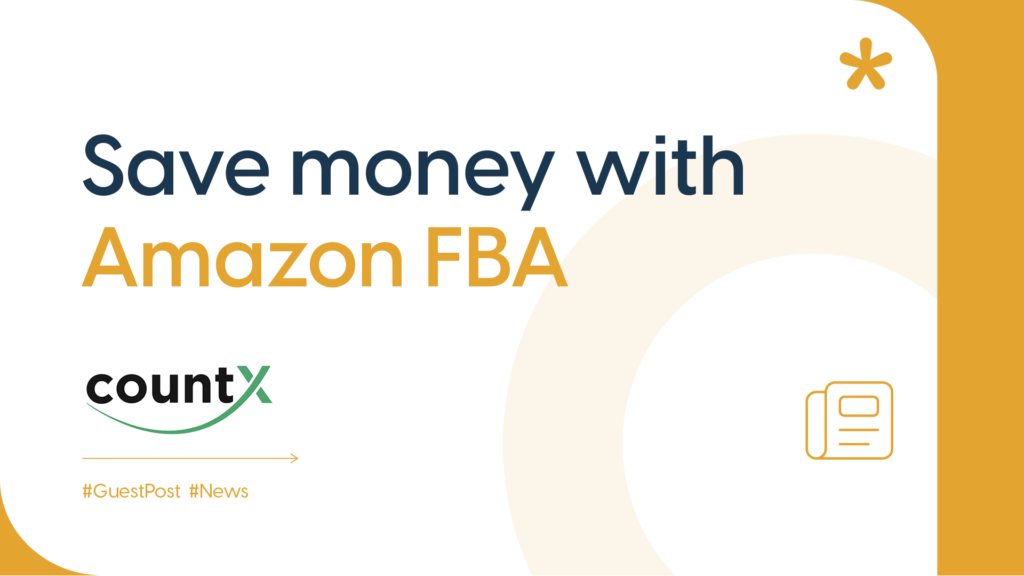 *Guest post: Daniel Michael, countX
The Amazon FBA program (Fulfillment by Amazon) offers you as an online retailer the option to manage your products in an Amazon-owned warehouse and ship them from there without having to take action yourself. This already saves you having to set up your own infrastructure for shipping.
International markets are also of interest to you and not just the purely national sale of products? You would like to grow internationally, but are looking for suitable resources? Then the FBA program is exactly the right option for you. With just one click, you can order the transfer of your products to various international warehouses. An important advantage of this relocation is faster and cheaper shipping of the goods.
But when is it worthwhile to "restock" using the Amazon CE or PAN EU program? When do you save costs through Amazon FBA? We will be happy to clarify this for you.
Amazon FBA shipping cost adjustment
On May 1, 2023, there was another adjustment to the shipping costs in the Amazon FBA program. You can find the price table at any time directly via the Amazon website. The table shows how much the shipping costs differ depending on the shipping location.
For example, shipping a product in a small package up to 900 g from Germany to Italy currently costs €8.45. Shipping from Italy, on the other hand, locally within the same country, costs only €4.97. For you as a seller, this means a saving of €3.48 per product for shipping alone.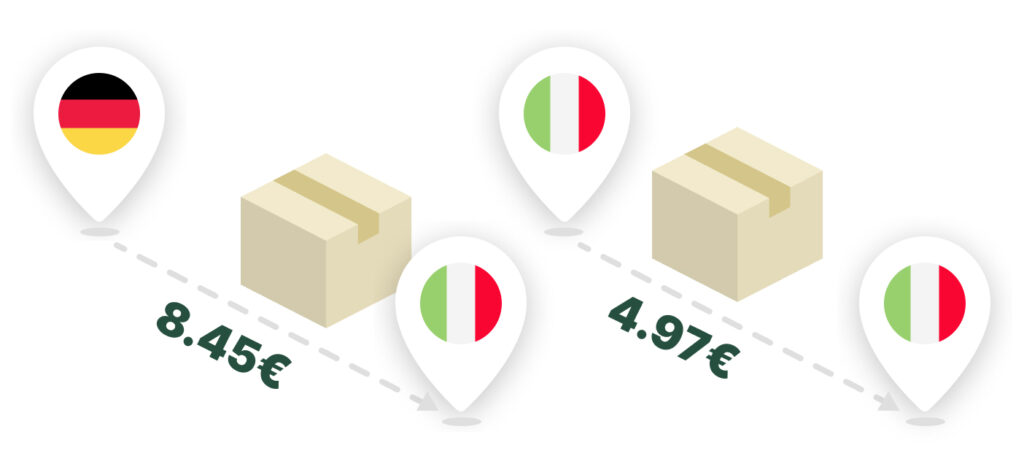 On average across all shipping sizes, this results in a savings potential of approximately 40% from local shipping in direct comparison to cross-border shipping.
International storage – local VAT declaration
You find a saving of 40% on shipping costs equally impressive? Activating the transfer to foreign warehouses is possible at any time, as long as you use the Amazon CE or PAN EU program. Activate this in your Seller Central.
However, also take into account that storing your goods abroad, at the same time, creates the obligation to file a local sales tax return in the respective country of storage.
Tax arises where the goods are stored, or from where the goods are shipped.
International VAT services like countX offer the service of VAT reporting from a price of 89,- € per month and per country. Of course, these costs have to be calculated against the savings in shipping to make it really worthwhile for you as a seller. If we take the above example again (shipping with small parcel up to 900 g), the break-even point would be 26 ordered shipping units per month in Italy alone.
Individual calculation of savings potential
What is your personal savings? Where is your break-even point? Of course, there is no one-size-fits-all answer to this question. Since many online retailers do not sell just one product in a uniform shipping size, several package sizes and their individual savings per country must be considered here.
Let's return to our example of Italy: the savings per sale range from €1.80 for products in small envelopes, to €23.70 for products in oversized packages. The individual savings potential can be calculated with countX's free Amazon FBA shipping calculator, which directly takes into account all these price differences.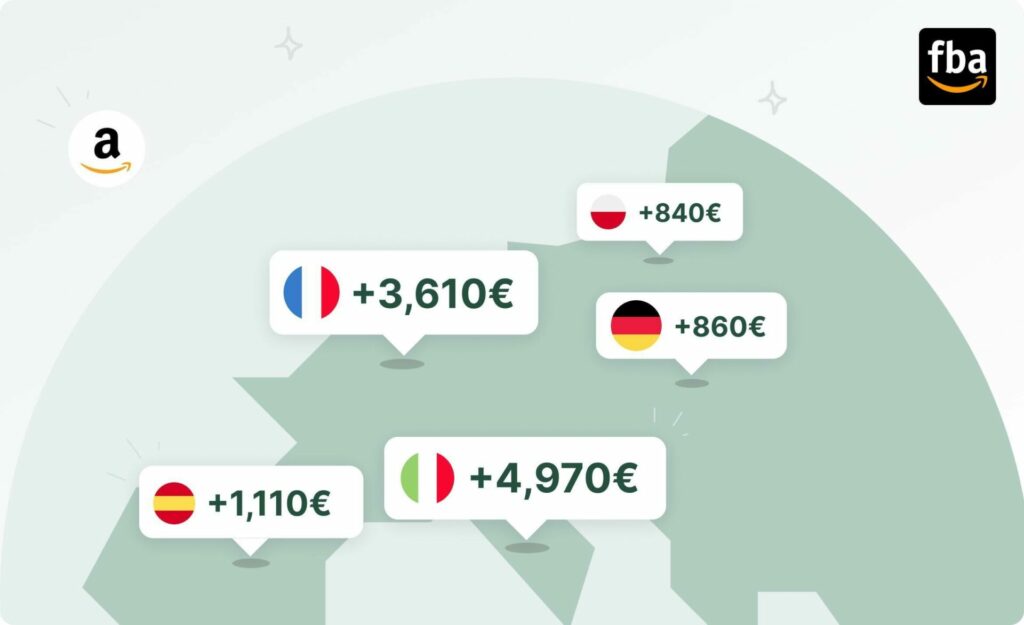 Amazon FBA costs: save up to 13,200 EUR per year
The countX FBA calculator uses your monthly Amazon transaction report as the basis for the savings calculation. The transaction report contains the information which products (ASINs) were shipped in the respective month. It also provides the information from which location (shipping country) to which country the products were shipped (shipping destination).
Based on this information and Amazon's shipping cost table, your actual and also your potential shipping charges are calculated. The calculator takes into account your current warehouse usage as well as an alternative warehouse usage abroad, should you use PAN EU or CE in the future. Shipping prices are also converted to euros for foreign currencies.
For an online retailer already reviewed from May 2023, a saving of €13,200 per year was achieved just by optimizing FBA warehouse usage.
Your personal calculation and recommendation for action
In order for you to use the Amazon FBA cost calculator to find out the amount of your potential savings, you need a free account with countX. Register here, with no hidden fees. Afterwards, your countX account can be connected to your Amazon account to read the transaction report via interface.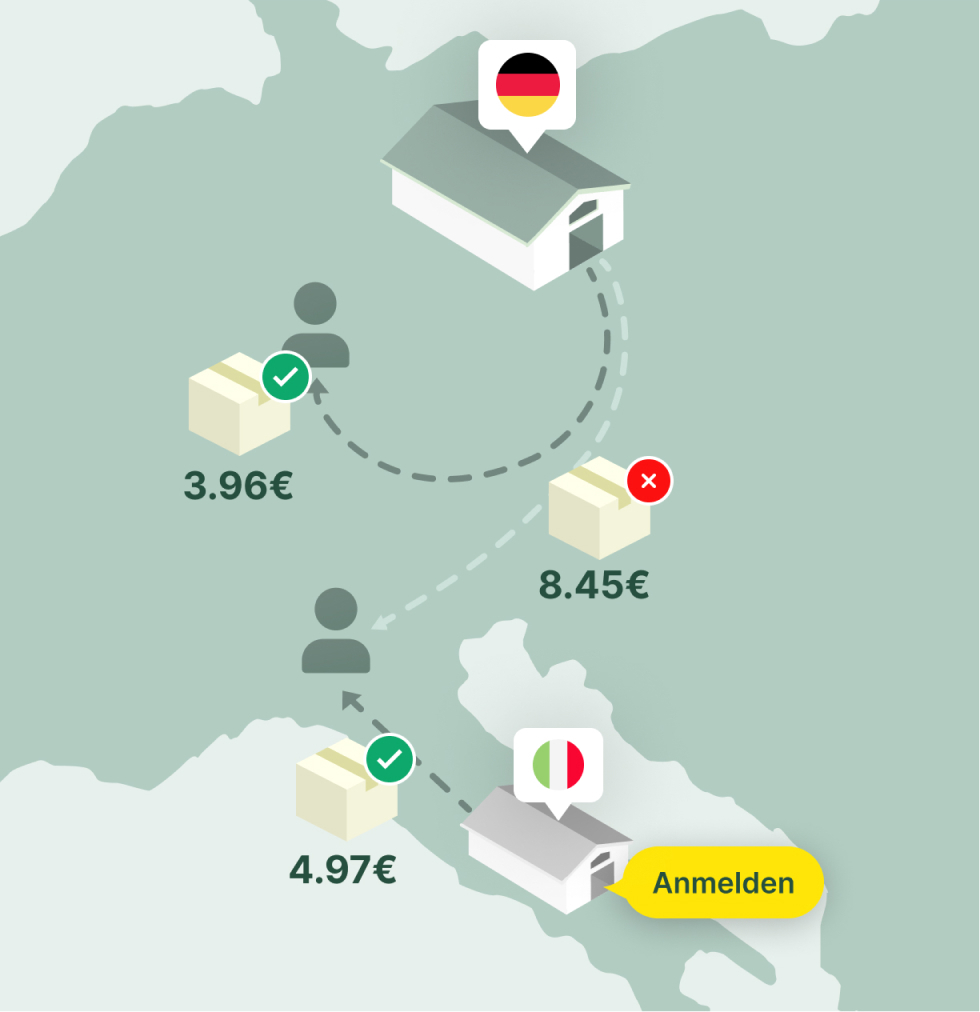 The calculations are performed automatically for you and a personal recommendation for action, tailored to your case, is sent to you by e-mail after evaluation of the data. This all happens within a few hours, so you can work with your conclusion in a timely manner.
Conclusion for you as an online merchant
Rising prices and falling margins in online retailing increase the need to keep a constant eye on your own costs. You should take advantage of any savings potential. Are you already using various Amazon marketplaces? Then you should check for yourself whether it makes sense for you to relocate your goods abroad.
Use the simple and above all free solution of the Amazon FBA calculator from countX. Get the assurance that you are not missing out on significant savings just because the step of moving the goods abroad has inhibited you here so far.
Daniel Michael, countX