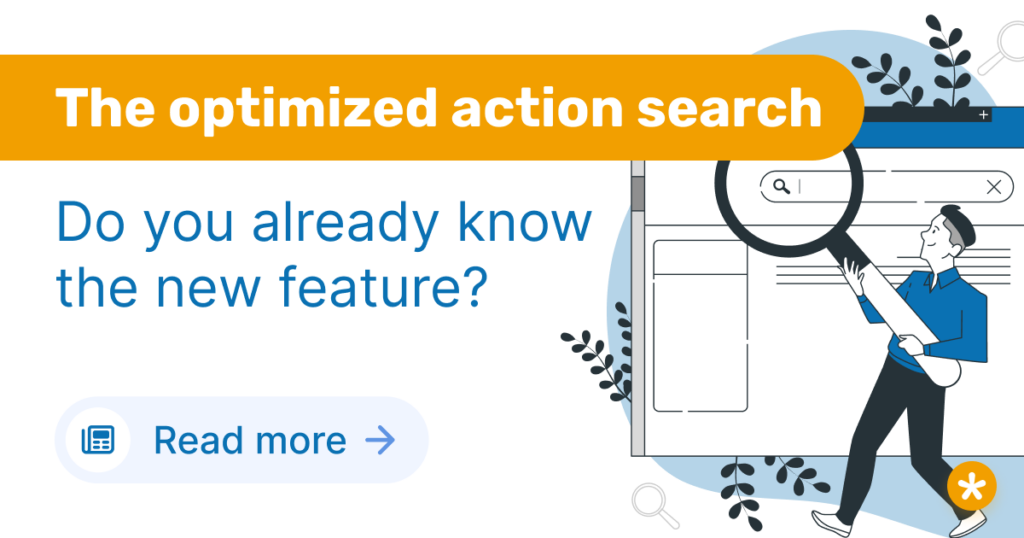 Of course, our customers know it from us no differently: we like to keep it easy in easybill – in keeping with the name. So what is an action search?
We have noticed time and again that new customers still have a bit of a hard time finding certain functions or areas within the software right away. Some of them may even be afraid to contact our support and instead spend endless time clicking through the account.
This does not have to be. Today we will explain to you in detail how we get rid of this circumstance.
What is an action search?
Our optimized action search should make your life a few steps easier. For many, it is certainly self-explanatory that you use the search field in the blue easybill main menu to search for an article name or a customer name, for example. But the action search can do even more.
As the name suggests, it not only searches for a specific term and displays one or more related hits, but also offers actions as results, i.e. a direct link to the corresponding area. In addition, there are also links to blog articles or instructions in the help center. Let's illustrate the procedure with a concrete example.
Practical example of the action search in easybill
Let's take the example that you have registered and set up an easybill test account. You enjoyed the free trial period of 7 days and are naturally convinced by easybill. Now the next step is for you to book the membership in the account so that you can continue to benefit from all the advantages and functions.
Solution via in-app action
You have not yet found the area where the membership booking is possible? The new action search suggests the way to the membership booking as a direct search result. So the general search term is linked to a direct in-app action.

If you click on the search result here, the system will guide you to the user menu and package booking area in the account. Do not click long and especially aimlessly through the account. Preferably, contact us in the support or use the search function.
Solution via the easybill help center, blog and easybill TV
In addition to the in-app action, there are other suggested solutions, such as via the easybill Help Center. Our help center includes step-by-step instructions for a wide range of categories. With the help of screenshots of the account view, you can help yourself and understand settings in no time.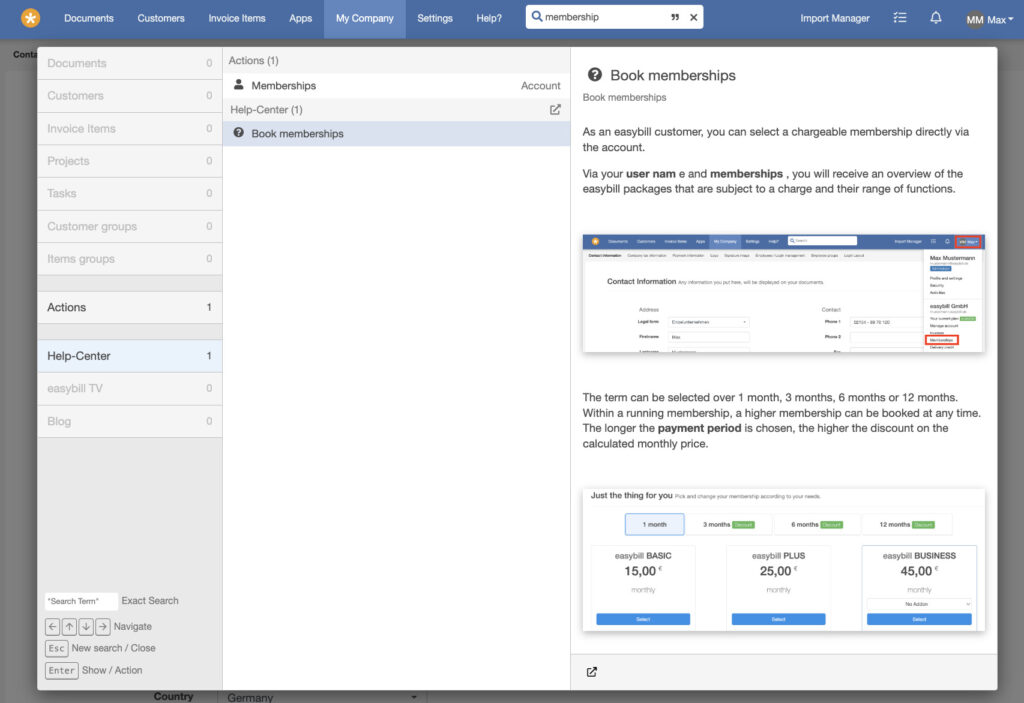 The blog, with weekly new topics about easybill, invoicing, tax topics and much more, as well as our YouTube channel easybill TV are also available. Via easybill TV you get helpful tutorial videos, insights into our easybill work and the team, but also recordings of webinars and co.
Outstanding support for easybill customers
Why do we develop these optimizations for easybill? Because we always want to offer our customers the best user experience when you have to deal with topics such as invoicing, accounting, etc. on a daily basis. Our Google ratings show a clear picture. Please feel free to convince yourself.
The support of our customers, no matter which package someone books, is our top priority at easybill. We therefore regularly provide you with information, instructions and assistance. Our support team is available by phone and in writing to answer any questions you may have. And who knows – maybe you will also make use of the promotion search in your account from now on!

Read also:
Why the partial invoice is still so important in the craftsman sector
Switch your invoicing software to easybill? No problem!
Visit easybill Help-Center (German)