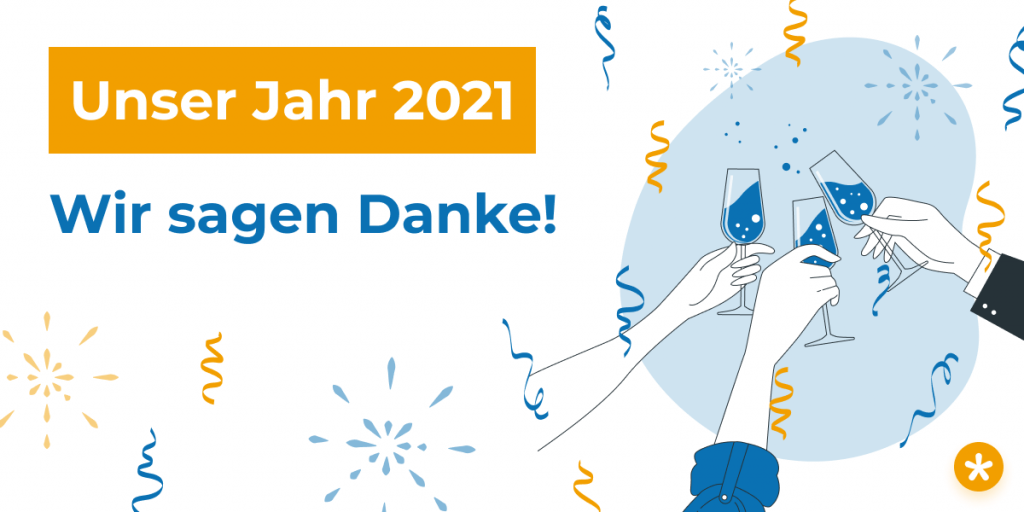 An eventful year is drawing to a close. We at easybill would like to take this time to say thank you to you, our customers. Thank you for your trust in the software, thank you for your patience in some critical situations and thank you for every positive word that was exchanged.
Development is Teamwork
Many new ideas could be implemented in easybill in 2021. Our ideas or those of our developers? Not only! Because you as a customer also make a significant contribution to further development. Long-time customers will confirm it: we always have an open ear for your wishes and suggestions. Not every wish can be implemented immediately, but we can at least promise that every wish will be discussed, analyzed and taken up. Even if the implementation does not take place immediately.
What was new?
We will leave topics such as BREXIT, OSS and the Corona pandemic aside. Let's concentrate instead on the positive things that 2021 has brought with it:
New onlineshop connections
Not only the connection for the marketplace OTTO was new in easybill this year, but also all Wix sellers could finally enjoy the import option. Also the new Jimdo Dolphin format can be accessed for some time. All connections are indispensable in easybill and hopefully provide you with a lot of relief in your daily work.
Expansion of the security settings in the account
Especially with regard to our current article, we would like to point out once again how seriously we take data security in easybill. We ensure the best possible protection in the background. But you also play your part: via activity tracking, via two-factor authentication for the login, via recovery codes, and via employee management in general. Employees should always have their own access for privacy reasons. We cannot recommend sharing passwords. Be careful how you handle easybill in your company!
Document extension
The proforma invoice is now finally available in the account. By popular demand, especially in international trade, the pro forma invoice option has been available since this year. You can also read the most important details about the pro forma invoice in our guide.
New DHL API
Although it is only available for sending parcels and not yet for merchandise mail, we have received countless positive feedback so far. The direct API to DHL again saves a bit more time and effort, because no export and subsequent import of shipping data is necessary anymore. Now print your labels directly in the Import Manager. You have not tried it yet? Then it's about time!
Extensions for project management
Everyone has a chance with us. Even though online trade takes up a large part of our everyday life, other areas are not neglected. Project management has also been further optimized, so that projects can now also be invoiced automatically. In this regard, our former recurring invoices have been optimized to recurring documents and made available for more than just the document type "invoice".
DATEV ASCII 7 Format
With the new DATEV ASCII 7 format, in addition to the DATEV data service, we have not only made DATEV users happy. Also other accounting programs like AGENDA, ADDISON, BMD etc. can be happy about a configurable import of pre-assigned outgoing invoices. A successful update all around!
We wish you Merry Christmas…
and thank you once again for your trust. In 2022, we will again hit the ground running and ensure the perfect further development of easybill with further optimizations. Stay healthy and come well into the new year 2022!