Definition: What is special about a craftsman invoice?

Partial invoices, final invoices, cash discounts – these are all terms that probably come up constantly in your everyday work. But you haven't found the right craftsman software for invoicing yet?

The basic structure of an invoice for craftsmen is, of course, no different from a regular invoice of other entrepreneurs. Nevertheless, there are some special features, such as separately stated wage and material costs, deductions, cash discounts or also tax-exempt items due to §13b UStG for construction services.
Invoicing program for craftsmen
---
Invoicing software supports you in your daily work and relieves you of many individual manual steps. This saves you time and money. Invoices created in Word or Excel basically fulfill their purpose, but no longer comply with the principles of proper accounting.
If you are looking for a craftsman software for quotes, invoices and more, you should carefully check the range of functions of this software. Does it fit your specific requirements? Do you need special functions, such as a project management, time tracking or even foreign currencies in invoice?
Get an overview and test all functions. Invoicing software for your company is best used for a long time.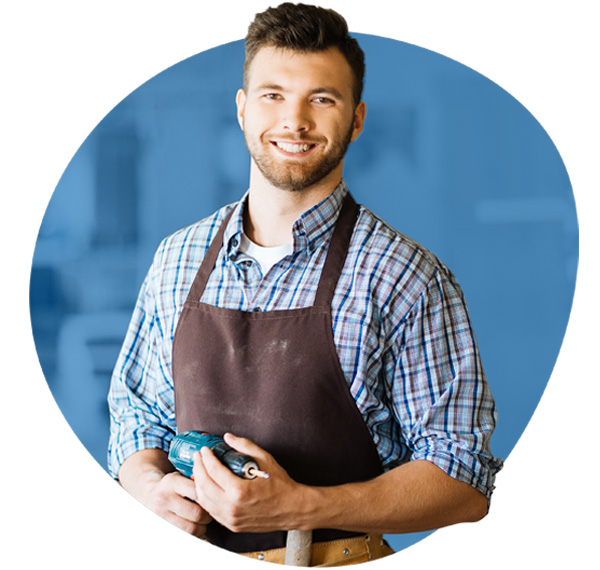 Create partial invoices
---
There are certainly different representations of a budget billing. It is important that there is already a tax statement of the invoice amount that is due on the budget billing.
It is important that you mark that it is a progress invoice. You issue the final invoice at the end of your project or after successful completion of your service.
Create your own invoice templates in easybill, according to your design ideas.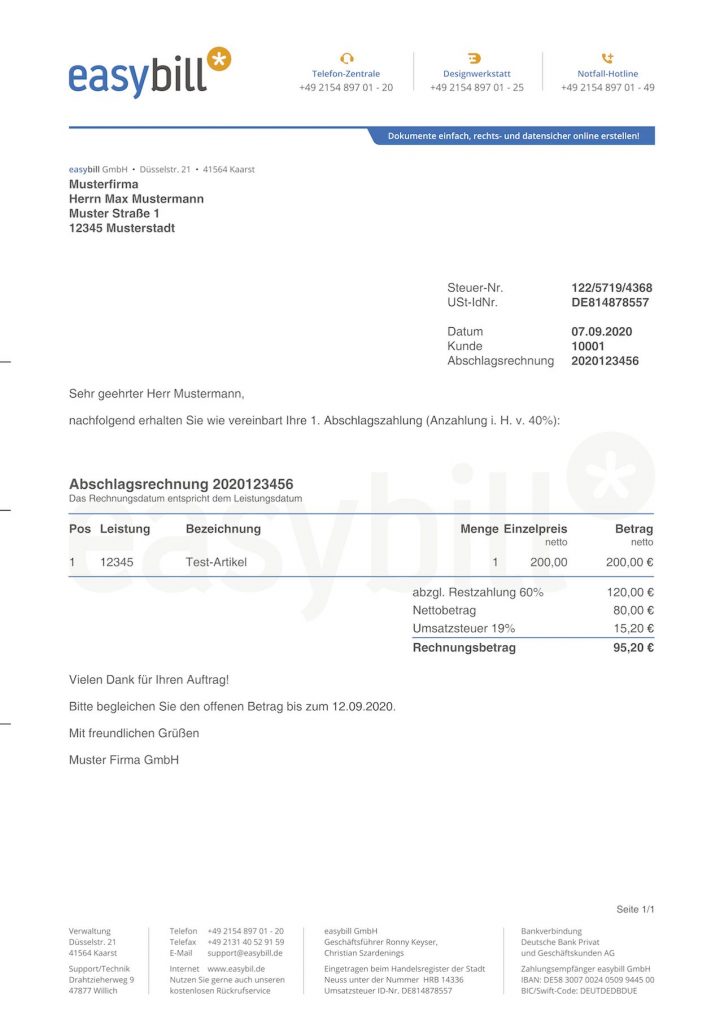 Things have to happen quickly in daily working life
---
In your daily work you don't have time to enter every customer manually or to enter articles into your documents again and again. Optimize your processes and manage customer, supplier and item data directly in your account.
As a cloud-based invoicing software, you can access your documents from anywhere at any time. Be flexible and yet secure. Because your data is safe with us. Thanks to modern encryption and storage of all data on German servers, your data will not fall into the wrong hands.
Typing errors in the documents or even your invoice number are thus a thing of the past. Working with your tax advisor also becomes easier, as he can export the documents that are relevant for accounting directly from your account.
Score points with your customers:
Tax deduction for craftsmen's invoices
---
In order for your customers to generate a tax benefit and be able to deduct the invoice received from tax, the labor and material costs incurred must be shown separately.
You can rely on the support of easybill. With our Invoicing program you can easily create craftsman invoices and contact our customer service at any time if you have any questions.
Questions related to the craftsman invoice
---
Are you a tradesman and still have questions about invoicing in easybill?
Perhaps we can anticipate here and answer the most important questions directly. For everything else, our outstanding customer support will of course be happy to help you.
Is the invoicing software suitable for any operating system?
Yes, the operating system does not play a role here. Whether you use a MAC or a Windows computer is irrelevant for easybill. Only an Internet access must be available to you.
Is the correct tax reported for handyman services?
You basically determine the correct tax rate yourself. easybill uses the German tax rates of 19%, 7% and 0% per default setting. Nevertheless, you can enter your own tax rates directly in the document. Tax-free invoices are displayed with a correct reference to the VAT law.
Does easybill provide a tradesman invoice as a sample?
Yes, on our templates page you will find many craftsman invoice templates and more, for direct download in Word, Excel and PDF format. Nevertheless, we would like to point out that documents in these formats are not GoBD-compliant.
Can I also manage my articles and suppliers in easybill as a craftsman software?
You can enter and manage all contacts via the menu items Customers and Invoice items in your easybill account. You can also import addresses from existing programs via Excel or CSV file. Under the invoice items you can predefine articles, services or even pure texts and thus access them more quickly.
Is there also a warehouse management in easybill?
Yes. You can enter your items in your account and activate inventory management. Enter current stocks and have them reduced automatically when an item is added to an invoice. On the other hand, add stocks when you create an order. Unique serial numbers are also supported by easybill.
---