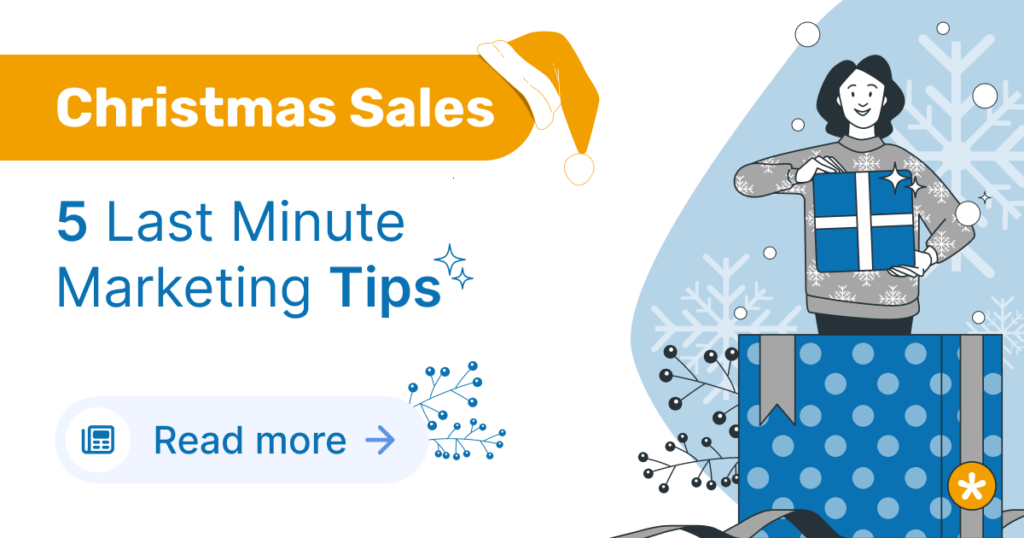 Christmas is just around the corner, and you still haven't made as many sales as you expected? In addition to preparing for more customers than usual, online retailers are under exceptional stress when planning Christmas marketing campaigns. But don't worry! You are still able to boost your sales quickly and easily if you implement some simple marketing measures. You can check out our 5 last minute marketing tips for Your Christmas Sales here!
Tip #1: Inspire store visitors with gift ideas
The easier it is for store visitors to find their way around your site, the more likely they are to buy something from you. To help customers find the right gift, you can make product suggestions based on age, gender, product type, interests, and price
For example, if a someone wants to buy wellness products for their mother, you can offer other suitable products such as candles, Christmas tea, etc. The likelihood that the store visitor will buy the additional items is increased by this marketing activity. You could also divide the products by socio-graphic characteristics, e.g. gift sets with products for fathers, brothers and husbands.
Tip #2: Encourage store visitors to buy gift cards
Gift cards are very popular in the run-up to Christmas and are a great way to entice last-minute shoppers to make a purchase. While physical cards remain popular, more and more online retailers are offering digital gift cards that can be emailed or texted to the recipient on a specific date.
A look at Google Trends shows that searches for "gift cards" are up significantly, especially in the week leading up to Christmas. It's clearly beneficial to offer and promote gift cards, possibly with a dedicated landing page for the holiday season.
Tip #3: Offer Christmas discounts
Another simple way to increase sales leading up to Christmas are discount codes that are redeemable on your website. Choose a Christmas-themed name for the discount code, e.g. CHRISTMAS22, and promote it on your homepage and your social media.
Showcase the Christmas discount in a holiday themed way to ensure an emotional shopping experience as well. Moreover, the discount could be introduced as part of a last minute Christmas campaign, which encourages customers to get the last gifts and save money in the process.
Tip #4: Countdown Timer: Create a sense of urgency
During the holiday season, there are numerous marketing tactics that can be used to create a sense of urgency. For example, you could use a countdown timer to remind customers of the final order dates for guaranteed delivery by Christmas Eve. Especially for last minute shoppers, this can be the decisive factor in placing an order.
It may also be worth considering a special offer for the first 50 customers. It could be a small gift, a limited discount, or a voucher to use next year.
Tip #5: Run Google Ads and use seasonal keywords
As Christmas approaches, online retail is booming, and search queries about gifts are rising sharply.
If you haven't yet created content ranking for these queries (after all, these are last minute tips!), it's too late to benefit from organic traffic. But all is not lost. You don't need to wait for Google to notice and rank your page. Instead create engaging landing pages and run Google Ads for them. Look at the search trends in the run-up to Christmas and target your ads to those keywords or combinations of them.
And there you have it: our 5 last minute marketing tips for Christmas. It's never too late to make your Christmas sales a success! Hopefully these ideas will help you to boost your sales and make the most of this festive season.
Also read:
Be your own Boss – Become a Freelancer
How to save up to 80% on accounting costs
The WooCommerce store as a (second) pillar for your business