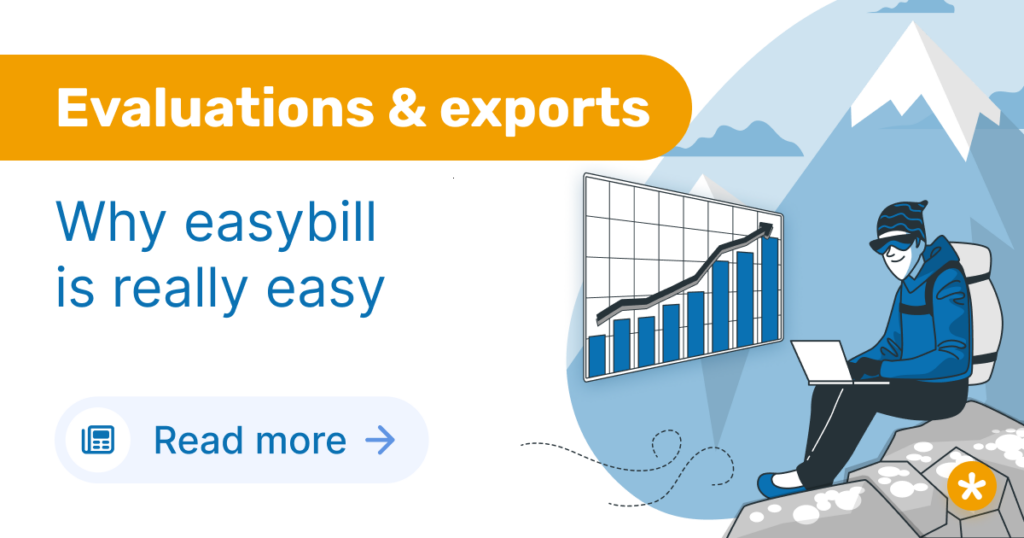 Well-deserved quiet end of the year and already on vacation? Or did it unfortunately hit you this year and you are still squatting on the company figures for 2022? How helpful would now be a software that lists your sales including all tax rates and outputs them as a ready-to-use Excel spreadsheet with just a few clicks? You already suspect something? That's right! easybill shows once again how easy it can actually be to generate evaluations and exports.
Sales evaluations for each period
So that you too can start the last days of the year with peace of mind, we are happy to relieve you of the tedious work of picking out your most important company figures. Via the easybill outgoing invoice book, you can evaluate any period and view your sales. Of course, not only the gross and net values are available here.
From our years of experience, we have always taken up the input and ideas of our customers. Not least for a European shipment or the question of how much revenue is generated in a particular target country, it is interesting to be able to evaluate this as options. Filter per destination country and check how much turnover you have spent in another EU country.
Download the analysis with just two clicks. Share it within your company or use it as a data basis for future planning.
Evaluations and exports per online store
The filter options for your evaluations are almost all-encompassing. Not only the time period is an important aspect for the evaluations. Our years of experience have shown that filtering according to the source, for example, according to the online store, the marketplace or even a created project, also plays a major role for many customers. The document title is the central element here. You don't know the document title yet, or you have often asked yourself what it should be used for? As a facilitator for internal searches or exactly the mentioned evaluations.
You can enter project names here, you can store specific notes, keywords that will help you in your daily work. And our evaluations can be set up according to exactly these keywords. You need an evaluation of all invoices, cancellations and credit notes of a project? No problem. Enter the title in the evaluations and use this as a filter. Online merchants can also get an idea of which marketplace generates which sales and is profitable.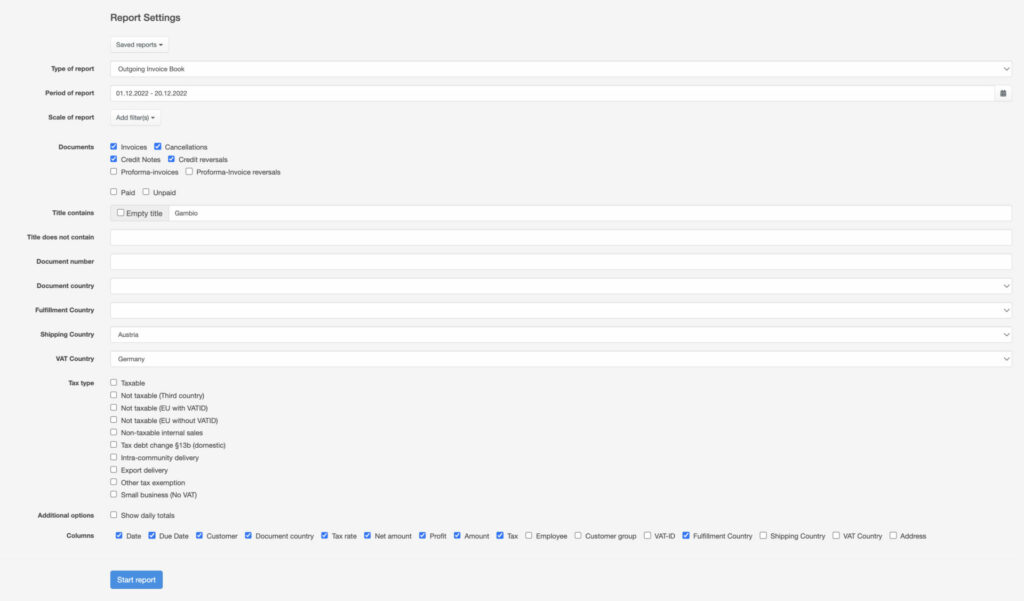 Export for the tax consultant
Not only the evaluations, but also the cooperation with the tax office are designed really easy in easybill. You no longer want to transmit documents in paper form so that the annual financial statements can be prepared? We would like to save you this effort as well. As a DATEV interface partner, easybill naturally has a direct way to transfer your finished accounting proposals and the document images to DATEV Unternehmen online via DATEV data service (Rechnungsdatenservice 1.0). Your tax office will then pull all data directly from your DATEV account and have your outgoing invoices done in no time at all. Sounds easy? It is!
CSV export according to your own specifications
Would you like to generate evaluations and exports according to your own ideas? Our exports are as individually adjustable as our evaluations are flexible. So if you need more than just numbers, you can define your own export report via the document overview. Define yourself which data, columns and information you would like to have compiled here in a CSV. Feel free to watch our detailed tutorial video (in German) on easybill TV and try it out right away.
Read also:
Tax changes for 2023 – Everything you can expect
easybill uses the bank interface of finAPI to integrate accounts into the invoicing software
5 Last Minute Marketing Tips for Your Christmas Sales