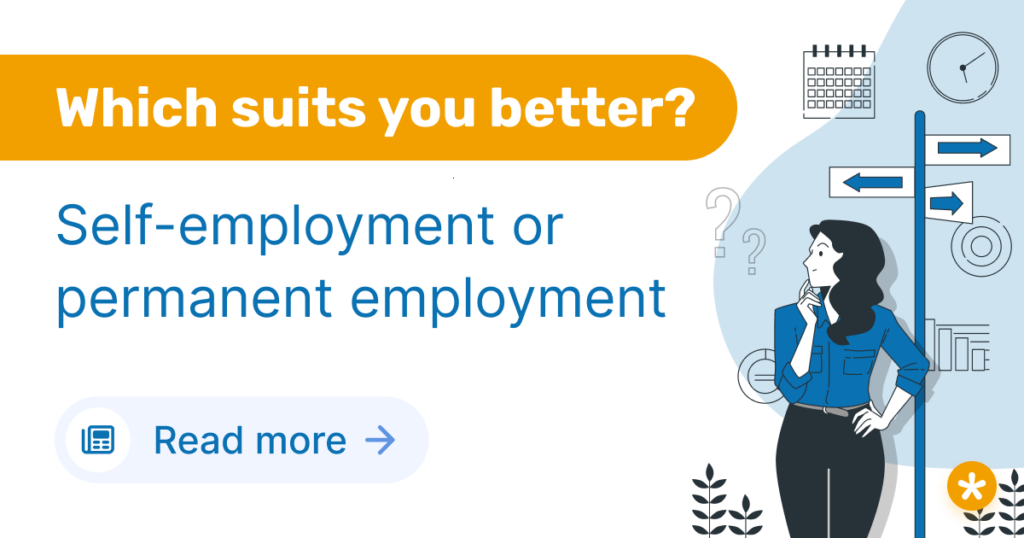 New year, new challenges? Are you thinking of giving up the security of a permanent position and taking the plunge into self-employment?
Nowadays, there are many ways to earn a living. Especially since the increase in telecommuting in recent years, more and more people are thinking about their current work model and whether it really fits their lifestyle.
On the one hand, there's self-employment, where you work as a small business owner or freelancer and are free to make decisions about your time and resources. On the other hand, there is permanent employment, where you work as part of a team and usually have a fixed employment contract. Both work models have their advantages and disadvantages, and you should carefully consider which of these models best suits your ideas.
In this blog, we will compare the main advantages and disadvantages of the two types of work, so that you can get a quick overview and make the right choice for you more easily.
Permanent employment: advantages and disadvantages
In the following table, we have summarized the most important advantages and disadvantages of a permanent position for you.
| Advantages Permanent Employment | Disadvantages Permanent Employment |
| --- | --- |
| Fixed income | Often rigid working time models |
| Continued payment of wages in case of illness or accident | Limited flexibility (e.g. because of location) |
| Social security | Limited holidays |
| Regulated working hours | Less freedom to implement own ideas |
| Additional company benefits (training and further education) | Limited decision-making possibilities |
| Social contacts through teamwork | Possibility of bullying at the workplace |
Probably the most common buzzword when it comes to permanent employment is the security and lightheartedness it brings. With an unlimited employment contract, you enjoy employee rights, such as the right to income and protection against dismissal, and are thus legally protected even beyond the employment contract. Of course, as an employee you also have obligations, such as the duty to report sick or the duty to obey, which are usually also stipulated in the contract.
However, the lack of flexibility in the daily work routine is often criticized in a permanent position – a reason that makes many employees think about switching to self-employment in the long term.
Self-employment: advantages and disadvantages
As with permanent employment, we have summarized the most important advantages and disadvantages of self-employment for you.
| Advantages Self-employment | Disadvantages Self-employment |
| --- | --- |
| Flexible working hours | Varying income |
| Unlimited annual leave | Holidays are not paid |
| Full decision making power | Very time consuming especially at the beginning |
| Flexible work location | Legal and tax obligations |
| 100% self-determined work | Much self-discipline necessary |
| Independent selection of employees | Higher financial risk |
| More freedom for individuality and creativity | Dependence on external factors (e.g. order situation) |
| No lengthy application processes | Difficult to switch off from work |
Working when and where you want, flexible working hours and no one telling you how to do your job? It is precisely the flexibility and freedom associated with self-employment that makes this work model very attractive to many.
However, precisely because of this freedom, the step into self-employment also requires a high degree of self-discipline and stamina, since the order situation can be quite changeable and one cannot count on a fixed income.
Permanent employment or self-employment – which work model is better then?
The answer to this question is: it all depends on you! What sounds like a dream job for one person can be a nightmare for another.
The pros and cons of permanent employment and self-employment listed in this blog post show that there are different factors that go into choosing a particular work model. While some people prefer the security of a permanent position, for others, self-employment offers more freedom and the opportunity to take control of their own professional future.
Ultimately, the decision between self-employment and permanent employment is a question of personality and depends on individual preferences, ideas, skills and professional and personal goals. It is only important to inform yourself sufficiently in advance about the various options and to carefully weigh your own strengths and weaknesses before deciding to take the step from permanent employment to self-employment.
Read also:
Be your own boss – Become a freelancer
10 frequently asked questions about small businesses
The Woocommerce Store as a (second) pillar for your business