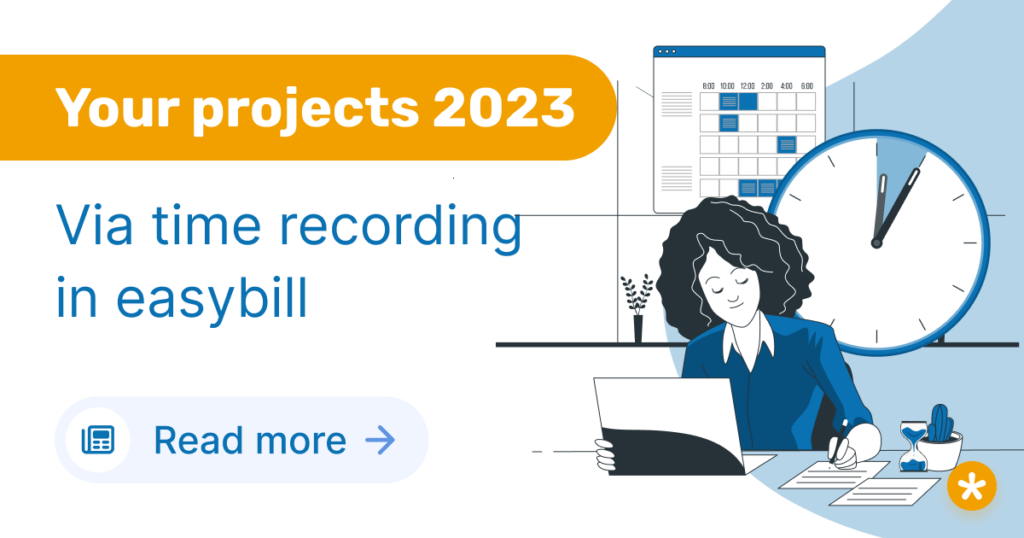 The new year 2023 hopefully starts for you with lots of exciting new projects. But where do you collect all these projects so that you don't lose track of important deadlines, tasks and documents?
Of course, you could now look for a separate software for projects and time tracking and once again incur additional costs. But why not fall back on the meanwhile very extensive time tracking, respectively project management of easybill? You do not know our project and time recording yet? Then it is now high time.
Create projects 2023 in easybill
In easybill, we keep things just as simple for projects as we do for documents. Have you ever noticed which helpful functions are hidden under the yellow easybill star in the main menu? Hopefully you have, because there are some important functions behind it that will make your everyday work with easybill much more convenient.

Via your dashboard, you can access the most important functions in easybill virtually via quick access. Use it to create a document or create a new customer. You can also use it to manage your new projects. With just a few clicks, you can record the name, hourly rate, budget and other important internal notes and save the project.
Always keep track of the status of your projects.
Time recording in the project
So that you don't lose the overview, you also record the corresponding working times directly within your projects. Have your employees completed certain activities or are they still in the planning stage? You have to keep an eye on the project budget to avoid exceeding the agreed conditions?

easybill offers you complete control at a glance whether you are still in the green zone.
Invoice projects per automatism
Create projects and add times – and that's it? Of course not. easybill customers know that automatisms are very important to us, because they really make your everyday work easier.
Your project has now been successfully created and the first performed or planned services have been entered. But what now? So that you don't lose the overview when new time entries are constantly being added, you can activate the function to create a recurring invoice from the project. Let easybill automatically transfer the outstanding entries into an invoice for you.
easybill can do even more
As an online-based invoicing software, easybill naturally supports lots of other functions. However, it is important for you that you can use many things from your everyday work in one and the same software. Save the costs for additional programs. Manage your customer data, documents and reports in easybill.
By exporting activity reports, you can also attach your time entries in the project to your invoice at the same time as proofs per timesheet. Or your client would like an overview of the services? No problem with the help of the evaluations. Feel free to contact our support team if you have any questions about projects and time tracking.
Please also watch our tutorial video on easybill TV (in german): Record projects and times
Read also:
Create project (german)
Self-employment or permanent employment – Which suits you better?
Evaluations and exports – or: Why easybill is really easy