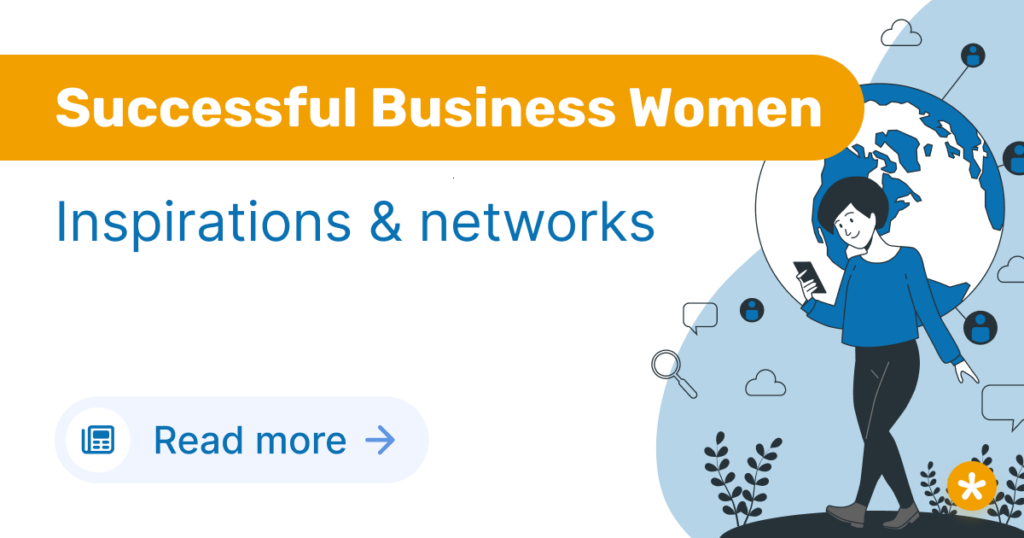 Gone are the days when invoicing and entrepreneurship were the preserve of men. Especially in today's business world, diversity is a crucial factor for the success of companies.
This is confirmed by data from the 2020 McKinsey international analysis "Diversity Wins – How Inclusion Matters," which found that companies with a high degree of gender diversity are 25 percent more likely to be more profitable than average. It is particularly important to pay attention to diversity in top management: Businesswomen bring not only their expertise, but also different perspectives and experiences to the boardroom.
Despite these findings, the proportion of women in management positions is growing only slowly – as is the number of female entrepreneurs. Above all, taking the step into self-employment requires a lot of courage and stamina, especially for women in a male-dominated industry like the business world.
For all women entrepreneurs – or those who want to become one – in this blog we share inspiring success stories of businesswomen and introduce valuable business networks for women.
Four successful businesswomen and their companies
Below, we introduce you to businesswomen who have not only started their own businesses, but also founded inspiring companies that are inclusive, ethical and sustainable.
Amber Riedl (Berlin, Germany)
Canadian Amber Riedl founded the company Makerist in Berlin. Today, Makerist is the European market leader for DIY accessories and e-learning products in the crafting sector. Since the end of 2022, the entrepreneur has dedicated herself to a new project. She is the founder of the job portal Klimajobs, which focuses on occupational fields that are necessary for the implementation of climate goals.
Lisa and Kate Sokolov (New York, USA)
Sisters Lisa and Kate Sokolov from New York founded the company Social Goods in 2019. Following the motto "Look Good. Do Good. Change the World," customers support nonprofit organizations with every purchase from the online store. Social Goods has now supported more than 50 charities, including Planned Parenthood, for example.
Ariela Suster (Tepecoyo, El Salvador)
Entrepreneur Ariela Suster grew up in El Salvador at the time of the civil war and experienced much violence as a result. To break the cycle of violence, she founded Sequence with two local artisans. By selling handmade bracelets and bags, the company is able to train and hire artisans and at-risk youth. Sequence supports its employees in their personal and professional development and helps them on their way to a life without violence.
Three useful business networks for women
An influential network is essential for any businesswoman or entrepreneur. Those who network will provide visibility in the industry and are recommended accordingly. For several years, more and more networks have been emerging to empower and support women in leadership positions. As a female entrepreneur in a male-dominated industry, you can benefit greatly from the exchange and visibility in such a community.
To support (aspiring) female entrepreneurs on their way, we have compiled the following three networks for female entrepreneurs.
The Nushu Women's Network takes its name from the inspiring story of oppressed women in Chinese villages who developed their own writing – nǚshū – to share and take action against oppression.

The network connects women on their journey to leadership positions and aims to bring "more femininity to business" through targeted networking, sharing best practices and mutual support.
Business and Professional Women e.V. (BWP)
BWP Germany is particularly committed to more women in management positions and equal pay, and also introduced Equal Pay Day in 2008.

In addition to networking businesswomen, the network also stands out for its political commitment: The association actively influences business, politics and the media and advises universities on the subject of equal opportunities.
The GDW network was founded by entrepreneur Tijen Onaran and began with a small network meeting in Berlin.
Today, more than 400 events on the topics of female empowerment, employer branding and talent acquisition are already organized through the network. As an international company, the contacts and consulting opportunities are very diverse and particularly valuable for women in the digital industry.

In today's blog, we looked at successful female entrepreneurs and their companies. The right networks are also an important factor for this success, as they offer mutual support and the opportunity to learn from the experiences of others. We should all take inspiration from these successful businesswomen and start building our own networks now.
Read more:
Become your own Boss
Self-employment or permanent employment – Which suits you better?
10 frequently asked questions about small business