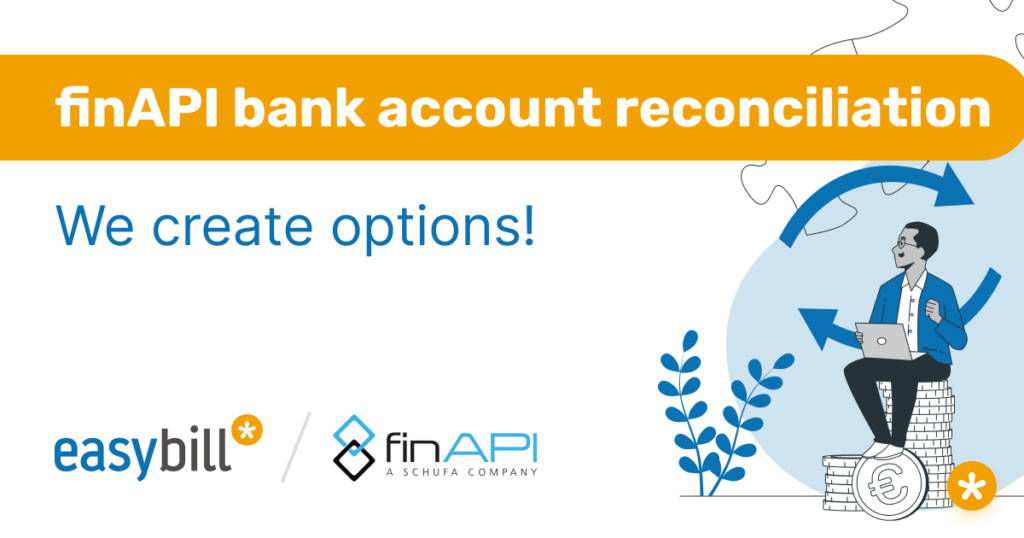 FinAPI is not yet a term for you? Bank account reconciliation, however, has of course been around for a while thanks to the existing function in easybill. But why use bank account reconciliation at all? And if you use it, which provider should you trust with your data? Let's take a look at this together.
Your bank data is highly sensitive data
Not every employee can be granted access to the company's bank account. Be it because salary payments also run through this, because sales do not necessarily have to be shared with employees down to the penny, or because you simply have enough reasons to rule this out for your company.
Nevertheless, as a management position in the company, you don't necessarily want to be the one performing accounting tasks such as reconciling incoming payments and open invoices. Wouldn't it be much more convenient here to have a tool that does exactly this work for you? Allowing you to focus on the more important things in everyday life, but still assuring that your data is in safe hands?
FinAPI bank account reconciliation for your transactions
FinAPI is exactly such a tool. DATEV also relies on reconciliation with FinAPI. You link your bank account via your easybill account using FinAPI. Via the internal process at FinAPI you store your access data to your online banking in order to enable a retrieval of the bank data in the first place. But what happens now in easybill? Define filters for the transactions. For example, you can specify the date from which the transactions are to be retrieved if you have already marked all invoices as paid via a manual reconciliation. Alternatively, you can use the purpose to exclude certain search terms and keywords if you do not want these transactions to be visible in easybill.

For access to FinAPI Bank Account Reconciliation use the comfortable rights management for employee access. Our BUSINESS package covers the entire administration of rights for functions, execution of certain actions and viewing or editing documents.
What does FinAPI Bank Account Reconciliation offer me?
Whereas other providers concentrate more on Germany, FinAPI wants more. There are already concrete considerations to use the entire European area for bank connections and the implementation will certainly not be long in coming. Especially for our easybill users from European countries such as Austria, Spain and the Netherlands, the expansion of coverage offers enormous opportunities and much more convenience in the account. From now on, put your printed account statements aside and let easybill do most of the work for you.
With a click of the mouse, you only have to confirm the allocations you have found. Your customer forgot to enter the invoice number in the reason for payment? No problem. For these individual cases, an assignment can of course be made manually via the extended assignment.
How to use – via video tutorial
Basically, you are very interested in the topic of bank account reconciliation, but you can't really imagine how it will benefit you in the long run and how to set it up in your easybill account? Feel free to additionally watch our tutorial video via our YouTube channel easybill TV. Of course, our support team is also available to assist you at any time should any questions arise.
Also read:
Account security – The key is you!