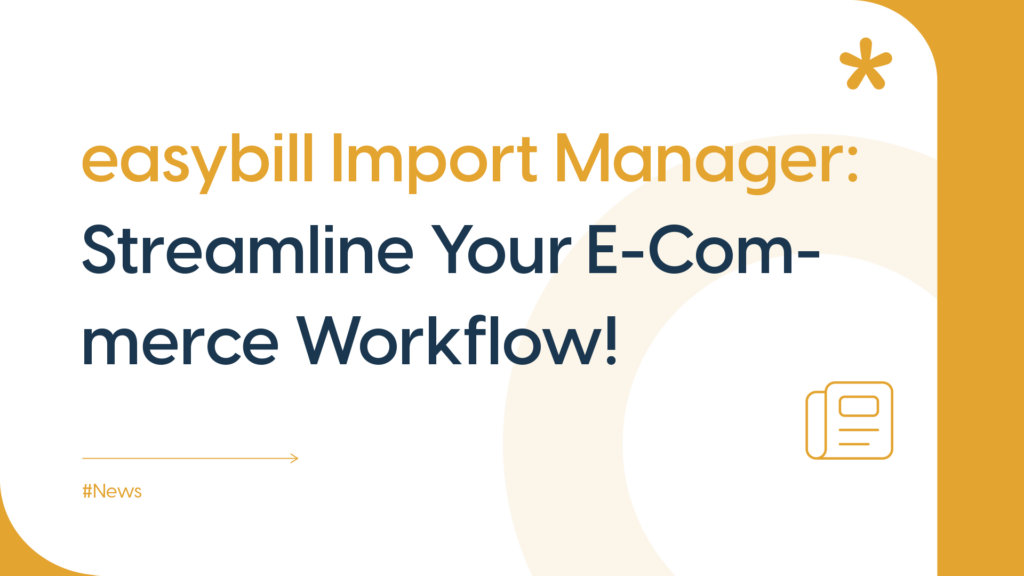 Are you wondering how easybill Import Manager can help you in your everyday life? You are an online retailer and have a lot of orders from your online store to invoice and ship every day?
What often started as a "small side business" at some point, grows over the head of many after a short time. Especially offers like Amazon FBA are often underestimated. But with the right articles, good wording in the product ads and a sense of what the target group wants, many a business really takes off after a short time.
Once an invoicing software for the manual creation of invoices, easybill at some point took the direction and developed a tool for 4-5 customers to process orders via Amazon and eBay. The birth of the Import Manager.
The easybill Import Manager for your e-commerce
Even with only 50 online orders per day, it takes a lot of work for one or the other to get these orders ready for shipping or to generate a suitable invoice. The Import Manager supports you in this daily task.
You connect your online store or marketplace in just a few clicks. Feel free to take a look in your Import Manager to see which import options are currently supported. With more than 40 connections, easybill offers the perfect e-commerce solution for almost every merchant. Surely your store system is also included. Have you already looked?
Invoicing via automation
As an invoicing software, it is of course very important to us to make your daily work with invoices, delivery bills, etc. as easy as possible. So why not dispense with manual intervention altogether?
Through the automations with which the Import Manager works, you determine on the one hand when your orders are retrieved and easybill creates suitable invoices or delivery bills from this. Invoice generation is of course carried out according to your specifications and wishes. You define the times of the call-offs as well as invoice texts or document templates.
No individualization is desired? Well, we also comply with this and have already provided you with texts and templates in German and English for all standard cases.

Shipping management as a useful feature
Invoice creation is not enough for you? If you want a little more service, the Import Manager offers shipping management. From the previously imported order data, you create your shipping processes in no time. Export the data in the format of your shipping service provider (DHL, DPD, Hermes and more).
For DHL, you can also use the separate interface to transfer the data directly to the DHL business customer portal. Then print the completed shipping labels in Import Manager.
Since some marketplaces nowadays require feedback to buyers regarding tracking number and shipping status, we are happy to handle this service for you as well. Simply import your finished shipment files back into Import Manager and start the transfer back to the marketplace or online store.
Amazon tax reports, dropshipping and more
Since the Import Manager also receives a lot of information around it via the retrieval of the order data, you can also view your Amazon tax reports here, for example. If you use the PAN EU program at Amazon, you can view the goods movement report directly in easybill. The same applies to the Amazon shipment lists or settlement reports. If you wish, download them in the Import Manager and save them locally.

For users of the dropshipping system, it is possible to have the Import Manager automatically send a delivery bill. Your external fulfillment gets the information which goods can be shipped.
Conclusion about the easybill Import Manager
A lot of functions are just waiting to be discovered by you. The Import Manager lives up to its name and not only imports, but also manages a lot of data that is important for you in e-commerce. What's more, all these functions make your everyday work easier.
Automation is the be-all and end-all these days. Enjoy the convenience!