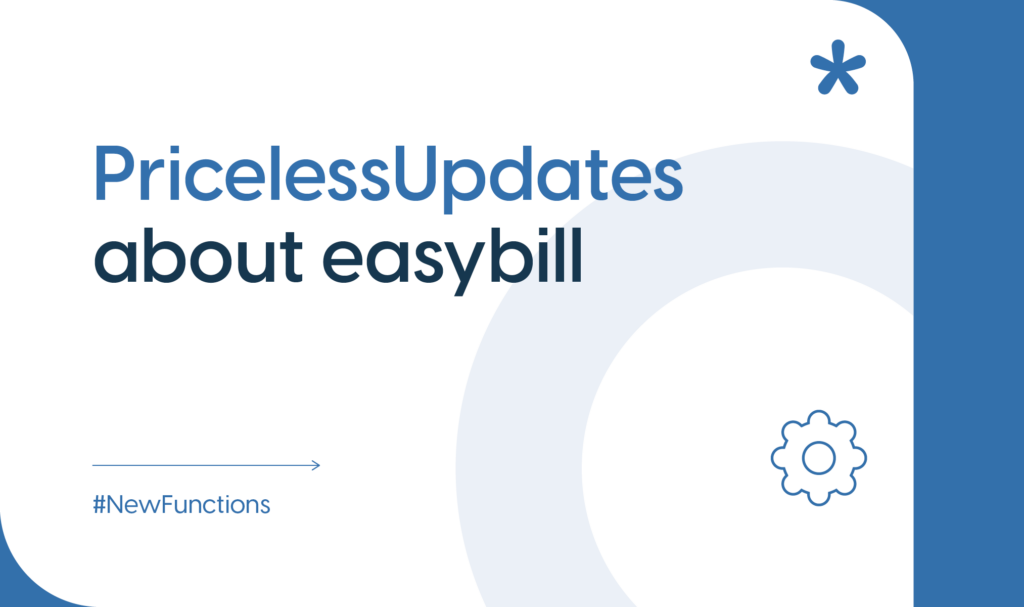 Three quarters of the year have already passed and so much has happened in easybill. Today we give you an overview of the most important innovations of the last time. Important especially with regard to new features or extensions of existing store interfaces in e-commerce. Invaluable updates to the software itself, to our servers and much more, of course, happen every day in the background. All for the security of your data.
You are not yet an easybill user? Then you have missed out on a lot of great features. It's about time that this changed.
Let's take a look at the valuable developments of the last weeks.
Better Payment as a means of payment
To optimize the payment options of an invoice for you and especially your customers, the payment service provider Better Payment has been integrated. The recipient of the document can now view it in the browser and immediately decide to pay using Better Payment. Here, in turn, he can choose from a wide variety of options such as PayPal, Klarna or SEPA direct debit.
Although there is a user fee for you as the provider of the option, but of course the immediate payment and liquidity for your company is absolutely in the foreground.
You can read more about paying with Better Payment here:
Pay bills via Better Payment (german Help Center)
Free definition of the salutation for your documents
Internationalization is a big issue for you? You have many customers from other countries, in other languages and would set up your document templates accordingly? Then you can start now.
Our upgrade in the area of salutations now allows you to freely define just such, according to your ideas. Whether "Dear Sir or Madam" or "Dear Max" – you decide. Then include the placeholders in your invoice texts or e-mail texts to address your recipients even more personally.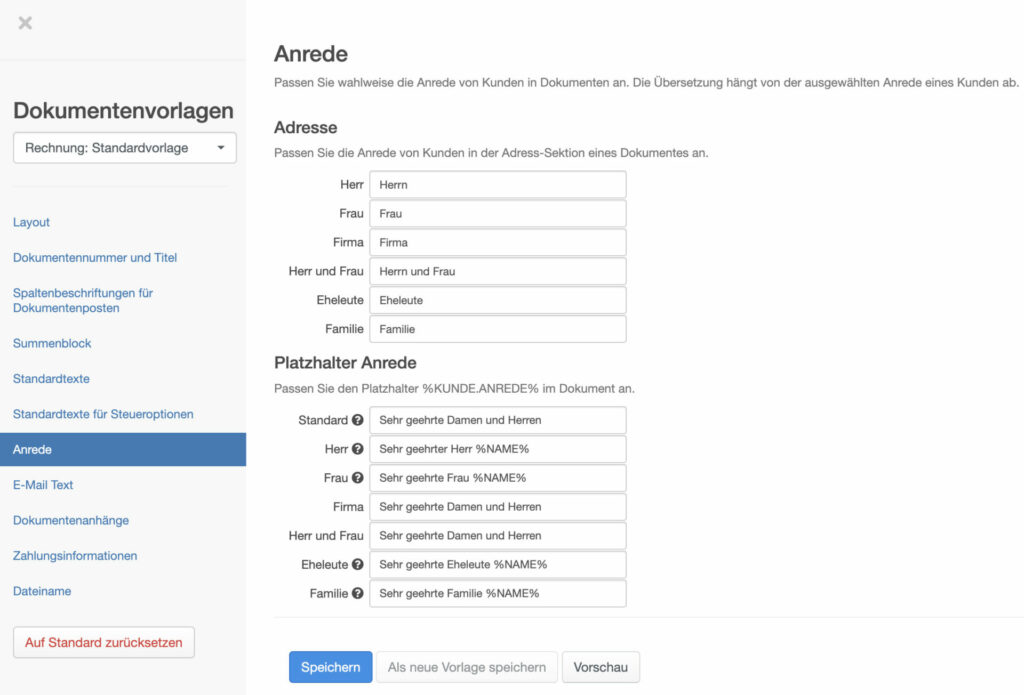 If you now want to output the salutation in French or Spanish or any other language and form, the sky is the limit.
Updates around the Import Manager
We also keep our online retailers up to date when it comes to updates to store connections or marketplaces. Without explaining the changes in detail, you can still get an overview here:
Export errors in the Import Manager are now highlighted even more clearly in red text, so that they are not overlooked.
Smartstore now has the option of automatic import. After the end of the beta phase, you can use the automatism from now on and do not have to resort to the manual imports.
DHL API has been extended to include the function of returns labels and tracking numbers. For sellers via OTTO.de, this means that you now also have the option of using the direct interface to DHL.
When switching to automatic imports, it is now possible to specify a date from which the purchase date of the automatism may take effect. The function is still 100% available for all import options, but will be expanded gradually.
Shopify credit note imports are now matched more accurately, so duplicate credit notes should no longer occur. Also, you can now filter by pending status when importing orders, so you don't have to retrieve those orders yet.
XRechnung: Update to version 2.3
XRechnung version 2.3 is the currently approved version for XRechnung, or the ZUGFeRD format. With regard to the future e-invoice obligation, easybill users are well prepared. XRechnung is available in every easybill package (BASIC, PLUS, BUSINESS).
You have not yet created an XRechnung or had any contact points? Basically, you create the XRechnung like a regular invoice in easybill. However, the format in the background is different and can therefore be read by the recipient in machine-readable form when it is transferred to the recipient.
You can also find all important information about the XRechnung here, in our german help center:
Invoices in ZUGFeRD format / XRechnung
XRechnung Documentation
Read also:
Secure dunning for small businesses: tips and tricks for effective dunning management
Import Avocadostore into easybill
Maximum efficiency: why using a tax consultant trumps the do-it-yourself approach to accounting

Or watch out our YouTube channel easybill TV!